Behind the Scenes of Online Interior Design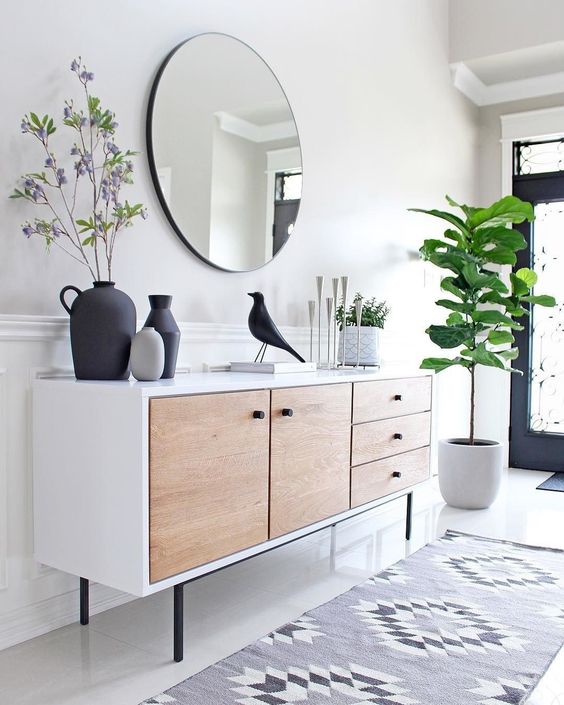 Transforming a Clients' Space…
Without Ever Setting Foot in it!
Over the last year and a half, it's been amazing to see how much we could still help people have a home they loved without ever going on-site.
A home that made them feel relaxed and comfortable. And worked better for all of their at-home activities.
(As it turned out interior design for all practical purposes became an essential service, even if we never actually made the official list, -ha-ha!)
And people are still definitely in overdrive to make their home a place they really do love and so all kinds of projects that were on the back burner for too long are now a red-hot priority. 
Even though things have loosened up some for in-home services, designers have found (like many other companies) some tasks that were virtualized out of necessity are actually more efficient, and still in demand. So they've now become a regular part of their design services and processes.
So we are back doing on-site services like consultation, colors, styling, staging but combined with online design features like mood boards, room renderings, etc.
But today we are looking at rooms designed completely online.
To see how well-designed spaces for people to enjoy can be delivered, without ever being in the room!
So let's pull back the curtain on several recent projects to show you how it's possible to turn dream rooms into reality for anyone, anywhere.
SCOPE OF WORK
-Home Office Redecorated
When Sue S. got in touch with me, she was ready for a complete change from her dark home office from the '80s to something lighter, airier, and more up-to-date.
Once Sue's room left the 80's behind and came into its new look she wrote:
"My office went from dingy/dark to light bright and fun! I can't believe you did it without even coming into my den."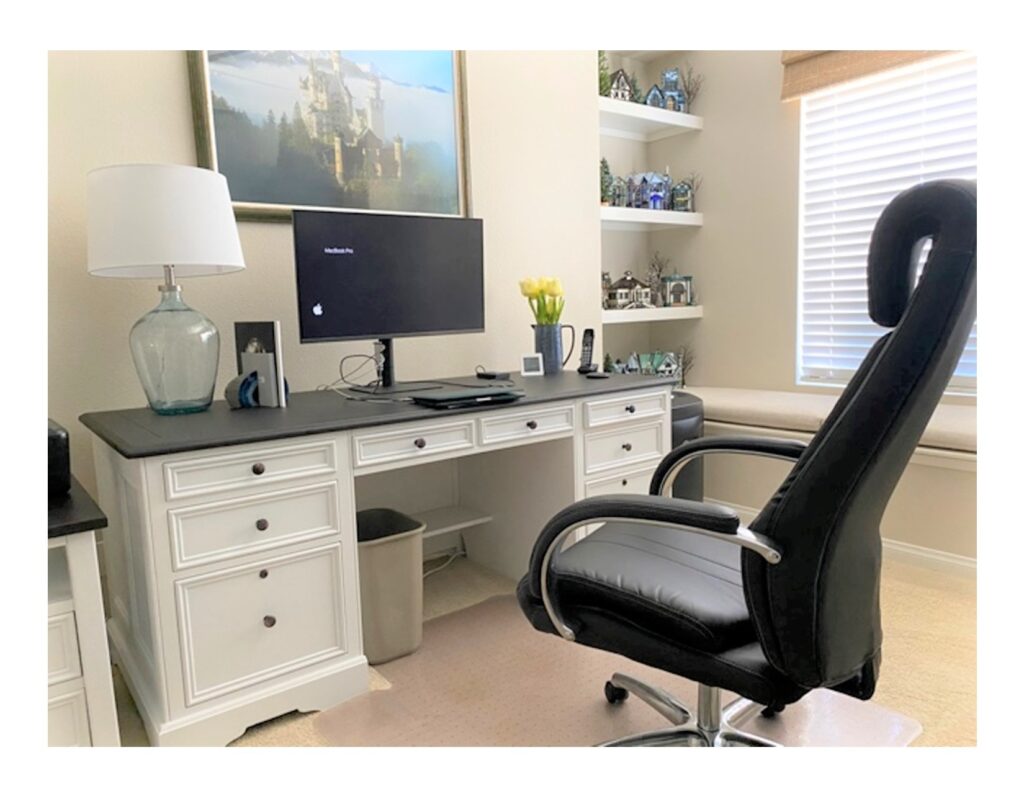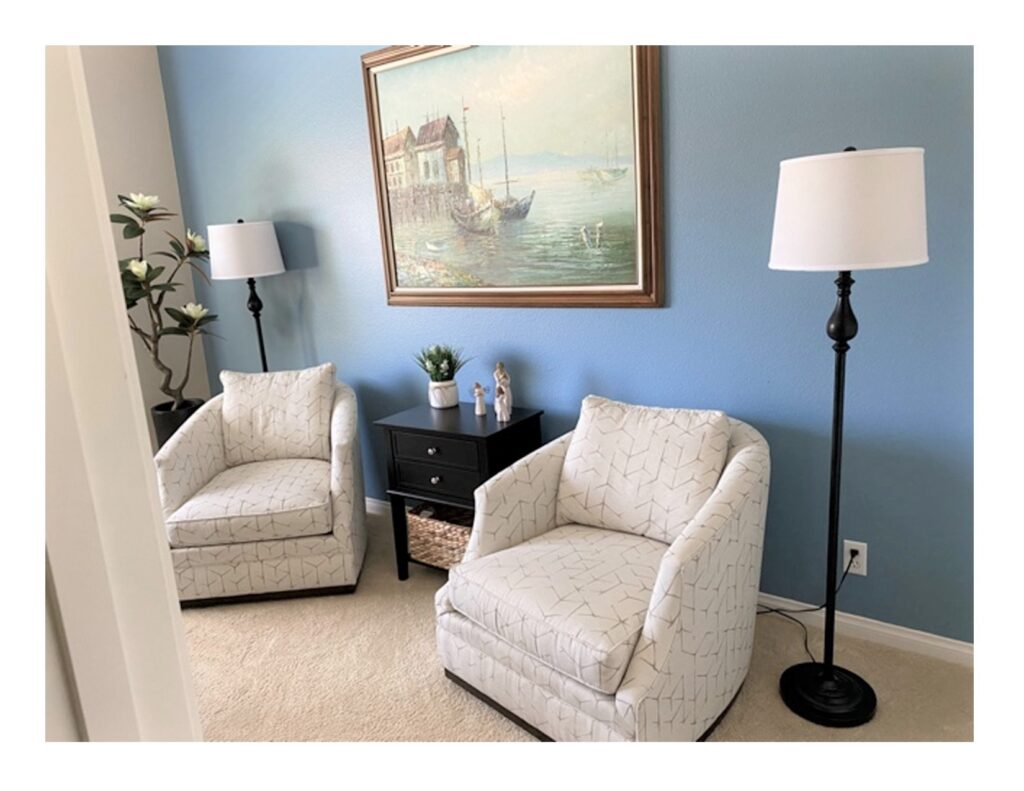 Home Office Transformation
-Case Study
If you like details here's how we brought this home office out of the dark ages into the light!
FUNCTION
Function first, especially in a working space like a home office. So we dove into Sue's work style, her needs for storage, lighting, and a place for joint meetings with her husband.
Now we knew what pieces were needed to let her just walk in and go to work with ease. And have a comfy space for both of them to sit when they need to get together to discuss things.
We also changed up the window treatment so it would be not only be dressed up with a woven wood cornice but let in daylight during the day but give nighttime privacy.
The added daylight did wonders for both the functionality and the mood.  
SPACE PLANNING
Planning the size pieces and their placement was next. Which ended up avoiding an expensive mistake in what would have been a too large L-shaped custom desk that was already planned.
COLOR PALETTE
We created a paint palette with several options for the neutral wall color and the accent wall color.
And finished out the room's color palette in the fresh, calming colors of soft blue, beige, and white with black accents. Creating the lighter, airy feel Sue was looking for.
Going from a dark to a light palette was like going from night to day as far as changing the mood of the room!
STYLE
Sue's style is what I call "Casual Classic" and she wanted to keep it.
But dressed up in the new color palette, it looks so "now" yet timeless.
The "chair pair" are in a pared-down, simple but classic style giving us room to add in a much-needed accent table between them.
TIMELINE
There wasn't any set time this space had to be ready but sooner is ways better than later, right? Just as long as there's enough time to find and make good choices.
The other point to keep in mind with timing is the supply chain has definitely been affected. So once clients are sure of their decisions we always recommend they place their orders without waiting.
For delays in manufacturing and shipping plus more back-ordered, out-of-stock, and discontinued items than ever before are all reasons to not hesitate to order once they have decided on the selections.
BUDGET
This is often a challenge for clients for several reasons because they:
Haven't bought furniture in recent years so they aren't familiar with current pricing.
Haven't bought a complete room at one time but purchased pieces over time so not sure what a whole room might cost.
Want to upgrade the quality from previous purchases and not sure what that might cost.

So we are ready to help them set a reasonable budget for their room size and the quality level they want.
(When we can make someone's dream room come true… it's a good feeling, all around 🙂

"You really are amazing! I absolutely love my den!!  -Sue. S
The 5 Steps of "Online Interior Design" Spaces
Step #1. RESEARCH 

Learning About Our Client and Their Dream Room
QUESTIONNAIRE:
The first step is to have them tell us more about themselves and their project by having them fill out our online questionnaire.  
Finding out things such as what they like and don't like about their space, how they live (or want to live) in it, any "must-haves", and wish they had, any special needs, their timeline, and budget, etc.
(If they need help knowing how to calculate a budget to fit their dream room, we include easy tips for creating one.)
WE ASK THEM TO SEND US:
Measurements
– Of their room
– Of any major furnishings or decor (like art and area rugs) that they want to be incorporated.  
Inspiration photos
– Sending Houzz or Pinterest images to show us the styles and colors they love and want to live with.
(Step#2? -INITIAL CONSULTATION, On Screen Share!)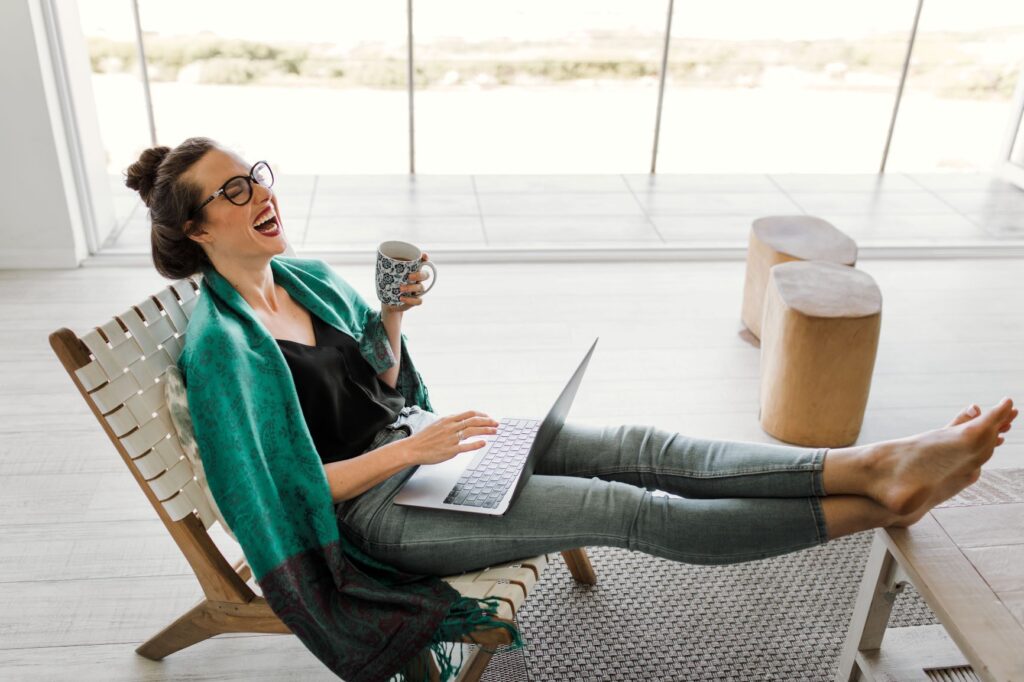 Step #2. INITIAL CONSULTATION
–Virtual Share Screen 
Reviewing The Questionnaire, Photos & Project
When someone needs their lackluster space decorated it's a good feeling to know they have found a designer with a track record for turning any space into a happy place!
So once we receive their questionnaire, measurements, and photos, we'll get together with them online to go over everything in more detail and discuss any additional ideas, changes, or questions they have.
By then we'll know what we need to do to make their dream room a reality!
Reviewing Our Design Process 
We'll finish up our time together by reviewing our process as it applies to their project so they know just what to expect.
(Step #3? -ROOM REVEAL!)
 Step #3. ROOM REVEAL!
-Virtual Screen Share 
This is the moment they've been waiting for…  seeing their new room! (And even better …it's before they purchase any items.)
WE'VE CREATED EVERYTHING THEY NEED:
Virtual Visuals
to see and experience their new space
Linked Shopping List
for easy ordering   
Virtual Room Arrangement Images 
to easily match  
WE GO OVER EVERY COMPONENT WITH THEM
Mood Board
Showing their personalized curated collection
 (2 changes available at no additional charge)
Custom Color Palette 
Furniture Floor Plan
Making furniture arrangement easy
3-D Room
For experiencing their new space, and showing art and mirror placement for later 
Design Rationale
To be confident in the pieces curated for creating their dream room  
Design Tips Galore
And answers to any questions
Shopping Links
For quick and easy shopping
Client Portal  
To access their boards and shopping links



(Step #4? -CLICK & SHOP!)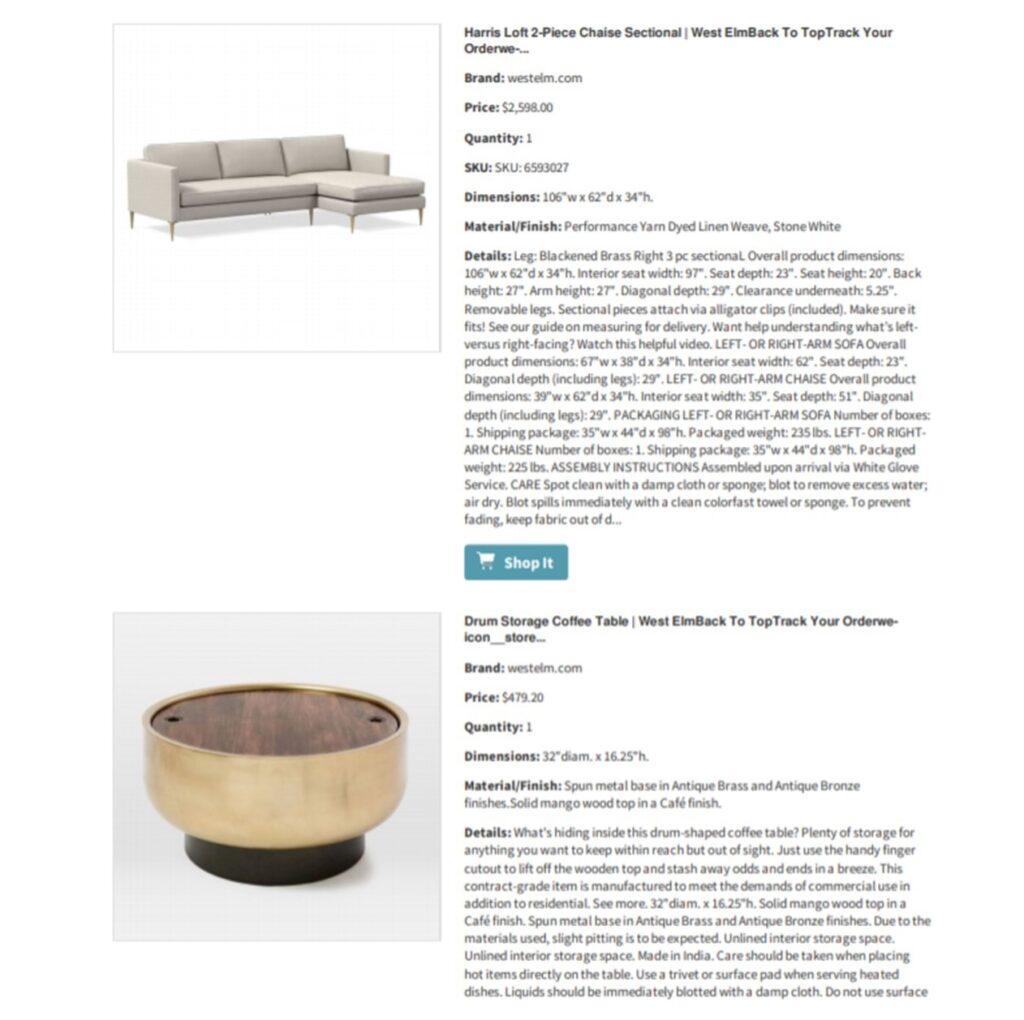 Step #4. SHOP THE LOOK
Here is where our clients can make shopping quick and easy instead of hours of scrolling and still wondering about all the options.
Just by clicking the shopping links on their custom curated room's design boards like above, it's done!
We curate clients' collections from our "To the Trade" source with pieces available to designers, and from retail sources.
(Step #5?  -STYLE & ENJOY!)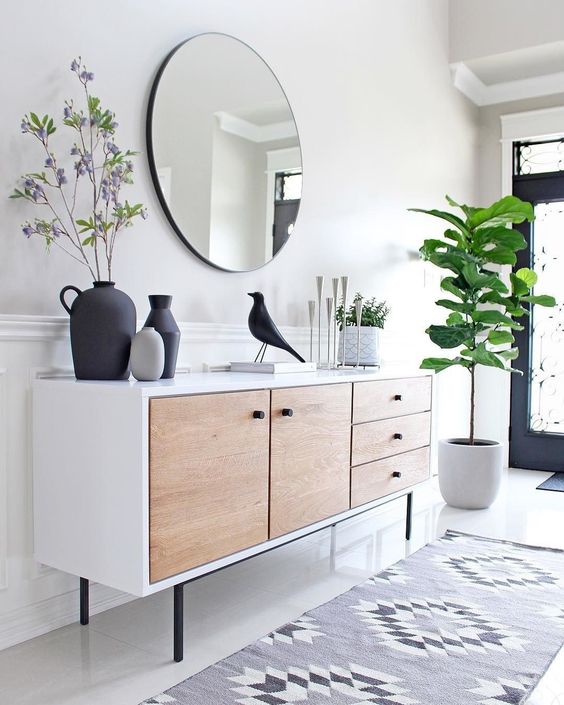 Step #5. STYLE & ENJOY!
The Furniture Floor Plan and 3-D  Room make it easy for clients to see how to style their designer room.
Right down to hanging the art and mirrors and placing the floor plants and area rugs. (A virtual picture is worth a thousand words!)
Clients can also send us their arranged room photos for final tweak from us, which we are happy to do. (Besides we like seeing the "afters" as much as anybody!)
Sue's review on Houzz was another feel-good moment knowing we made her space a happy place…
Have a room that makes you totally happy? No? We can fix that:
We make it easy, so skip the endless scrolling. Just tell us what you like and your budget (we can help with that too).
We'll create the room of your dreams. You just click to order and arrange to match your 3-D room. And your room is done and ready to enjoy!
25+ years of creating inviting, comfy designer rooms.
Start by telling us about your project
Call
425-977-5599
or