Helping people create homes that make them happy
just like we've done on...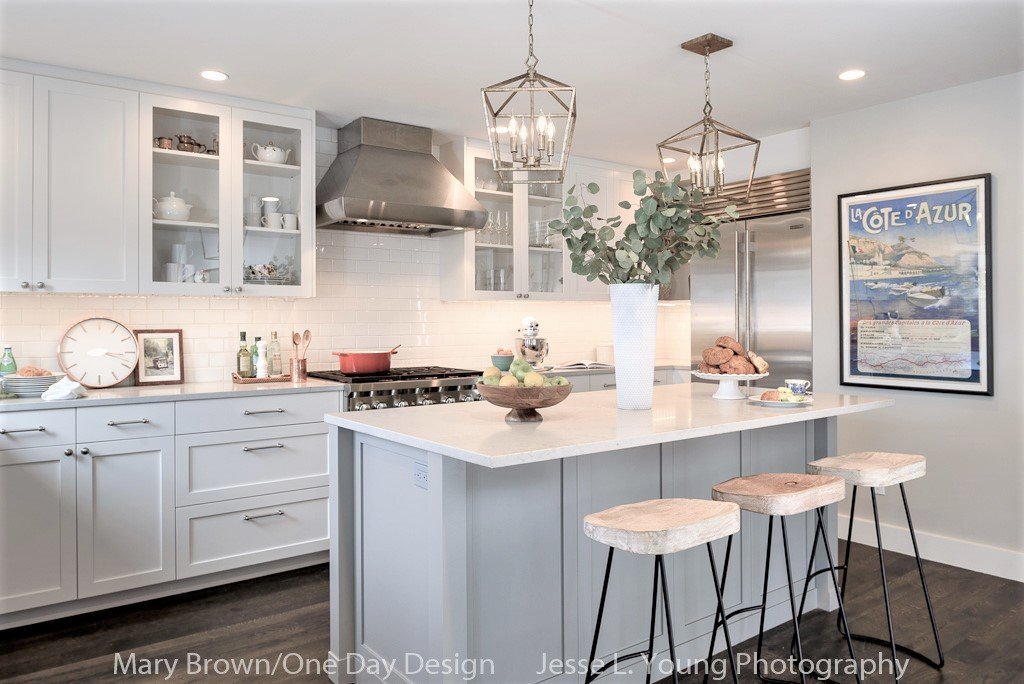 Design Problem:
The kitchen was dark, dated & felt closed off from the rest of the main floor.
Design Solution:
Open up the walls to create a large, livable great room, kept the the kitchen layout (helps with the budget) but added an island (additional countertop & storage), updated the cabinets, countetop, appliances, lighting & paint colors. Creating a fresh, open, airy, updated feeling kitchen.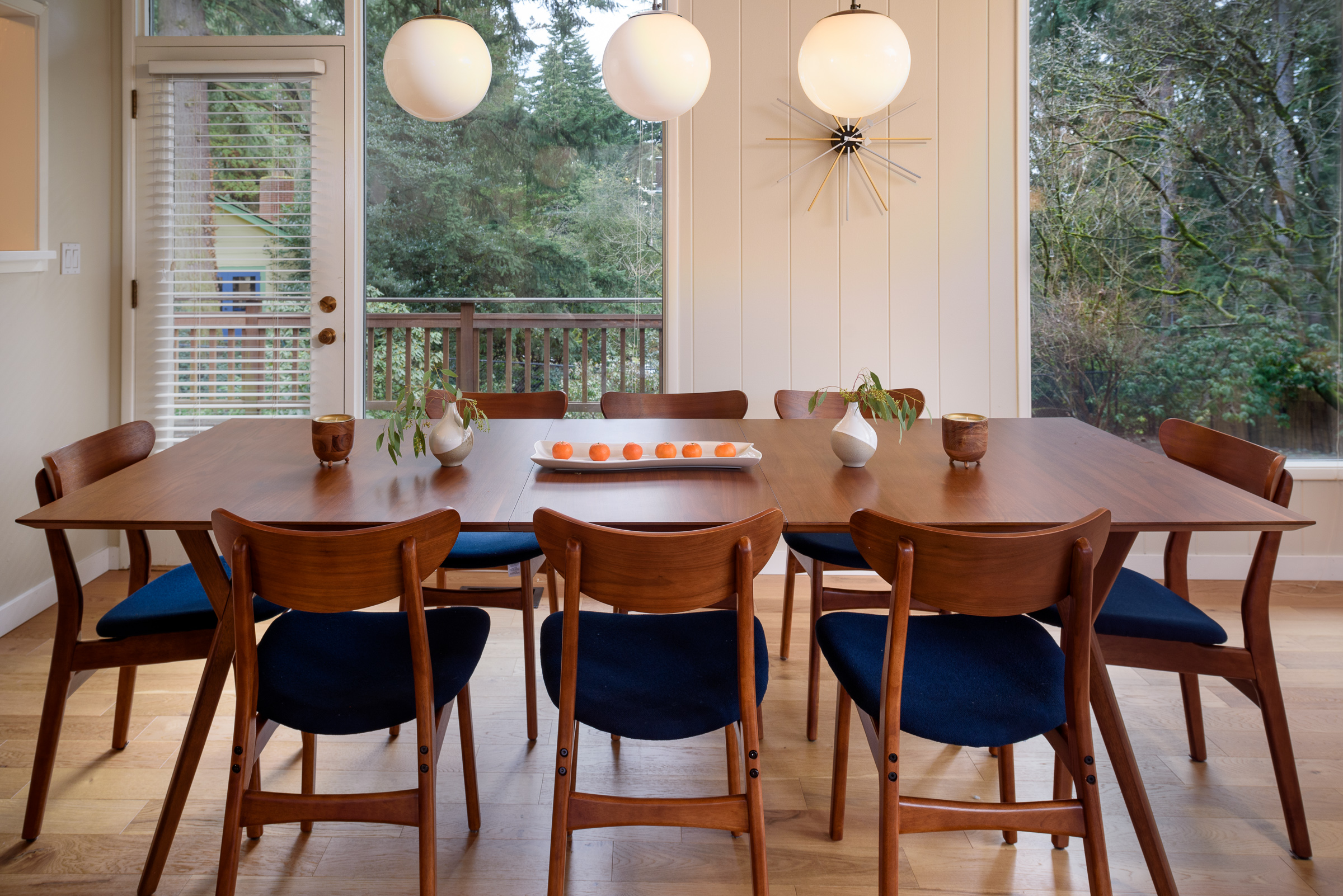 Decorating Problem:
Just moved into a larger home and  furnishings now felt too small and to few for their dining space and growing family. 
Decorating  Solution: 
A beautiful, casual style dining table with several leaves gave them several size options for everyday & entertaining. Upholstered chairs add comfort & the dark color is family friendly. Perfect fit for their new home and lives.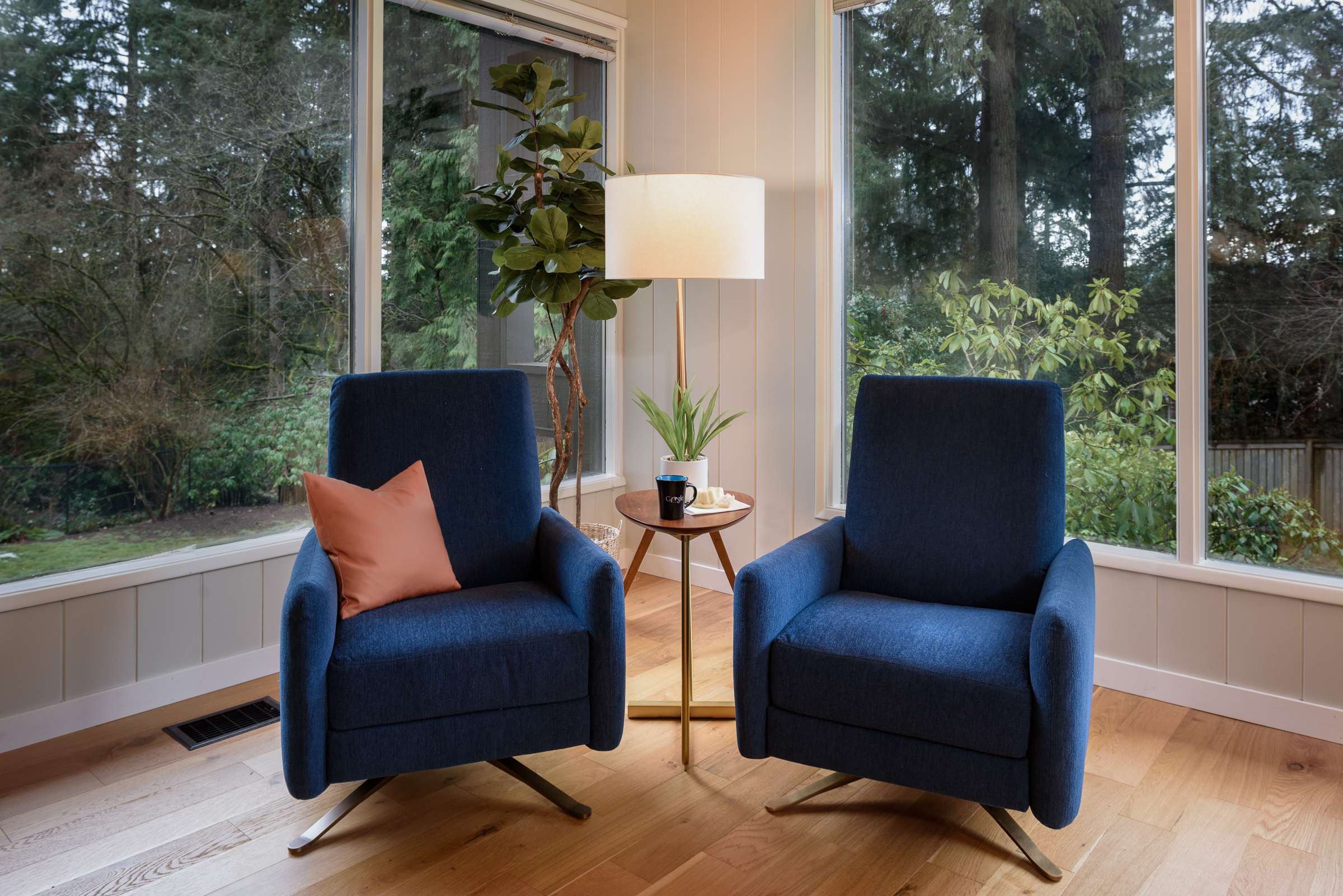 Decorating Problem:
A picturesque but challenging corner to decorate with all the wndows and little wall. 
Decorating Solution:
Swivel recliners gives this corner multiple functionality: From a time for two, to being part of a group in the great room, to swivaling around and relaxing with feet up to jsut enjoy the view.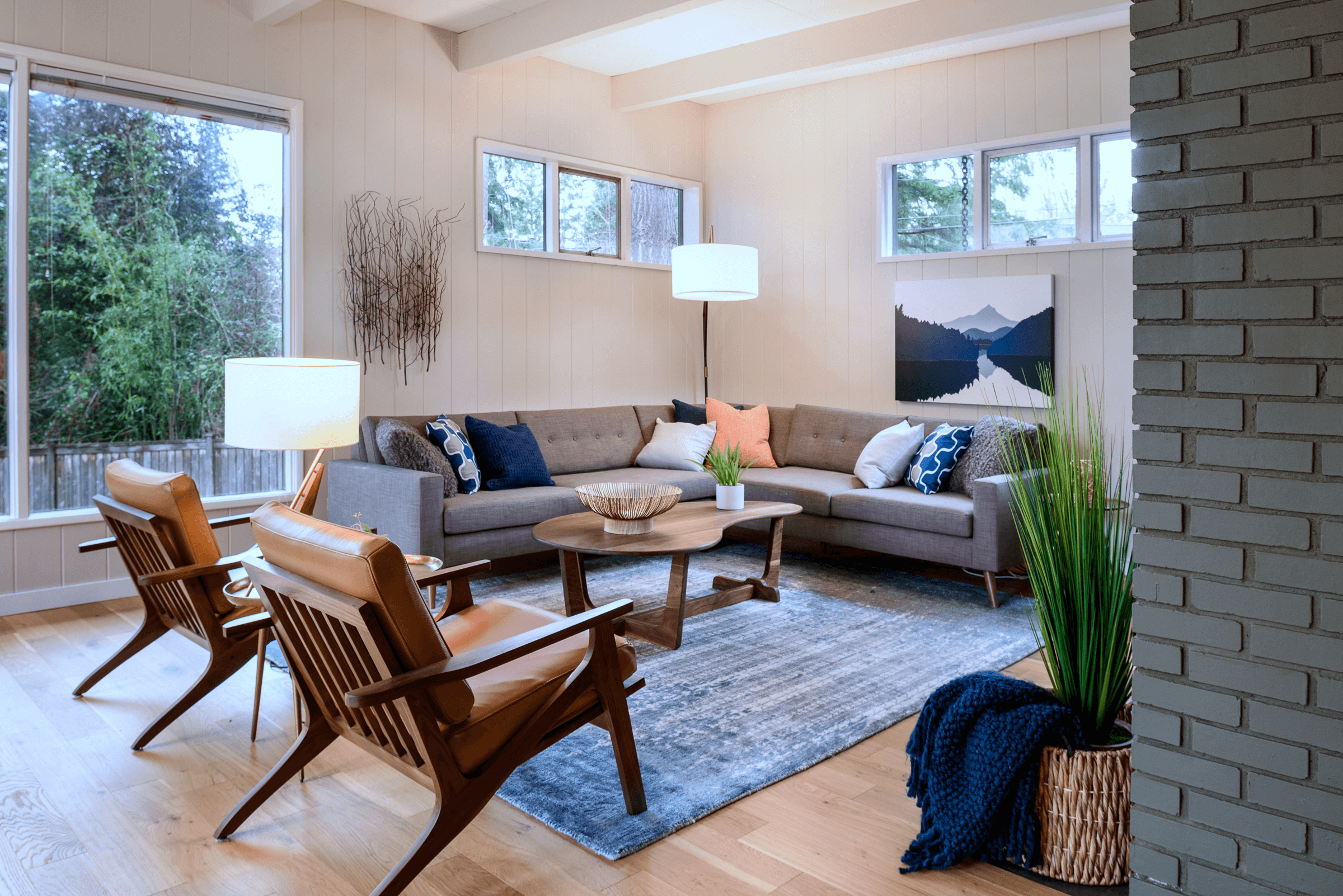 Decorating & Paint Color Problem:
Spacious great rooms' lounging area had dated wall colors, few walls for arranging furniture and didn't feel fully finished.   
Decorating & Paint Color Solution:
Walls went from green to soft  neutral, and chairs that worked from all angles & a larger, scultured focal point coffee table are added, plus side tables, lamps & an area rug to pull it all togther.  Feeling furnished and finished down to the accessories.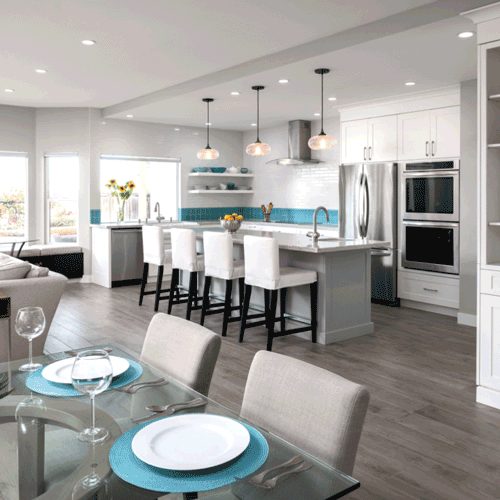 Design & Decorating Problem:
Unused formal living & dining rooms and a too small family room & kitchen made this home feel cramped with low light, wasted space. Plus the kithen, paint colors and flooring were dated.
Design & Decorating Solution:
A wall came out & everything came together into a very spacious. light filled great room. Updated flooring, wall color & color scheme ties it all together. A large island was added & updated  lighting.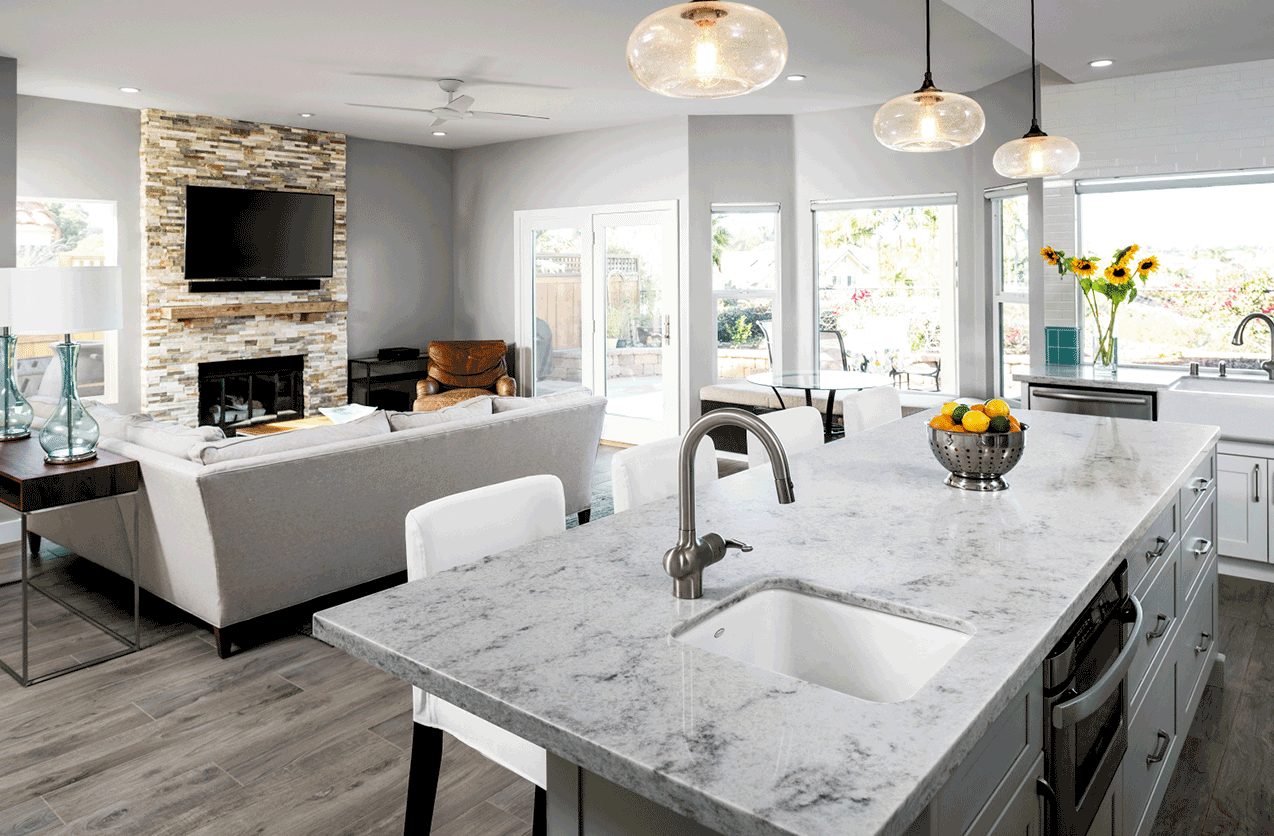 Design Problem:
A dated, low half-wall, red brick fireplace needed to catch-up with the new Coastal look of the great room. 
Design Solution:
A neutral natural stone now reflects the updated sea & sand color scheme. Running the stone facing all the way up the wall makes it the right scale for the great room it now site in. And a rustic, weathered plank mantle finishes it off.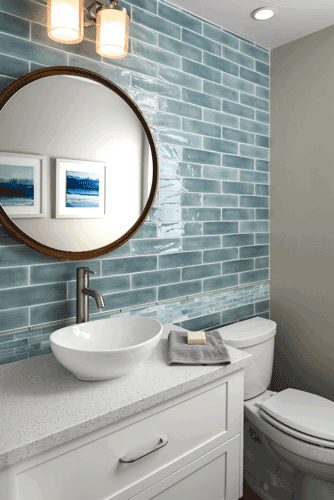 Design Problem:
Small, traditonal space needed an upgrade and updated style and color scheme. 
Design Solution:
A fully tiled wall was the design splash this small space needed to create real design impact. A new white cabinet & counter with it's vessel sink add to the interest. And keeping the cabinet, countertop & sink the same color makes the room feel larger. A fresh, fun, light feeling space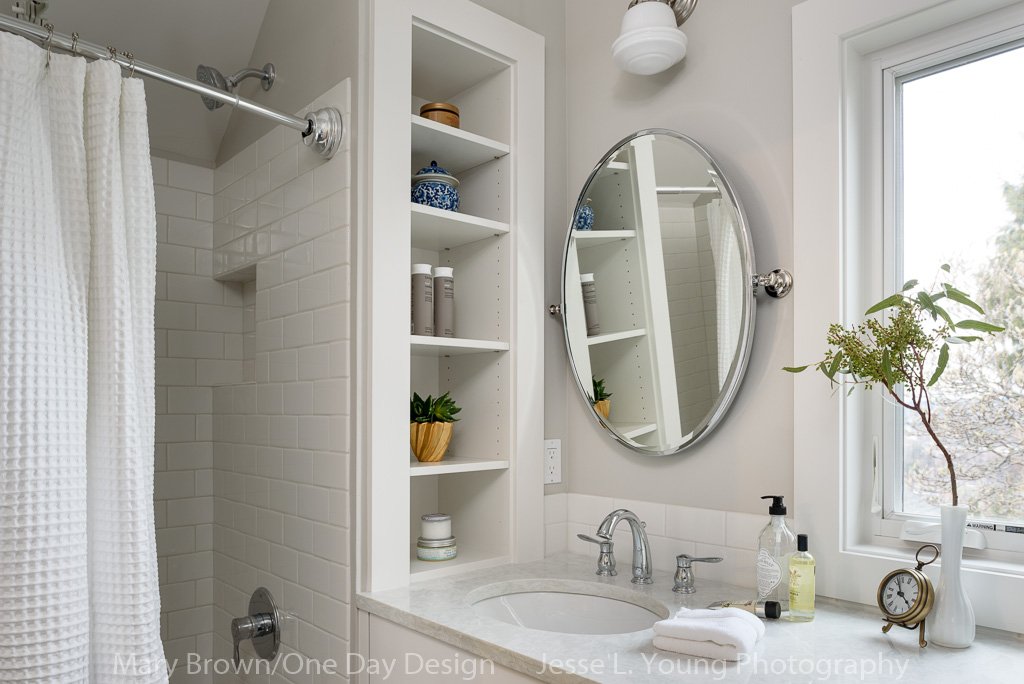 Design Problem:
Little needed, dark attic room was wasted space in small home. 
Design Solution:
Convert it into a much needed upstairs bathroom by installing a larger window, choosing all off-white palette to brighten & enlarge the space, maximize storage with inset open shelving.  An updated classic style full bathroom fits right in with a vintage Bungelow style home.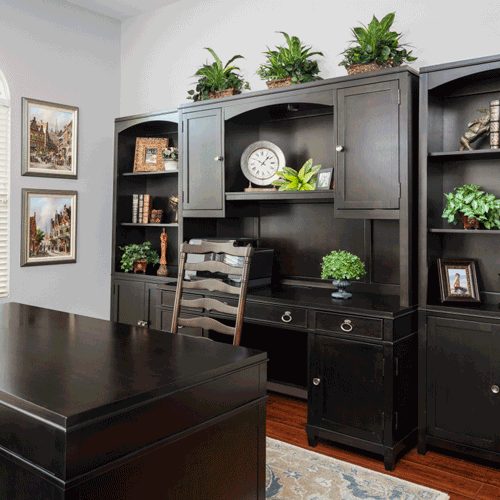 Living Room Converts to a Home Office
Space Planning & Decorating Problem:
A large, formal living room space didn't fit the lifestyle needs of this financial professional. 
Space Planning & Decorating Solution:
Convert it into an office where.
Home office furniture, decor & wall colors were selected to convey a professional image, & to maximize functionality.
Now clients can be seen in  a professioanl setting and right off the entry away from the private living areas.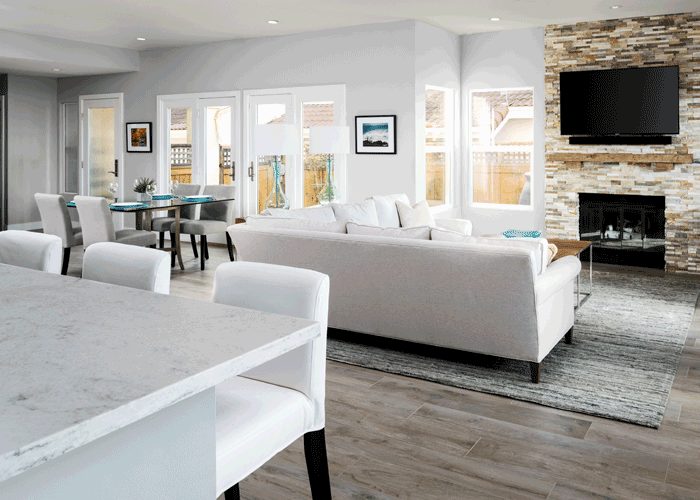 Decorating & Styling Problem:
With all the walls gone in this great room conversion the new large empty space needed to be decorated and styled.
Decorating & Styling Solution:
A sectional & area rug defined the lounging/TV area, & an area rug sets apart the dining space. The same style table chairs are coordinated at the island. And the mixed white color scheme creates flow throughout the overall space. Everything is arranged  for easy, informal entertaining and everyday living spaces.
"Well worth it – I couldn't have ever come up with…your great design."
"I worked with Mary… on giving my main floor a "facelift", and I loved the results… Mary was a dream to work with, listened to all of my thoughts, concerns, and offered expert advice."
"Mary listened to my design ideas and provided constructive input as to the myriad of choices necessary in a remodel. Mary always gave me a variety of choices for each decision… Mary has changed my house into a home, she's a pleasure to work with."
"Having recently moved, we were eager to have our home look and feel finished… the transformation … from that "just moved-in look" to our dream home was amazing… Exceeded our expectations."
"Mary is always quick, responsive and extremely helpful. I absolutely love working with her… has literally held our hands throughout the whole decision making process… can't thank you enough for everything you have done."
"I have had Mary redo all my rooms in my home throughout the past 15 years, including holiday decorating. She also has assisted with a bathroom remodel. Mary is quick, meets deadlines and is truly a professional in that she has knowledge of all styles, quality and is delightful to work with… I'm still amazed each time she has finished a project."
"Mary Brown is a true professional and did a fantastic job guiding me through much needed updates to my home. She was able to see which direction I wanted to go and gently but efficiently helped me make the right choices. I'm delighted with the results… and recommend her to anyone who is ready for a change, but might be afraid to take the leap."
Not Sure Where to Start or Got Stuck?
Call Today To Get Your "Quick Start Plan" On Your Home's Project!