2021 Interior Trends
-What's In, What's Out & More!
Home Interior Trends Changed Like Never Before
The 2021 interior trends are in,
and we are ready for a change and boy did we get it!
I have never seen styles take such an abrupt u-turn as I did this year. From minimalist modern everything almost to Grandma's house revisited and a floral curtained Euro cottage.
But if that's not your idea of home we've kept a more modern favorite moving along into the new year by adding several interesting new twists!
What most clients want though, no matter their style, is a comforting haven that works for all their home activities. 
As you've probably discovered too, the more activities the harder it is to have a calm, efficient home.
But what better time to re-imagine your home than now with one of the new 2021 trends.
Plus you can now "Shop the Look"!
Announcing
"SHOP THE LOOK"
With curated packages I've created for each trending 2021 style!
(Making it easy to get started on adding the newest looks.)
2020 Styles We've Said Good-Bye To 
MID CENTURY MODERN
It's had a strong run but it is time for it to make way for other past trends like Art Deco of the 1930s and 1940s.
So get ready to see its vertical lines, sleek craftsmanship, bold geometric shapes, lacquered surfaces, marble, and burl wood.
MINIMALISM
The new lifestyle with all its activities (and time spent at home) doesn't lend itself to these pared-down spaces.   
With all the things kept at home now, what we really need is smart storage solutions beyond surfaces.
And with comforting looking spaces being craved, that means more layering.
ALL NEUTRAL
With the more mixed, layered styles of 2021, color has entered the room.
Color is such a great mood enhancer. It is so powerful it is one of the first things we respond to when we step into a space. So it's the perfect time to move beyond all neutral rooms and add in color.
Certain colors are trending of course (more about that in a bit) but one thing about neutrals, they can be paired with a wide range of colors to brighten, and update spaces with your own individual look.  
MODERN FARMHOUSE
Dearly loved, ran longer than anyone thought and still can be found in places.
But in urban areas, it often was a stretch to try and meld it with the interior architecture.  
If you still want the look though, integrate rustic accents that complement your other décor. A simple trick is to stick with the same color palette to tie different styles together.
FAST FURNITURE
This isn't a style but more a way of decorating that has made a notable shift so I think it's worth knowing about.
Because our homes are getting daily and all-day use, inexpensive furniture isn't made to stand up to that over time.
With life at home being more of a priority, people are caring more about what they surround themselves with. Beautiful, quality pieces even multifunctional ones bring more joy and convenience to daily life.   
Hello 2021 Styles!
1. Modern Rustic
Modern shaped pieces created with traditional materials like marble, stone, and wood are warming up modern spaces that feel too stark to us now.
Round end tables and coffee tables and curved seating paired with gold accents are also cozying up modern homes in 2021.  
Cozy textiles
Lots of wood and natural materials
Even pair in a rustic antique with modern, edgy pieces.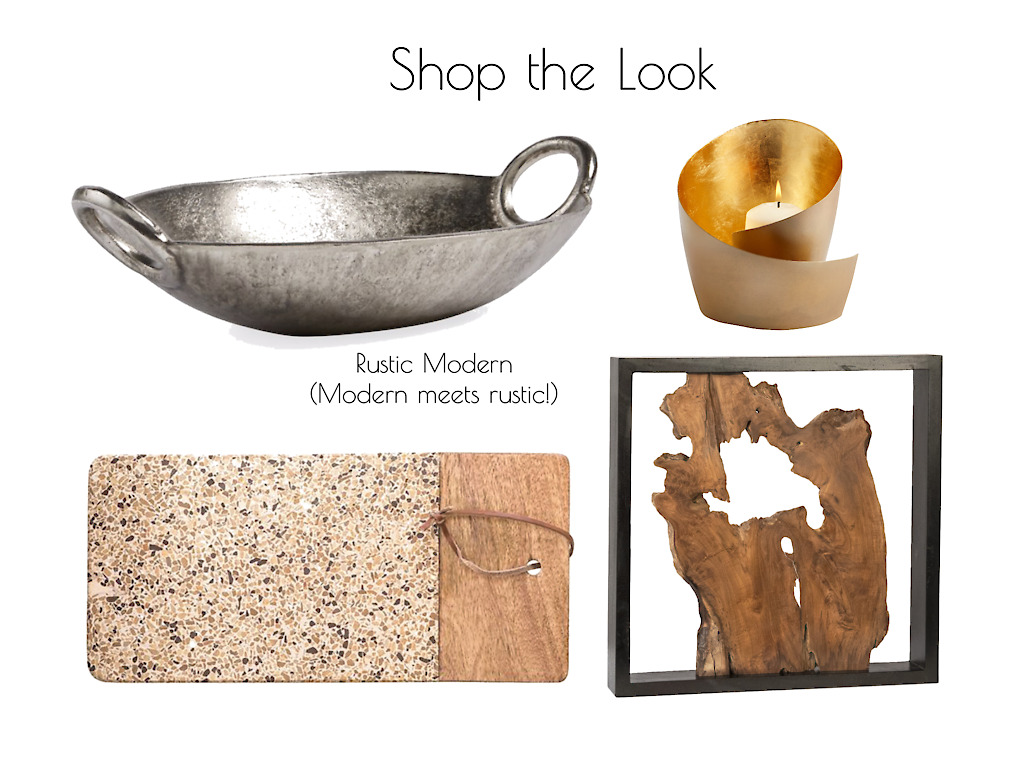 2. CottageCore
One of the top five most Googled home trends!
It's Euro-rustic (with a touch of Bo-Ho) in style, cottagy and cozy with floral curtains, handmade pottery to create this very homey, yesteryear style.
Colors can be bright or soft, many or just a few like a collection of blue and white printed fabrics in a bedroom.
Ceramic teapots and plates, and patterned tablecloths
Foraged materials like tree branches and garden cuttings become decorative items in handmade pots and vases.
Old books, (or at least hardbacks without covers)
It's like being at Grannys' summer cottage, only in Europe.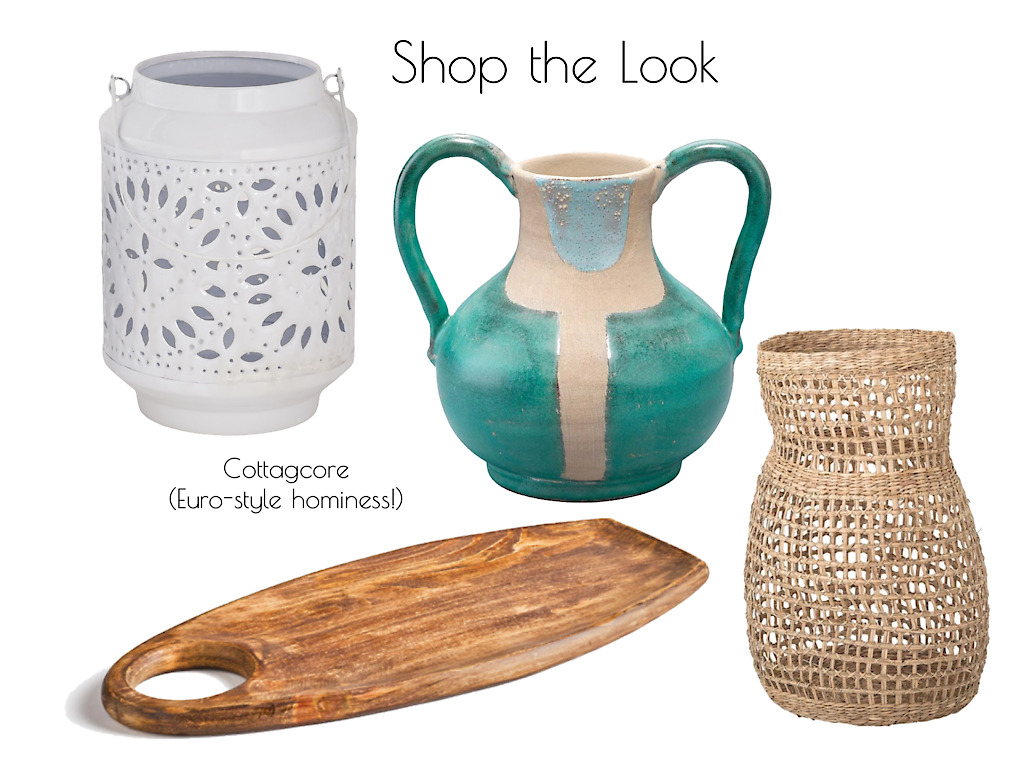 3. Maximiliam
When more is, well, more!
By mixing old with new, adding lots of layers, collected, and eclectic this is the polar opposite of Minimalism.
Rooms can be very varied leaving lots of room for individuality.
Repetitive patterns in prints such as florals, abstract, and animal prints
Rich, bold colors
Mixing and matching of textures and colors
Multiples of items like books, statues, artworks etc.
Blending of styles—but not limited to classic, eclectic, and bohemian.
4. Grandmillenial
Classy, cozy style of generations past!
Various eras can come together to create this look that can take you to more comforting eras (even to Art Deco).
Even among modern furniture companies, this traditional, classic style has gone from zero to 11% in popularity. (That's saying a lot!)
It's a contemporary take on the past and rooms can include antiques as well.
It's all about feeling the cozy but classy home of generations past with this old meets new style.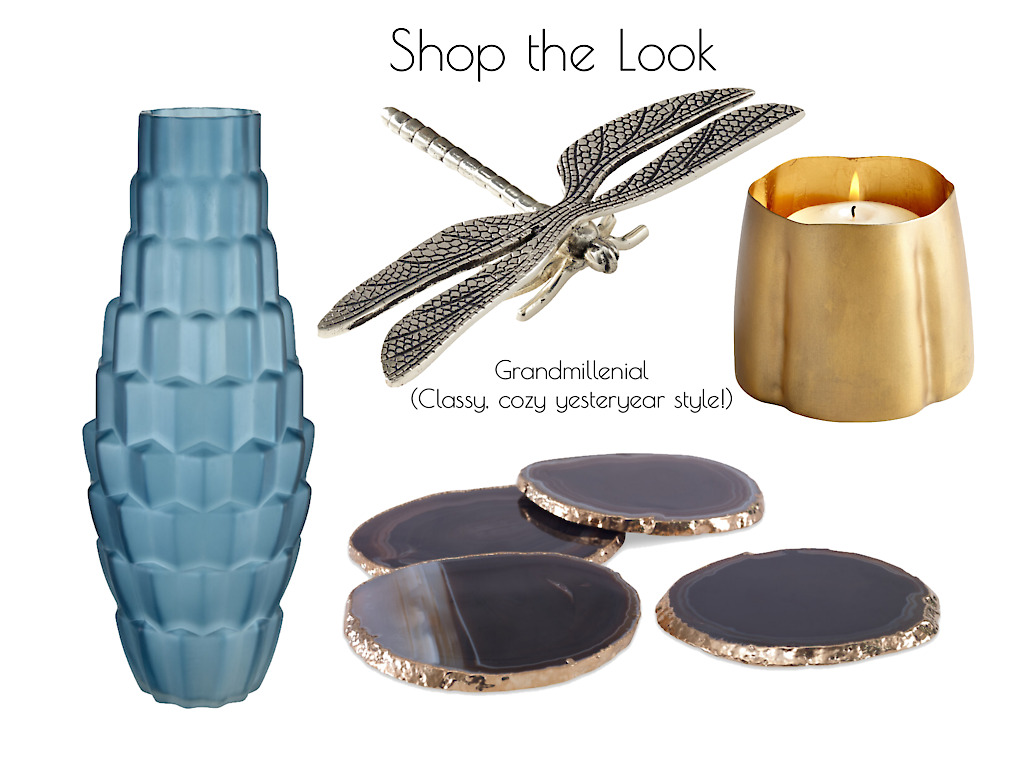 2021 Trends That We See Overall
 1. Curves
Furnishings are moving away from straight more ridged looking lines to softer curved lines.
That includes anything from sofas to rounded tables and consoles even area rugs.
So boxy sectionals are being traded out for curvy shapelier styles.
Even pillows can be round, balls. What fun!
 2. Color
Color has entered the building!
From warm to cool colors there is something for everyone to love.
Warm, rich, earthy color like cognac, camel, deep olive green, burnt orange, and gold-colored accents are gaining in popularity
Along with paint and fabrics with red or yellow undertones.
Warm neutrals like cream and pale beige are adding to that warm cozy feel.
Calming soft blues and greens are also appearing and creating tranquil spaces.
They can pair well with airy off-whites or very pale beiges.
 3. Natural Textures
Are still strong with rattan leading the way!
Natural materials and all things organic are hugely popular.
Rattan can add the feel of a tropical spot for a momentary mini vacation.
It's dramatic so small doses are best so think one accent piece or use it in the details like coasters
Marble and wood are also very popular now and in all styles from traditional to modern.
One more way to bring the natural feeling of the outdoors indoors.
 5. House Plants
Bringing nature inside is naturally calming

Groupings like this using varying plant sizes and heights are a simple way to create a great look.
And if you aren't a gardener (like me) there still are hardy options like orchids, decorative grasses, and succulents.
Just check the light conditions they need to thrive based on where you want to place them. 
Need hard-working spaces that live as good as they look?
We'll re-imagine them to create a comforting haven that efficiently fits your life!
Just call
425-977-5599
or
"I love coming home to my house every day since she has worked her magic!!!!!" -J. Stelzner
Avid DIY-er needing feedback, options & answers?
A  Video Call or In-Home Design Consultation
may be all you need: 
Call us at 425-977-5599 or 
"I worked with Mary to give advice on giving my main floor a "facelift", and I loved the results."  – S. Hayman
Please Note
"SHOP THE LOOK"
collections are available in limited inventory