2022 Interior Trends
Featuring One of My Favorites:
Checkerboard / Diamond Floors!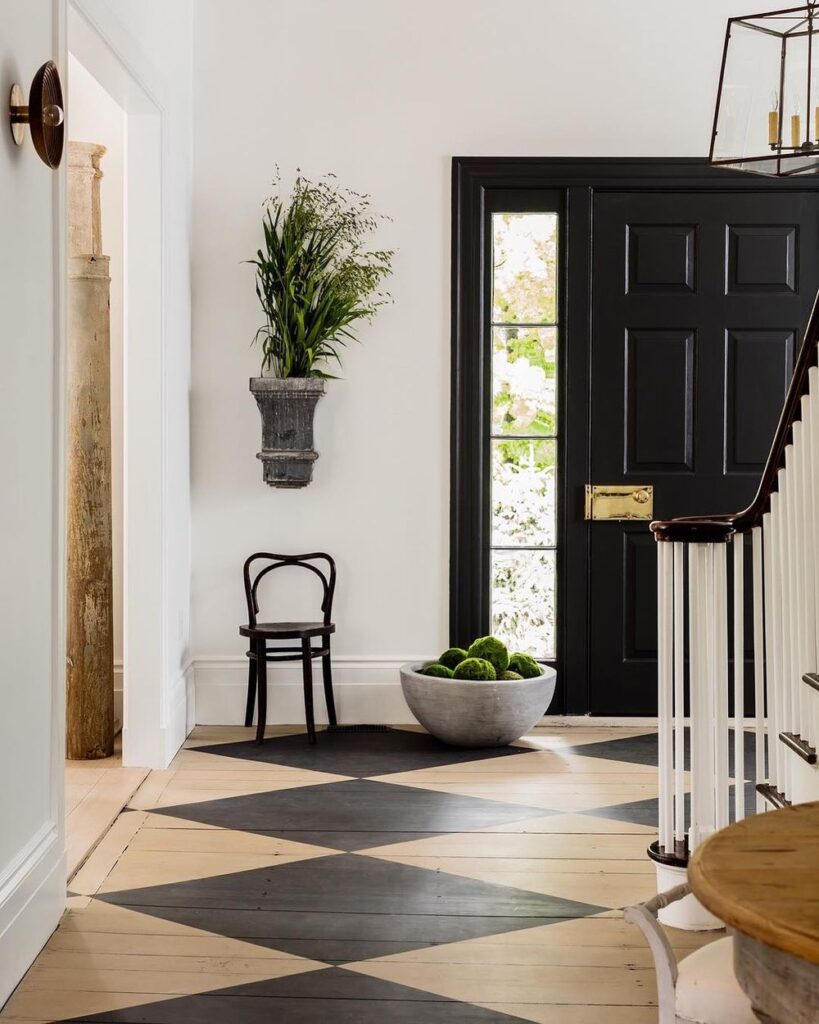 But First, Where Do Trends Come From?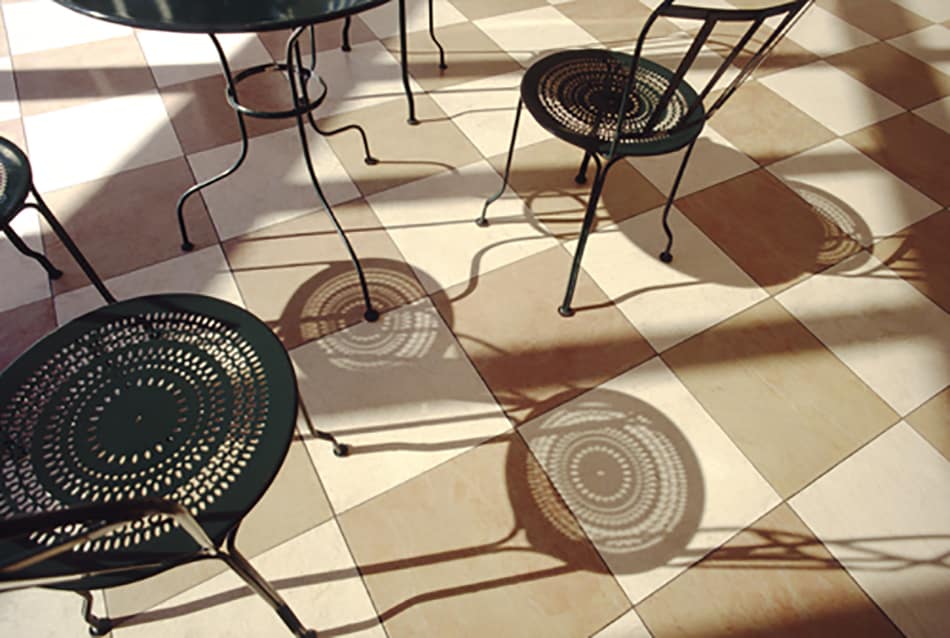 Forecasters
… Coaxing us into buying the next new thing?
Well, actually, the forecasters are following us. (Shocker right?)
They just watch to see what we have started to look for. Predict what is coming and manufacturers start gearing up to meet the demand. And there you have it, the latest new trend is born.
So we trigger them. We get bored with what's been out there for a while and the search begins. And to all of you who started searching for checkerboard flooring –Thank you!
So let's look at this outdoor checkerboard patio and see …
WHY IT WORKS SO WELL IN THIS SPACE
Checkerboard and diamond flooring is appearing in some unexpected ways and places like outdoors. It absolutely makes this above outdoor space a place you want to linger. 
It changes the whole mood from say having these decorative pieces of patio furniture set on a rough, gray, maybe discolored concrete slab. Or a wood deck. 
Now it feels more refined, like an indoor space, upscale and fun actually.
And it's easier to move dining chairs at a table than on rough concrete or wood decking.
Porcelain, ceramic, or cement tiles are indoor/outdoor products.  They are durable, long-lasting, and hold up beautifully in outdoor weather. They never lose their color. And if one chips or cracks, it can easily be replaced.
With a checkerboard pattern, you can add almost any style of furnishings and outdoor decor from modern to classic, so you never have a reason to tire of it. (I never would!)
Why I Love Checkerboard Floors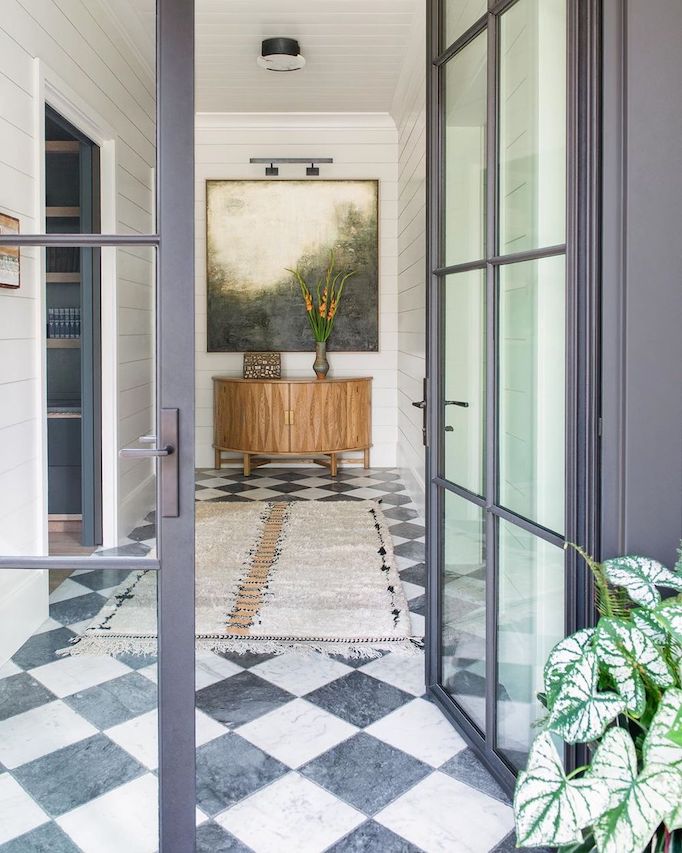 It Never Dates Because Good Design is Timeless
Good design never goes out or away because it is basically pleasing to the eye
It just keeps rolling through time as each generation discovers its appeal. And often puts their own spin on it to make it feel new and current.
Checkerboard floors have been around since B.C., so you never know when one has been installed. Yesterday? 20 years ago? B.C.? Who knows. It's timelessly undateable.
WHY IT WORKS SO WELL IN THIS SPACE
It adds a classic element to a more modern space.
Juxtaposing this classic floor with modern decorating in a tribal area rug and simple, modern not-so-formal demi-lune console.
The bold piece of light and dark classic art balances out the bold floor pattern.
The warm wood console and sunny glow to the art warm up a space that could have felt a bit formal and cold in all black and white.
The modern architectural glass and metal doors showcase the floor immediately even as you approach.  And give a light and airy look to the space. It would have felt so different with a solid wooden door and changed all that the natural light adds.
It's the balance of all those design choices that make this checkerboard/diamond space feel spectacular but inviting all at the same time. Just love it.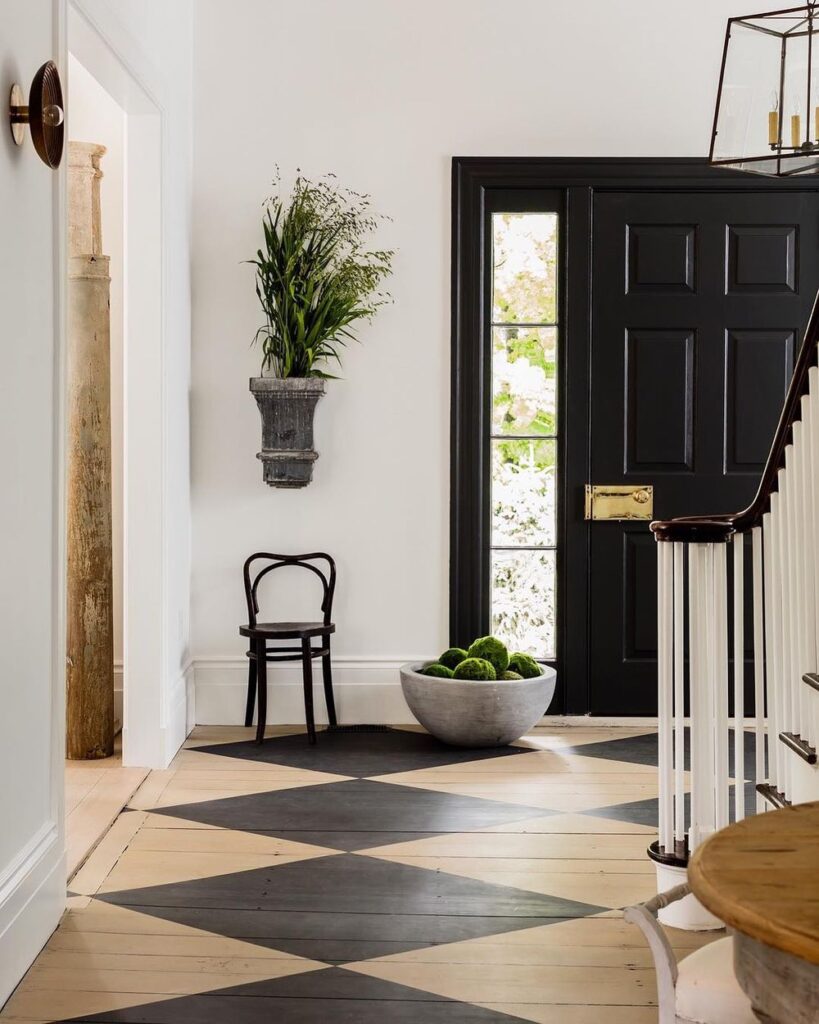 Arty Diamond Checkerboard  
Replace the painted diamonds with a predictable area rug and it's no longer an absolutely unforgettable entry
Sometimes you have to be bold, or you'll end up boring. These exaggerated diamonds make such a graphic arty statement you just want to stop and stare… in a good way. To take it all in, in an unexpected moment of delight as you step into this home.  
WHY IT WORKS SO WELL IN THIS SPACE
The floorings bold scale has cleverly been played with. 
By adding in an undersized chair and two oversized plant containers. The whole seemingly sophisticated space makes you want to start to smile as it doesn't take itself too seriously.
Its graphic boldness adds an interesting, unexpected modern vibe to an otherwise classic space.
I love it. 
It the Stunning Touch to Any Space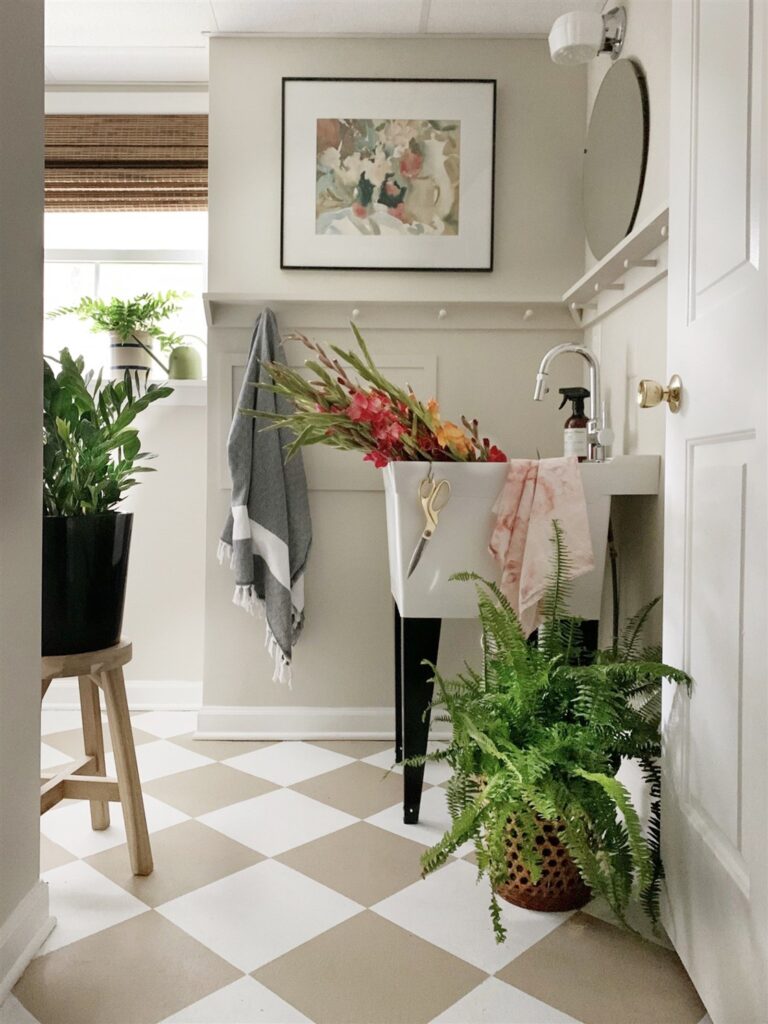 So few pieces yet this room is incredibly inviting
Take out the pretty plants and flowers and props for photo styling and what makes this room really sing in real life?
The diamond checkerboard flooring. Once again, its design impact comes through. It's so reliable.  
WHY IT WORKS SO WELL IN THIS SPACE
It's an easy way to wow up a small, even everyday utilitarian space.     
Anything you add from there is frosting on the cake.
It will inspire your color scheme.
The decorating style options are wide open. Modern, farmhouse, neo-classic, minimalism, vintage. So many possibilities.

And making laundry not such a chore after all. Perfect.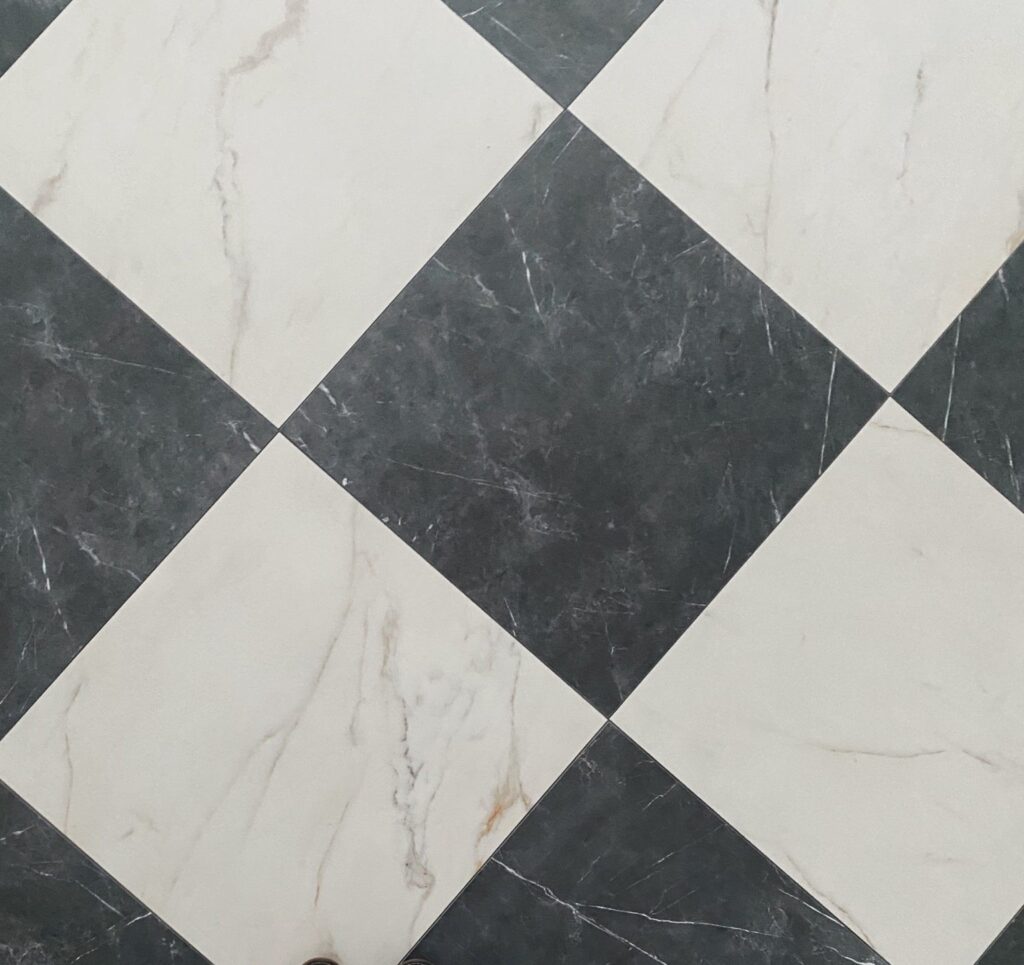 The Many Ways You Can Have a Checkerboard/Diamond Floor!
These classic floors can be created in many ways by using different materials.
Whether laid out in a checkerboard or a diamond pattern.
And if you move away from neutrals, you can give it a modern, or fun vibe for kids' spaces even. 
FAUX MARBLE 
– The above photo is a gorgeous faux marble in porcelain tile.
(Bedrosian 24×24

Troy in Nero

&

Magnifica Calcutta Ore

)
The tricks to making faux stone tile look like real stone?
– Use the very narrowest grout possible simulating how stone is set.
– Match the darkest tile color.
So if the grout discolors over time, it won't be as noticeable as trying to match the lighter color.
MARBLE
It comes in more colors than is commonly seen. Once you venture away from the neutrals it will take a strong design plan to execute it well for the overall room.
– White
– Black 
– Grey 
– Cream 
– Red 
– Blue 
– Brown 
– Green 
PAINT/STAIN
-Painted or stained wood floors can have a refined or a rustic look depending on the flooring itself.
-It takes a precise DIY-er or pro to do it well.
– It's a bold look that will invite scrutiny (in a good way), so you want those edges crisp.
CARPET SQUARES
– A product like FLOR is perfect for this.
– It can be created as an area rug or have a wall-to-wall look. 
– Comes in a wide range of solid neutrals.  
– Also, colors for a modern or fun look.
– They will cut carpet tiles too so you can even create the diamond pattern.
AREA RUGS
If you are going for the classic look versus a fun colorful look in a kid space, I recommend:
– Mid to higher quality 
It's a sophisticated look even when paired with informal decorating so to pull it off well the rug should have a semblance of quality.
– Only use one with a large checkerboard pattern no matter what size the rug is even if it is small. (It will avoid what I call the "chessboard" look.) 
Is there a beautiful new look you'd love to see at home?
We make everything easier, faster & without the expensive mistakes.
25+ years of creating comfortable, inviting designer spaces.
Simply start by telling us about your project.
We'll show you how we can help.
Call
425-977-5599
or