Light & Airy Rooms That Aren't All White or Neutral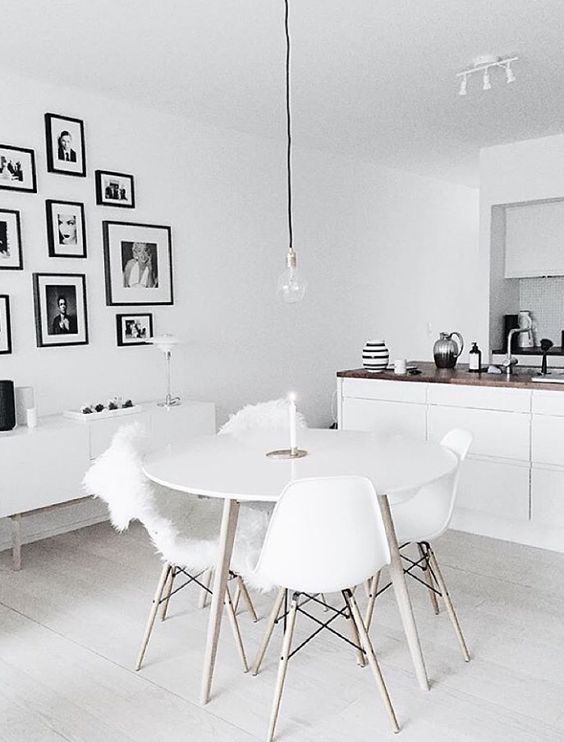 The most common request I hear now?
"I want a light and airy room but with some color"
We did the all-white trend, but just like the minimalist look, it's hard to sustain in real life in any room used daily; because not everything needed to decorate an entire room is easy to KEEP clean. 
And even when it is easy to clean like blond wood, white vinyl, or tile flooring, it is high maintenance because it shows every little crumb, drip, pet hair, area rug fuzz, and miscellaneous debris before your day's half done.
And even with a white with black or an all-neutral room, there is one other reason people are moving away from all neutral rooms:
They want a different mood in their home. The all-white, black, and neutrals feel too stark. In a word, they feel "colorless".
But that is where the problem comes in because they still want light and airy rooms.
So how do you keep that look going while adding in color in ways that it doesn't take over or look out of place?
Because whatever you add to a largely white or neutral room will stand out, be that for better or for worse.
So let's dive into how you add color to a room purposefully so you can create well-designed spaces that feel light and airy but comfortable and cheery?
In this episode on how to add color, I'm starting with adding the color of plants, to bring your space to life by adding nature's beautiful greens.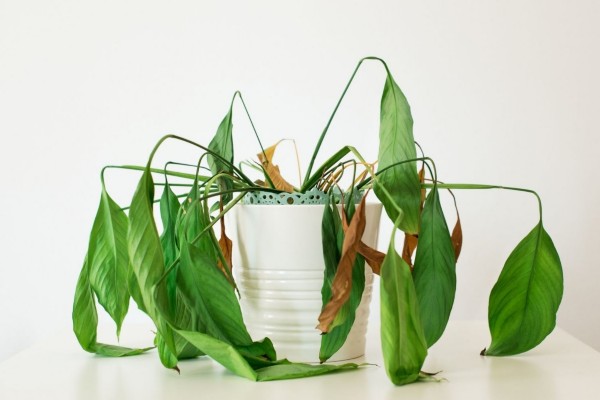 Yes, I was a florist but…
Lest you think a florist has a green thumb, I decorate largely with faux plants because it's a pretty consistent fail in the field of horticulture for me! (Arranging flowers and foliage is apparently a way different skill set than actually growing them.)
If you can relate, you can still use beautiful plants to liven up your white spaces. Just go faux!
I'll be sharing at the end how to do that as I've had to learn ways to use faux plants so they are a true design asset vs. a faux fail, horticulturally speaking.
What Could Be Fresher than White & Green, (Even with Black)?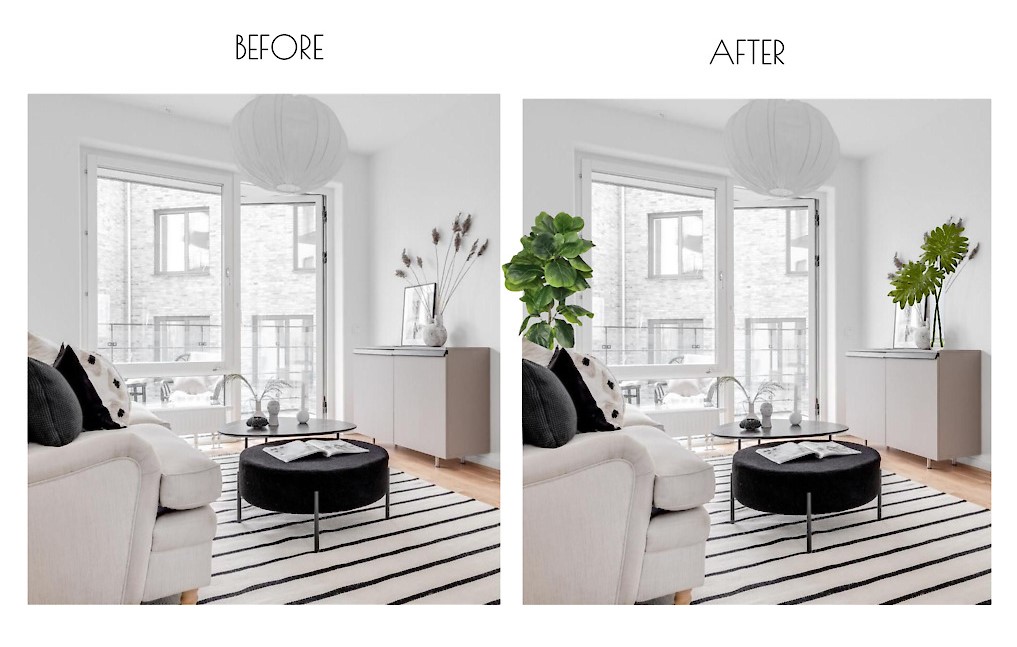 Green plants added to largely white spaces are, well, a natural. Talk about a fresh look, this is it. It is visually vibrant but naturally calming, all at the same time.
You just can't lose by adding even one plant to each space in your home. And if its a bigger space go for more!
Any Room Style Can Take Any Plant Style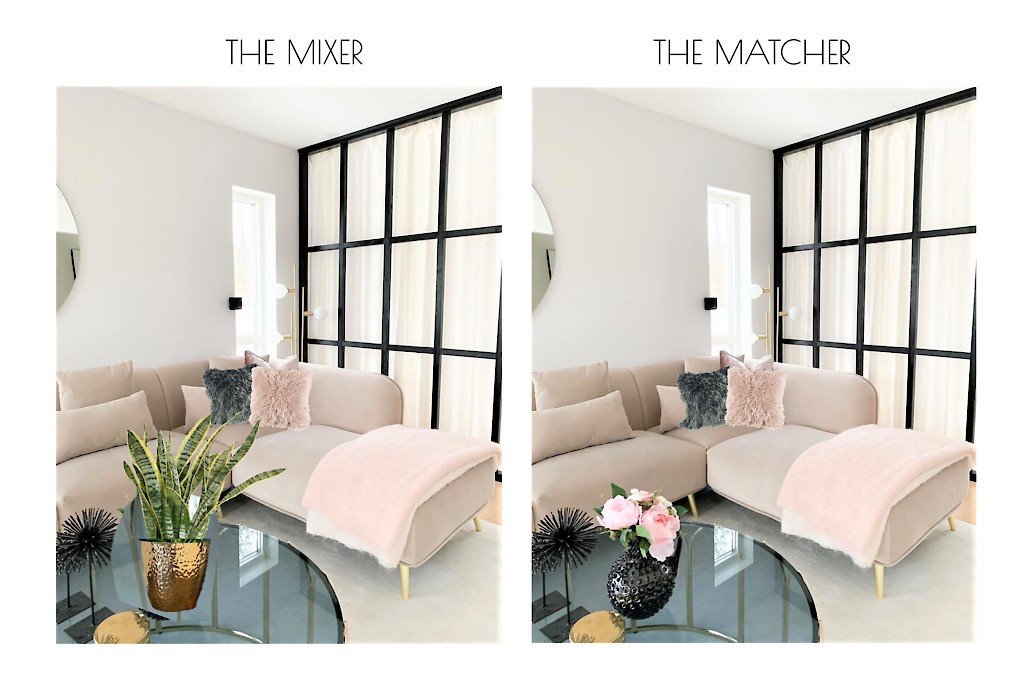 Are You a Mixer? Or a Matcher?
If you like combining looks to create a space that is uniquely yours, try juxtapositioning an uncommon plant choice with your look, like this spikey edgy plant with this soft, touch of glam interior.
The secret to making this work is to use a container that relates back to the style of your space.   
And if you find a theme approach more to your taste, plants and flowers that reflect your style will add a beautiful finishing layer to your room. Like these soft pink roses do to this feminine feeling room. 
Carving Out Plant Spaces in Small Spaces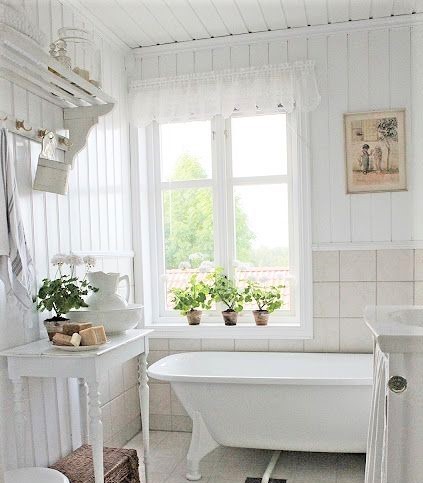 Sleuth Out Overlooked Plant Spots
You might not have room for a table in your bathroom, BUT do you have a window ledge? 
A row of small green plants added to your pristine white bathroom can liven it up that quick!  
Or how about a seemingly small, undefined entry that has you stepping right into the main room?
Adding a narrow floating shelf (even if it's a picture ledge) can now house a row of mini succulents. (Brilliant, as the British would say.)
Add that to a formerly blank, no room for furniture entry wall and you have changed the whole mood as you come and go.
Small investments for such daily design pleasures around your home
 Every Main Room Needs a Main Plant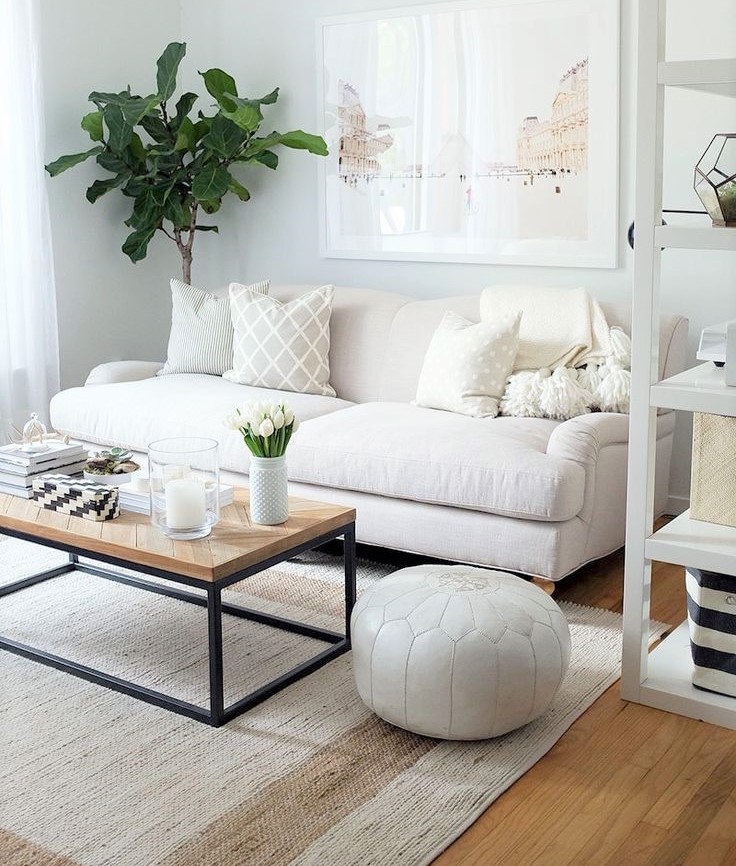 It Will Do For Your Space What Art or Furniture Could Never Do
… add the feeling of life, freshness, and the calming organic look of nature.
Not to mention the softness of plants will beautifully offset all the hard surfaces in every space like the flooring, walls, fireplaces, built-ins, TV, and non-upholstered furnishings.
Plus your main room in any size floor plan or any large room needs a tall plant with its height to add significance and presence to the space.  
Main Room Short on Floor Space?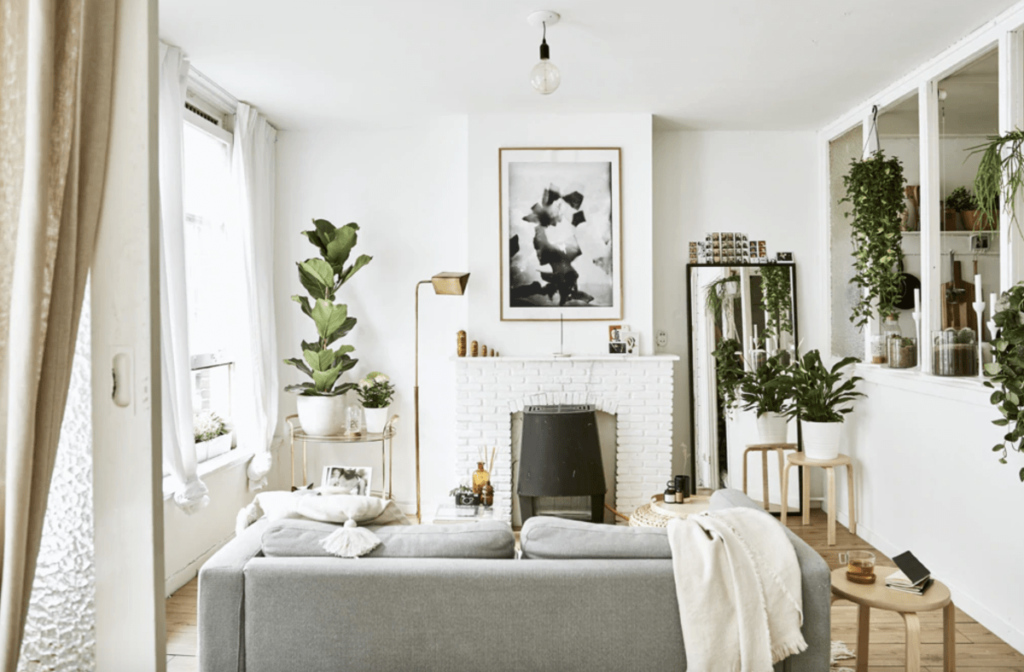 No Problem, Go Vertical and Elevate!
If your main room seems a squeeze, you can still create the effect of a tall plant.
The trick is to go for height and control the width of the plant by
Elevating a shorter plant (so not as wide) on an accent table or plant stand
Elevate a shorter plant in a very tall pot
Select a naturally narrower, more vertical plant.
Space With No Extra Floor Space?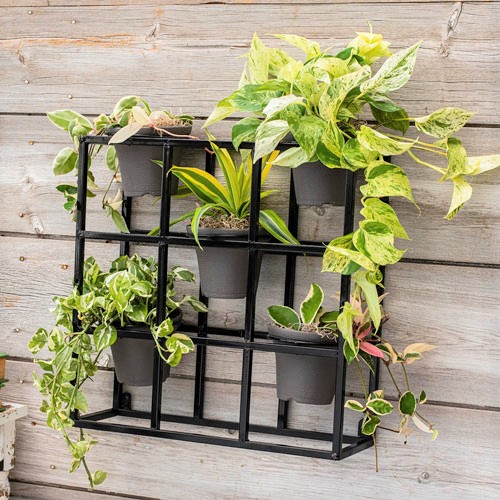 Wall Planters & Gardens Are Your Answer!
These are so great because they pretty much solve any floor space issues
And they are so interesting and come in so many styles.
And don't be afraid to use ones designed for outside on the inside. In fact, I often prefer them. They seem to have more of an organic feel to them when they are constructed to withstand the weather.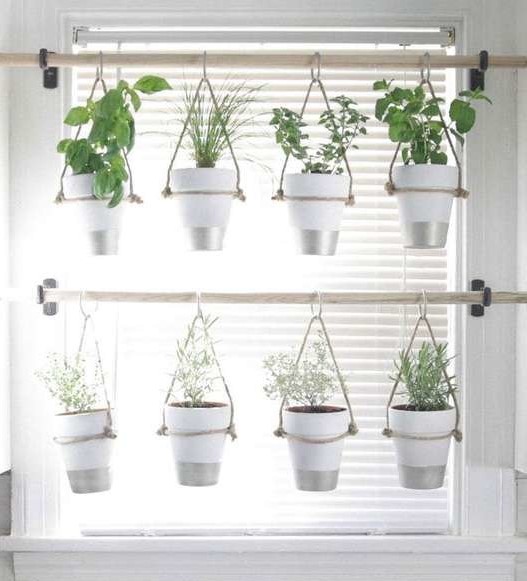 If You Are a DIY-er This is For You
It's actually a winter herb garden here, but it can be anything you want it to be
Maybe have some fun by changing it up seasonally.
Even if you live in the city or a studio apartment, all you need is a window to enjoy having greenery added to your space.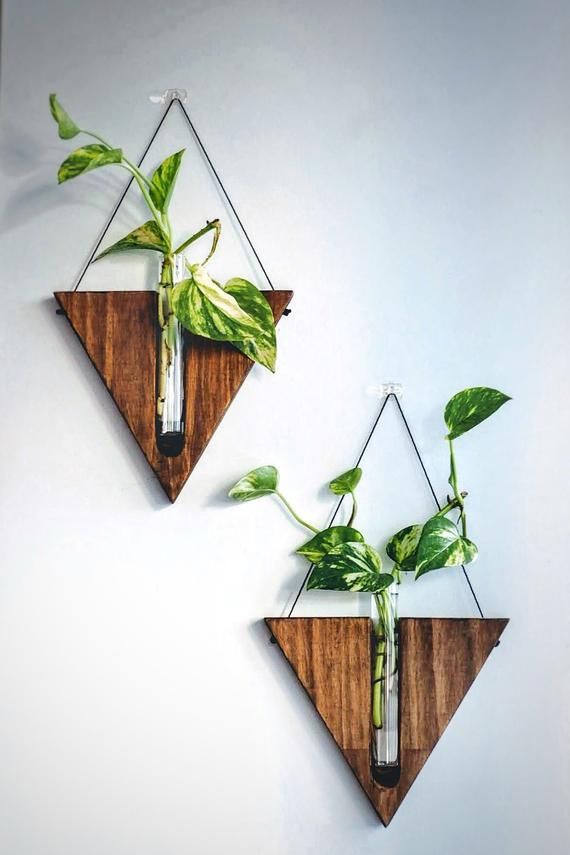 Modern Organic Style, Arranged Your Way
These individual pieces let you arrange them to fit your wall space.
Go vertical, horizontal, or gather them into any shape that suits you, or just use one to add a plant to any small space.
Love the graphic, organic look and the versatility. 
Dress Your Wall With an Organic Plant Print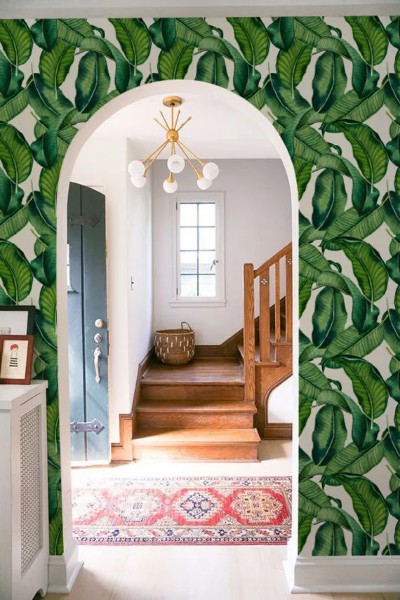 An Outside The Box Plant Solution  
Botanical wall coverings add the look of green plants to a space, without taking up any space 
Choose a wall that you want to draw the eye to,  because there is something you want to feature there like this archway and how it frames the view into the next space. 

Or the opposite… there is no real focal point in the space and you are creating one with the wall covering. 
Either way, you can add the fresh green feeling of plants!
TIP:
Keep in mind the plant type will also affect the mood of your space. Tropical plants will bring in the feel of the islands and evergreen trees the mountains.
Arranging Stems Simply & Beautifully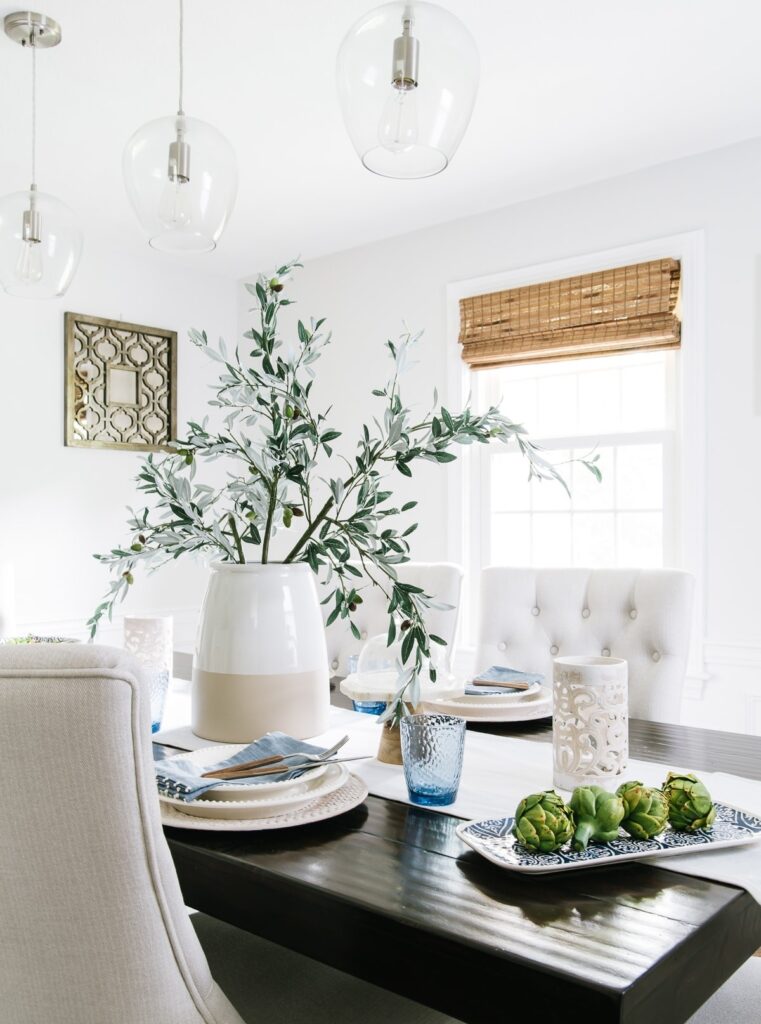 Creating a Simple, Natural Just Picked Look 
Florist hacks I use to gather fresh or faux stems into a pleasing arrangement
Here is how to avoid the most common problem:
Stems spreading out around the throat of the container and leaving a decidedly unattractive hole in the middle that no amount of futzing can get them to stay where you want!  
Not to worry, these will solve all that:
Choose a container that has a small neck opening compared to the base.
It will help hold the stems together so they don't fan out around the rim and leave a hole in the middle.
In a non-glass cylinder-shaped vase, add a crumpled ring of tin foil around the middle of the stems
Placed the stems in the vase with the foil inset enough below the rim to not show but still hold the stems together.
You can add moss on top of the foil if you want to cover it further.
In a wide necked  container 
Use a wire twisty tie to secure the stems halfway down so they can fan out on the bottom and the top.
If they are fanning out too much at the top leaving a hole in the middle, move the twisty tie further up the stems.
The Secret to Using Faux Plants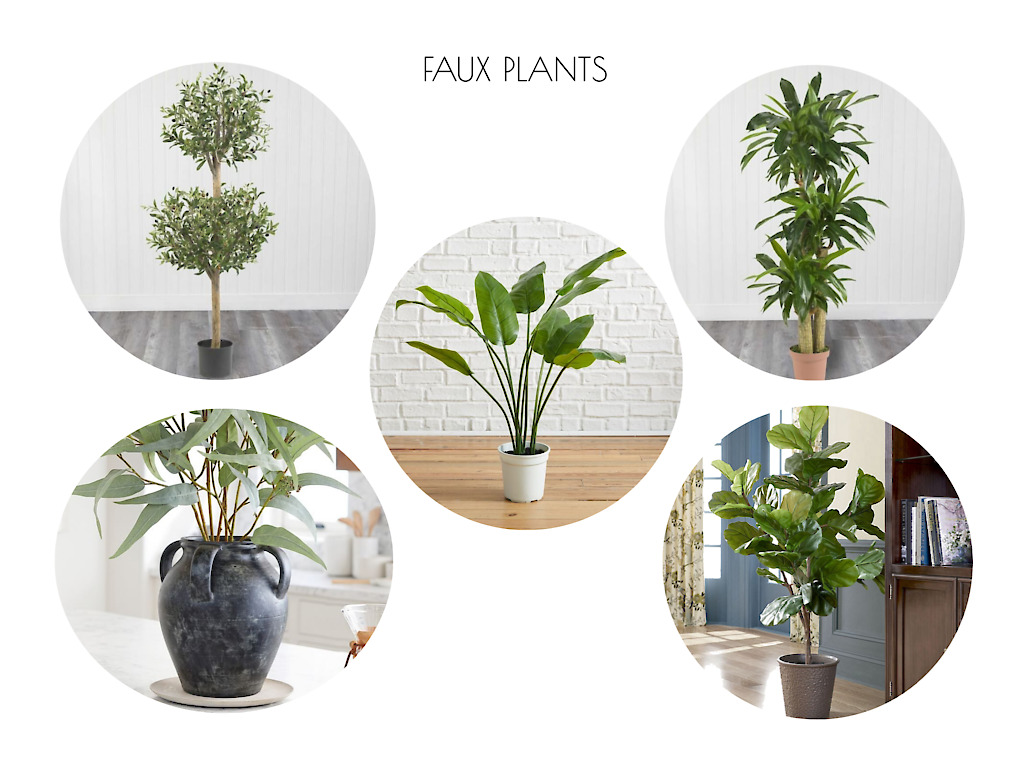 Enjoy the Natural Beauty of Plants in Your Home, Green Thumb or Not!
If you do these two things it can make all the difference:
MIX IN LIVE PLANT WITH FAUX 
Use a few live but hardy plants where they will be seen up close.
Like on the coffee table or everyday dining table, the entryway, and powder room vanity.
The reason?
Because people are much more inclined to feel all the plants are live when what they see up close is live.
Succulents and orchids are some of the easiest, longest-lasting, and most forgiving plants to care for.
 BUY QUALITY
If you want to have them be a thing of beauty in your space and not just a filler. 
If it'll look fake from across the room, it won't elevate your space so keep looking for something more life-like.

Here's What I Check For:
Foliage
That shows different stages of growth like fully mature, darker leaves and smaller brighter green leaves or buds.
Leaves
If they are large like a magnolia, they need to come wired so you can bend them into a shape they will hold as you shape the overall plant.
Branches
That needs to be wired as well to shape the plant.
Trunks
Natural texture and color, and not obvious assembled joints.
Ground Cover
A natural material like green, Spanish gray moss, bark, or pebbles.
Container
The size of the container needs to be the size a live plant would need.
This is the most common giveaway that it's a faux plant when the pot or basket is too small.
Upsize the container by dropping the potted plant into a larger pot or basket.  

Quality faux is more expensive than fresh initially, but over time it pays off:
You can enjoy them as long as you want.
Use them in different places or rooms to refresh the look of the space.
Can enjoy varieties that aren't available for live plants locally.
They'll never outgrow their space or pots.
Or grow into a wonky shape.       
TIPS:
Faux plants arrive compacted for shipping and need to be shaped to look life-like
The best way to get the most natural look is to Google pictures of the live variety to know what your faux plant should look like.
And don't make them look too perfect or they will look artificial instead of fresh  
Need help adding color to your space?
There are so many beautiful ways, even beyond plants
We'll make it easier, faster & without the expensive mistakes!
25+ years of experience in creating inviting rooms;
Simply start by telling us about your project
Call
425-977-5599
or
Avid DIY-er needing feedback, options & answers?
A Video Call or In-Home Design Consultation
may be all you need: 
Simply call us at 425-977-5599 or