Are You Taking Full Advantage of Your Interior Designer?
Or short-circuiting the look they could give you (for the same design budget)? 
If you want your designer to do their best work for you, it is against best practices to have them work piecemeal. Worse yet, is piecemeal based on what your contractors "might" need next.
Instead, have your designer first create a "Design Concept" showing you everything that will create the best look for your investment.
Why?
The only way to ensure the desired finished look, is to curate ALL the right components you love from the beginning.
Working piecemeal around isolated choices will LIMIT your options.
Don't let construction drive the design.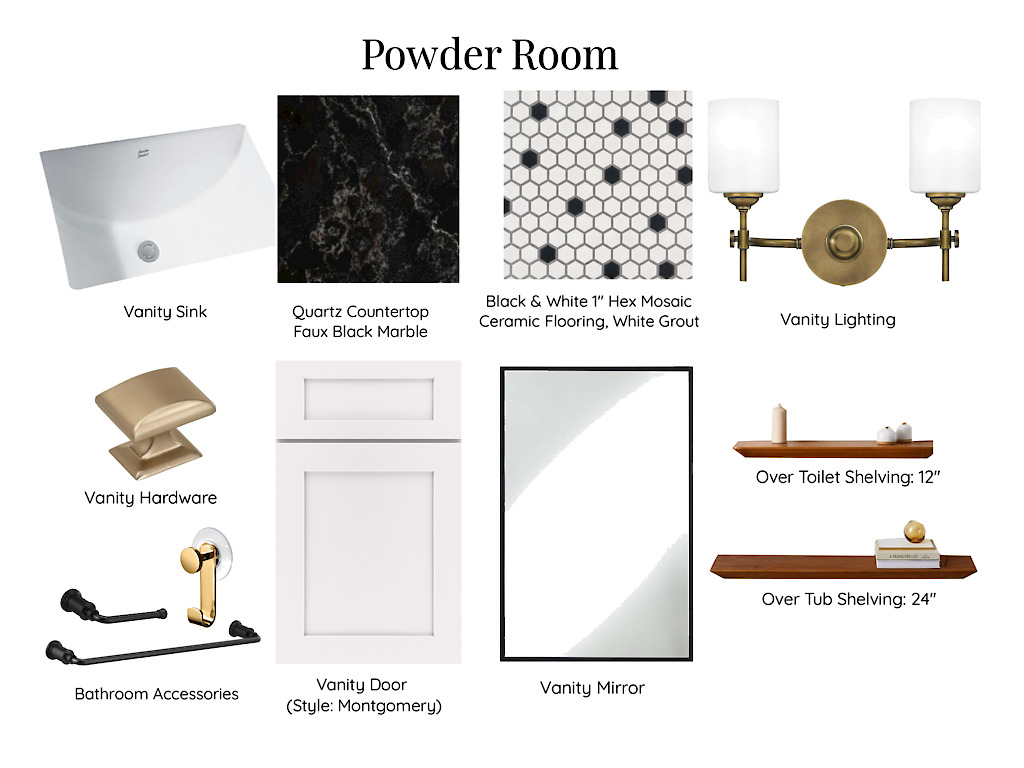 First the Design Concept, Then Build It Out
A design concept board will
GIVE FLEXIBILITY IN OPTIONS
Curated components "pre-construction" lets you make easy, quick changes.
LET YOU MAKE CHANGES BEFORE IT'S EXPENSIVE
Again, because it's pre-construction 
AVOID CHOICES YOU LATER REGRET
That later limits other options you'd love to have.  
TAKES FULL ADVANTAGE OF YOUR DESIGNERS CREATIVE EXPERTISE
They're not limited to working around what's been done piecemeal, but they want to help you maximize what "could" be there.
LET YOUR DESIGNER DO THEIR BEST WORK for the SAME  DESIGN BUDGET!
What is a Design Concept?
Curated finishes & fixtures coordinated for each space. (AND with the whole home)
What are "Finishes & Fixtures'?
FINISHES ARE FLAT SURFACES
Flooring, doors, mantels, trim, wall molding, window frame colors,  cabinet and paint colors, countertops, tile, stone, roofing, etc.
The above room's beautifully coordinated flooring, door and hardware, and decorative architectural molding set the common backdrop for the whole main floor. This helps to set the look for the rest of the home as well.  

TIP: When curating a renovation with furnished rooms your decorating and window treatment color palette and style needs to be considered too.
FIXTURES ARE DIMENSIONAL
Cabinet doors, tubs, faucets, cabinet and plumbing hardware, lighting, windows, doors, etc.
Common Misconception:

Demo, plumbing & electrical can begin before (or without) a design concept
As skilled as your trades are, they shouldn't be the ones driving your design.
Which is what will happen without a design concept because very early on the plumber will be asking you what plumbing fixtures and hardware will be installed? (To know where to run the plumbing).
Likewise, the electrician will also be asking what light fixtures are planned and any appliances, to know where to run the electrical.
And if windows are involved, you'll be asked for those right away too due to their long lead time. Whatever frame colors are chosen (both exterior and interior) will even affect the options for the kitchen, bath and fireplace finishes palette. 
Without the whole room conceptualized and curated to create the look you want, your designer is operating under a design disadvantage.  They'll be choosing isolated pieces hoping the remaining ones can be found later that "might" create the best look. 
The design concept easily answers all these questions… and with the BEST choices

It's the easiest, fastest way to get the best design work from your designer and ultimately the look you want for your home. 
The Design Concept is a Big Reason Designers Get the Results They Do
It's the only way to control the finished look of your home all the way to fabulous!
The diamond style flooring and overhead trim detail are perfect together. But both also needed to be selected as part of an overall design concept to work in every way for this home. Which meant they had to be chosen while also considering the:
Interior & exterior color palette & style 
Front door
Main floor flooring
Main floor style & palette 
Working collaboratively as we do on renovations (or decorating) 
the best-looking spaces always start with a Design Concept using 
Curated, easy to visualize mood boards
Linked shopping lists
Samples (tile, flooring, paint, cabinet finishes & hardware, fabrics. etc.)
It's how clients take full advantage of our expertise for the same design budget & get the best results
Feeling excited AND overwhelmed about your project?
Tell us about it. We'll give you ideas on how to get started right so you end well! Call us at
425-977-5599
or
Avid DIY-er needing feedback, options & answers?
A  Video Call or In-Home Design Consultation
may be all you need: 
Call us at 425-977-5599 or