Ask Mary: Help me Style My Built-in's 
Like a lot of us, my reader is spending more time at home, so making her downstairs flex room a happier place was definitely on the list. 
Part of that re-do was styling her built-ins so they can be more than storage but a thing of beauty she actually enjoys. (Maybe you can relate?)  If so, you'll be able to see how I suggested styling them step-by-step. (Plus bonus tips for styling any type of shelving you may have.)
"Dear Mary, Can you offer any guidance about arranging books and items on shelves? I seem to have many items that don't match and it looks kind of haphazard."
When I first saw the above space I immediately loved the classic (original) Mid Century Modern wall even in its "Before" state and knew styling was the way to take full advantage it.
A little background
In re-doing her room I'd already helped my reader choose a fresher, lighter paint color, and next, she'd had a modern fireplace insert installed. Due to limited options, it was a bolder design than originally planned so part of making this built-in wall successful was to tie the look of the insert back into the decorating.  
But styling the wall turned out to be more challenging than my reader had originally thought.  If perchance you're paddling in that same boat, don't be too hard on yourself.
Because styling a room looks deceptively simple…
it's just a matter of picking out and arranging a lot of little things, right? I mean how hard can it be? (Usually harder than it looks.)
Styling shelving creates a mini space in a big space. With the same requirements of a whole room in order to work
Pieces that physically fit the space
Coordinated colors, style & textures
Right scale 
Contrast
Oh, AND it has to complement the big space it's setting in. (Ha! It's starting to almost sound MORE complicated.)  
Not to worry, here is EXACTLY how I transformed this built-in. (Followed by 10 "Bonus Styling Tips" for all types of shelving.)
Here's the BEFORE again…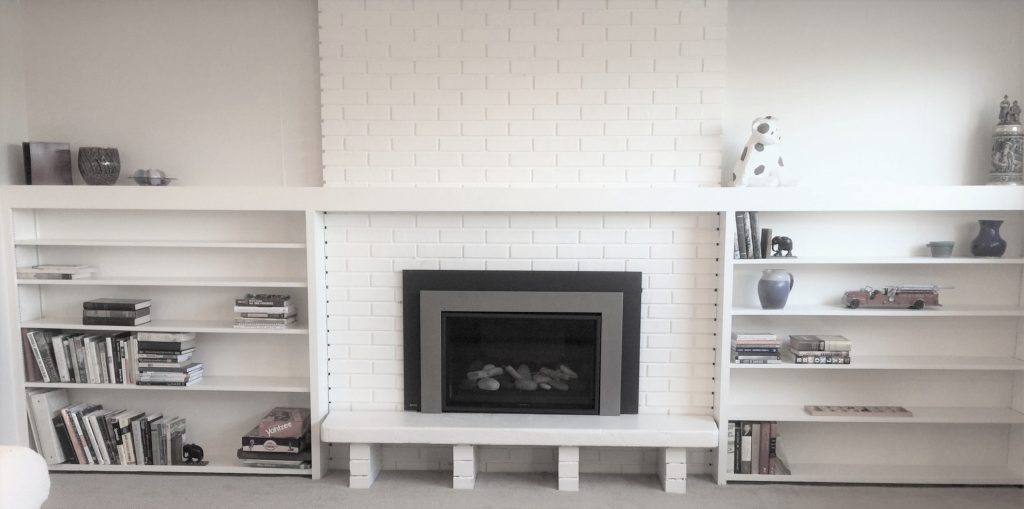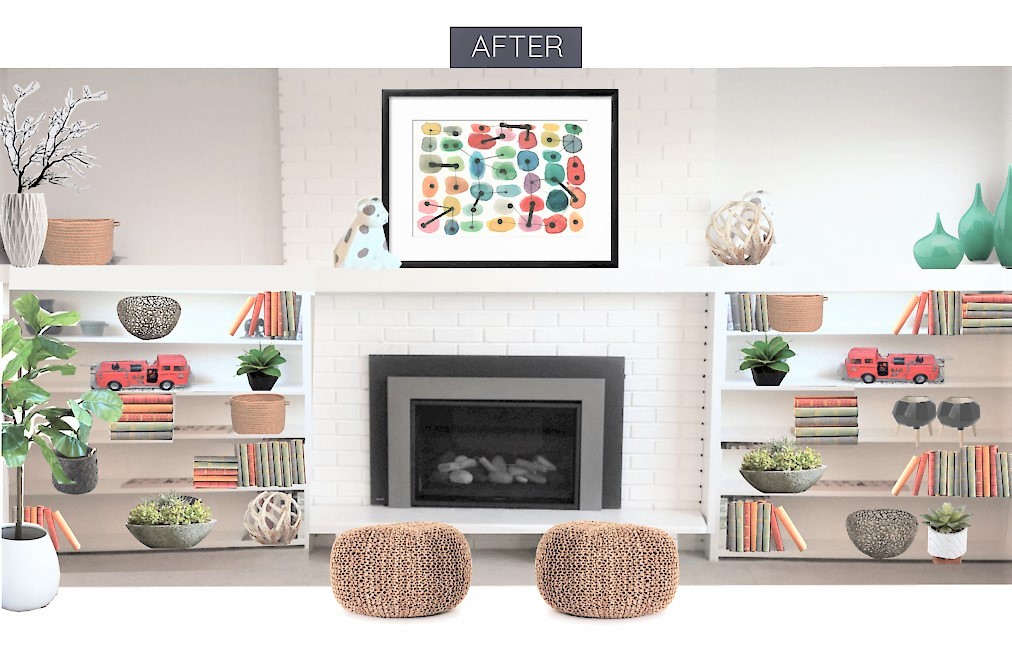 Styling: Brings to life a feature wall + creates a focal point 
Daylight basement flex room gets a whole new sunny personality!
By keeping the look light and airy, modern and colorful the whole mood of the room is transformed. 
Step-by-Step Transformation Tips
Make shelving align on both sides for a simpler, more coordinated look.
Add several black accents to tie in the black fireplace insert
Likewise add a big, colorful black framed art piece over the fireplace. 
If you prefer a TV, consider a "Samsung Frame" model. It has frame options & can display art or TV programs.
Add several large and tall statement accessories on the top shelf to decorate the upper wall.
Group books in a zig-zag fashion as you go down the shelves. 
Zig-zag the small plant placement too.
Group books by color and size as much as possible.
Use only hardbacks and remove their jackets
Leave open spaces so it's not too visually cluttered.
For new items buy some in pairs or trios, & look for pieces to form a collection for a more coordinated look.
Design Tips:
ADD A COUPLE OTTOMANS
to camouflage the hearth supports.


REPEAT A COLOR IN YOUR BUILT-IN DECOR
like I did here with the basket colored ottomans.
Our reader's reaction?
"Oh wow, Mary, it felt like Christmas when I woke up this morning and opened your emails.  The design board with ideas for the shelves is so awesome – filled with bold and fun color and such interesting pieces.  The variety of pieces is cool – different textiles, sizes, splashes of color, and that gorgeous, mid-century style framed poster with all those colors –  definitely creates the Wow Factor.  The black frame on the poster and some pieces with black on the shelves – spot on!" 
10 Bonus Tips for Styling Your Built-ins
#2. Pick a Palette
To amp up or calm down your room 
What colors or neutrals do you want to bring out or add to your room?
It's a great way to add some color to a room you want to amp up.
If you have a dramatically decorated room then add neutral(s) in beautiful shapes, textures, etc. to keep it from going over the top.
#3.  Books or No Books
Use books with style (or maybe not at all)
Even if you are more a Kindle kind of reader (or not a reader at all) but like the look of books, buy decorative books bundled by color:
Remove the jackets from any existing books. (Looks less bookstore-ish and visually busy.)
If they are a mishmash of colors you can calm them down by arranging them so just the pages show like above.
Or you can forget the books all together and just do a mix of decorative pieces. (Give them lots of room; use only enough to look finished but still open and airy.)
#4. The BIG, the Medium, the little  
Use size strategically to create focal points
Create focal points with a few pieces that are as big as the shelves will take less than an inch or so.
Add in medium and small pieces as supporting cast members
Obvious differences in size create an interesting vs. a cluttered look.
#5. Make it Personal with Photos & Artwork 
Use them as your signature pieces
Use artwork and photos to add in your own personality.
If you have adjustable shelves you can create a larger space for larger art and photos, creating focal points.
Consider framing your kid's or grandkids' art. (They can be amazing in a Picasso-ish kind of way.) 
#9. Let There Be Texture
We crave variety with symmetry
Think shiny, matte, clear, woven, glazed, wood, metal, glass, painted.
Pieces like baskets, pottery, vases, plants, decorative boxes, glass objects.
#10. Be Natural

Bring the calming outdoors indoors
Plants, shells, chunky branches or wood pieces, decorative moss balls; any organic materials will add life to your mostly man-made pieces.
Accessory styling creates your room's personality;
(it's the frosting on the cake!) 
(Bonus Tip:)  Speaking of Being Natural

Reflecting furnishings in the accessories is a great look!
The organic basket and warm wood tones in the above bookcase would beautifully reflect a woven jute ottoman like this in the space.  
A clear glass globe base table lamp on a small wood base would also nicely reflect the domed glass piece. Lots of options when you stop and think about it!
This is an easy way to have the styling of a mini-space perfectly at home in its larger space -the room. A look well done!
Avid DIY-er needing feedback, options & answers?
A Video Call or In-Home Design Consultation
may be all you need: 
Call us at 425-977-5599 or