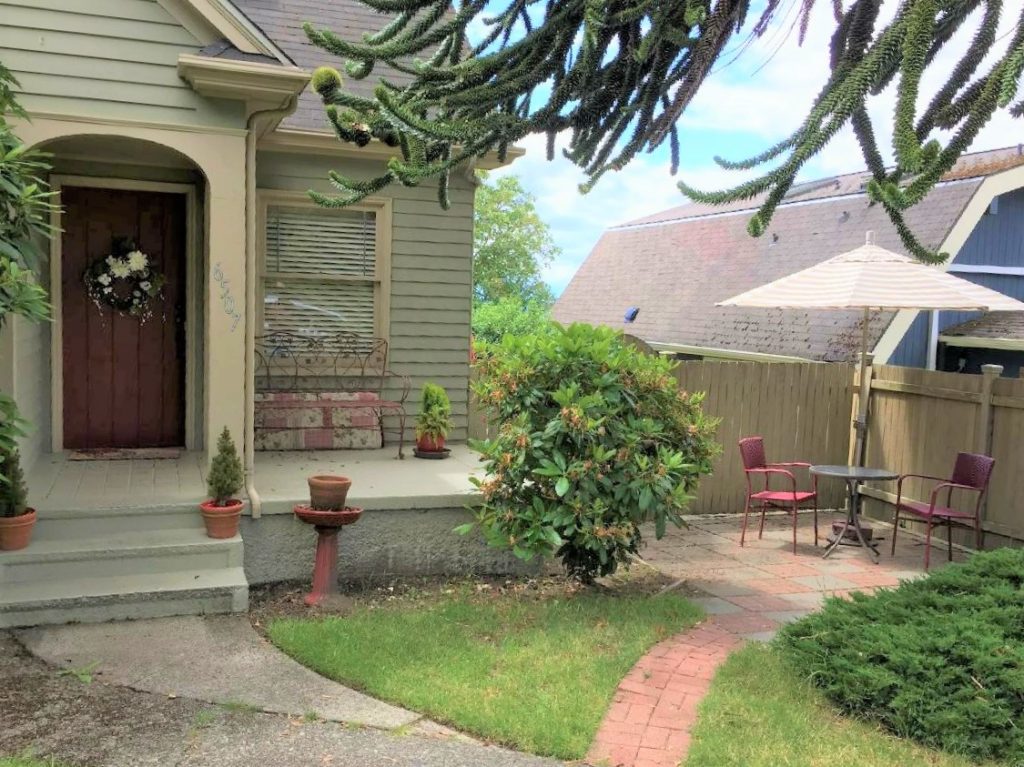 I thought it would be fun to start
an "ASK MARY" post
so, I asked my good friend Angie if they have a project they'd like some help with. Turns out they were trying to decide how to refresh an outdoor area to create a "pretty but private" patio.
It sounded perfect for this post so I'll be sharing design solutions along with a behind the scenes peek into what it's like to have a room (even an outdoor one) designed for you that makes you happy!
FYI: If you'd like to submit a question
Send it along with photos to mary@onedaydesign.com.  If it's one other people are likely wondering about too it may end up in a future "Ask Mary" post like this.
TIPS FOR TAKING PHOTOS:
-Shoot in natural, but in-direct light
-Avoid shooting directly at windows or lighting
-Turn off any lighting unless there's little or no natural light
-Shoot without a flash
-Exteriors: Shoot on a cloudy day, (avoids dark shadows)
-For Color Questions: Add a white sheet of paper, (helps for gauging true colors virtually)
Ask Mary:
"How do we create a pretty (but private) outdoor space?
"Hi Mary,
We're trying to figure out how to refresh our front patio because we need some privacy from the street but I'm concerned it might feel too enclosed since it's not a very big space. But with people walking by, since we live near a main street, it's not been the relaxing retreat we were going for. 
I'd also like to update it and to make it work for four people instead of just the two of us. And I know it should go with our house (and our front yard), so that's another question.
Given all that, can you create a pretty but private outdoor space for us?
Thanks, Angie"
I thought this was a great question because having an outdoor space you love at home is so important, especially now. And if you're in the Northwest like I am nice weather should not be missed by being inside all day. (Even when working from home!)
So, I was excited to tackle this project and create a refreshed summer space for Angie and her husband.
Here's how it happened…
1. Started by looking at the home's exterior  
I began designing the patio area by looking at the home's exterior since the patio has to coordinate what's already there.
With its earthy exterior palette and the current white and black trend (they last 10 years), I was looking for ways to update just the home's details so they could be reflected in the adjoining refreshed patio area.
 3 Ways to Update Exterior Details
(without starting over) 
Paint the Trim, Porch, & Fences Off-White
That will be an instant update with the existing sage green by adding a fresh, lighter look that will allow us to add a patio privacy screen in off-white. Then the patio area will not only reflect the house it will add to the exterior update. 
Paint the Front Door Terracotta
This color will work beautifully because it is both trending and complementary to the existing house color. (Since the owners like reddish colors this is also a great way to reflect their taste in a current way
Have Touches of Black 
The existing original hammered black door hardware and house numbers are both beautiful and current in color.
So coordinating with them is another easy update opportunity by:
Adding a black doormat
And painting the metal garden bench black 
Accented with an off-white seat cushion(s)
And boldly patterned classic Cabana stripe throw pillows (shows well even from the street) in terracotta  
2. Add coordinating landscape accents
Front Yard
Adding landscaping to the home's new fresher off-white look with variegated plantings and white blooming plants will tie it all together beautifully.
(Fewer plantings can be used than the home above and still have the same updating effect.)
Raised Porch
Like on my friend's home and here, the front of a raised porch can be covered by adding (in this case variegated) plants turning a bare space into a beautiful space on the front of a house.  
3. Create outdoor privacy without feeling enclosed
Now we get to focus on the patio area and I'm suggesting a "privacy screen" solution rather than a fence.
Because it's nice to be able to see out while still feeling shielded from direct view, and be able to catch a breeze. So, a decorative screen to create semi-privacy will allow all three. 
And here's another opportunity to add variegate foliage for the new look,  
What the patio looks like now,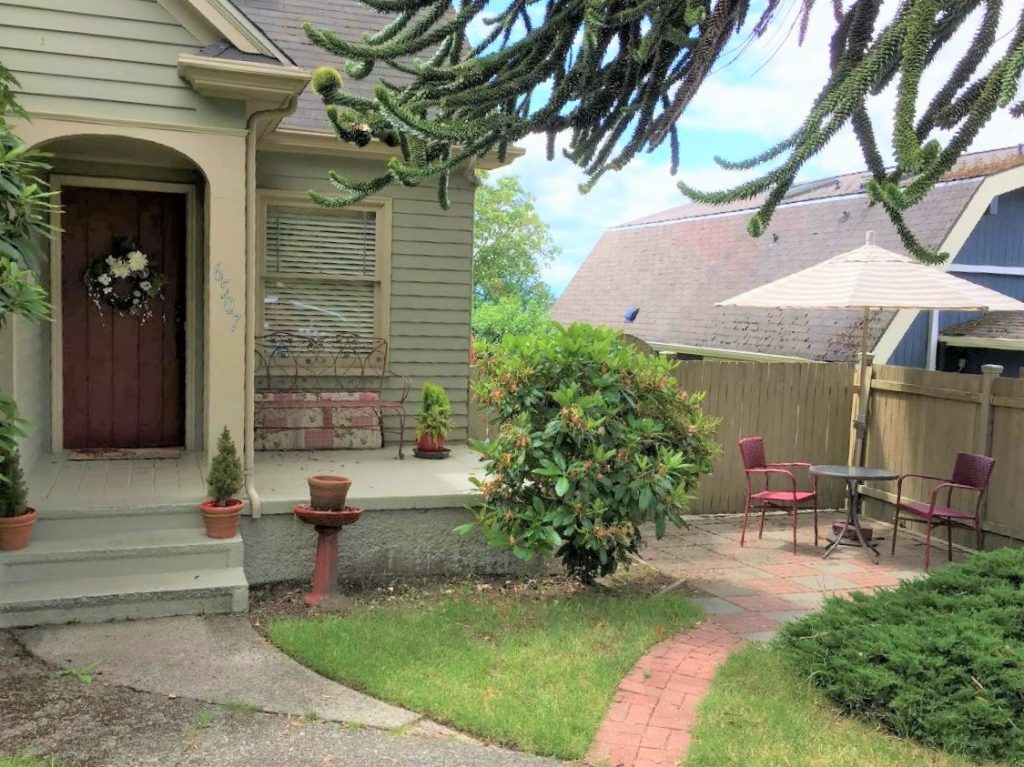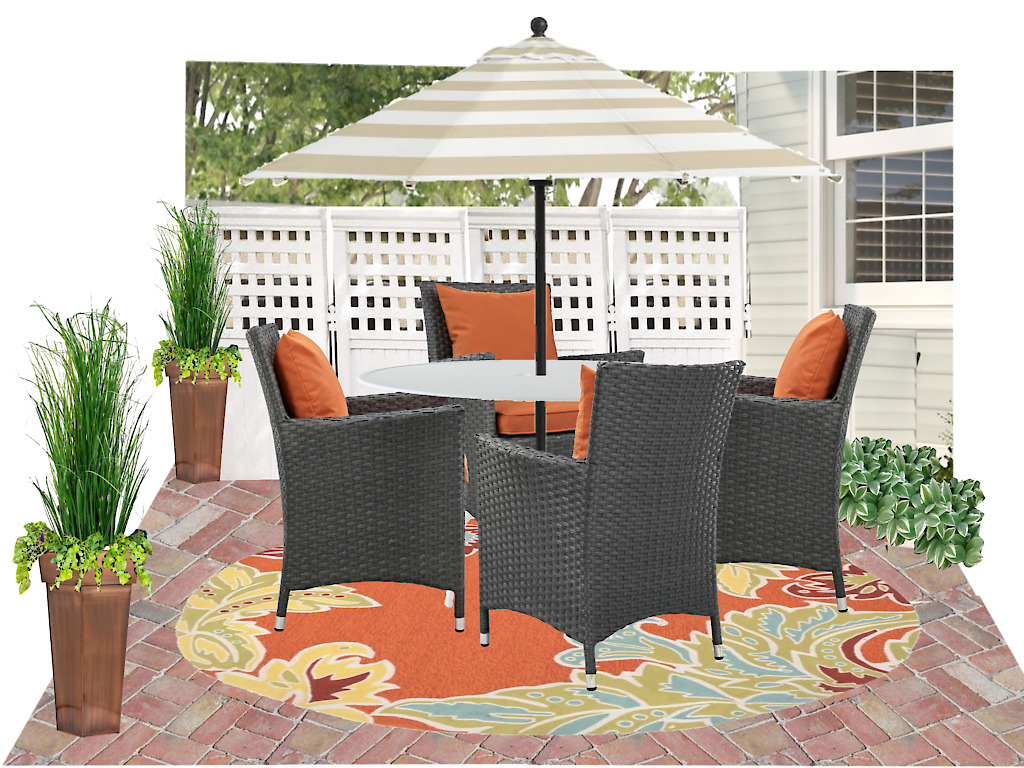 4. Time to decorate 
The patio now can reflect the new color details in terracotta, black, and off-white that were added to the front of this sage green home.  Both it and the patio feel fresh and updated, and the patio more private.
It may have seemed like the long way round to creating a pretty but private patio but once the exteriors updated look was established, it was clear what direction to take the decorating for the adjoining patio area:  
REFLECTED UPDATED EXTERIOR PALETTE 
-In furnishing, accents & privacy screen 
ADDED BOLD PATTERN & TEXTURES
-The rug is like "floor art"
-Woven faux rattan seating contrasts with glossy table 
COPPER ACCENTS (planters) COMPLEMENT  the TERRACOTTA 
ADDED TALL LANDSCAPE ACCENTS
-Bringing a fresh, natural touch to even a smaller space

 
Now Angie and her husband can have a "private but pretty" outdoor space to relax in, with room to include a couple of friends, and in a style that enhanced the look and even the value of their home.