Knowing What Furnishings to Buy 
So you can be happy with your home!
Buying furniture is a big event because it's not only an investment in your home it's an investment in your happiness. You want it to be right and you want to love it!
I know getting there can be a little stressful so after being a part of that experience for lots of people I've put together my best advice that can help you make better choices when furnishing your home.
By knowing how to buy the right furnishings to create the look and the feel you want, not to mention the functionality and at-home comfort.
It's all about making your home a happy place to live and maybe even work from.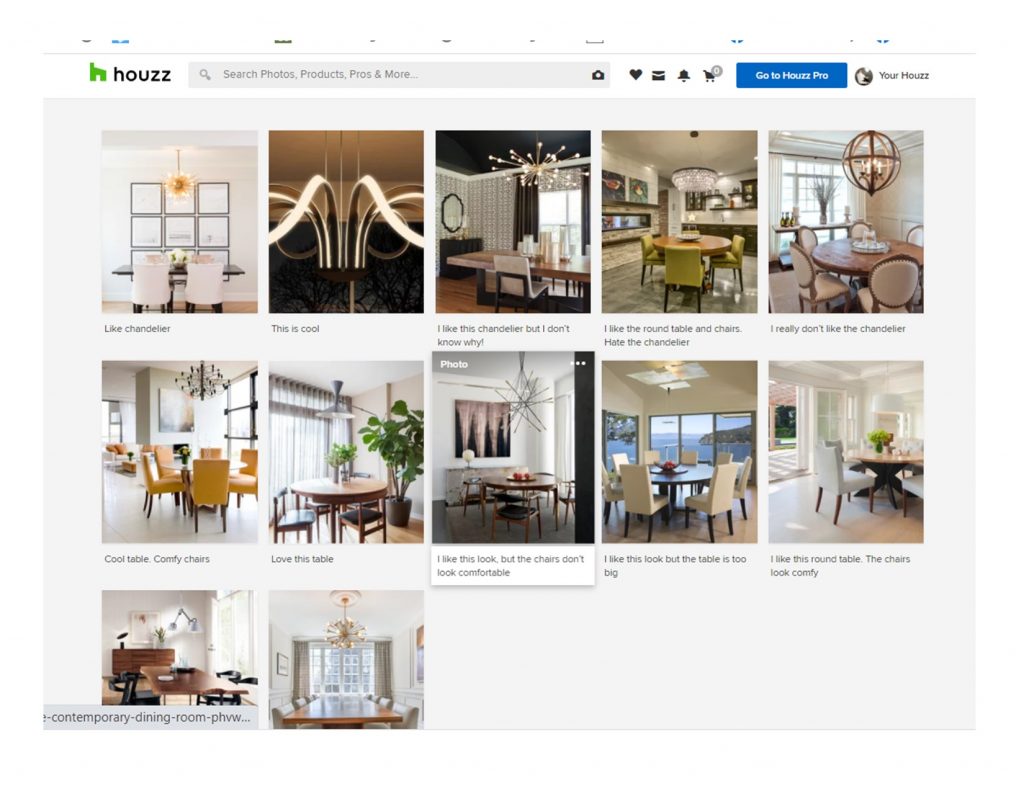 1. Set Your Style
Save your favorite looks to define your design style
Lots of people use Pinterest to save all their fav's from fashion to food and so their decorating ideas naturally end up there too. 
But I admit for a place to save ideas for your home Houzz pretty much has no real competition since it specializes in just that.  It's got the broadest interior style resources to search from, plus features geared for easy collaboration on design projects.  
HOUZZ IDEA BOOKS
With over 15 million photos to choose from, it's the best way to search for your inspiration.
Photos can be organized into individual idea books per space or per project (like flooring throughout)
Caption notes can be added to photos of what you like (very helpful if you are using a designer).
Idea books can be shared to collaborate with and message your designer.
TIP: MORE THAN ONE DECISION MAKER?
Independently save your own idea book(s) and then discuss together before meeting with your designer.
It will give you time to find your common ground for goals, styles, and investment so you can maximize your design consultation. 

2. Set your Investment 
Best way to save on headaches later
Often I'll have people ask me, "What do you think it will cost to decorate my room?" 
That's a bit like asking "How much will it cost to buy a car?" It will all depend on what you want.
But here's how you can get a realistic answer to your question that will help you sleep at night:
DECIDE THE INVESTMENT
What are you prepared to comfortably spend?
I always suggest allowing a 15-20% cushion for surprises AND for luxuries you didn't know you wanted until you saw them.
DECIDE THE SCOPE
Create a spreadsheet
What rooms do you want to do?
What do you need in each room?
Separate items into "must have", "want to have" and "wish to have"
Don't forget things like window coverings, decorative light fixtures, accessories, plants, new flooring.
And include labor and design services.
RESEARCH THE PRICES
Research online typical pricing for items you need at the quality you want.
See how your scope and budget meet up.
TIP: SCOPE "NEED" TO ADJUST TO FIT THE INVESTMENT?
Your designer can help you decide how to get the most out of your investment with ideas on

What's most important to invest in
What would give you the most design impact for the money spent
Simpler more cost-effective solutions

TIP: UNCERTAIN ABOUT STANDARD DESIGN FEES?
Your designer can estimate that once they see your scope. 
3. Have a Design Plan
Your GPS to a beautiful room
Having a design concept (design boards) done before you buy anything will always give you the best results because it isn't leaving anything major to chance.
And it will help you avoid common decorating mistakes that end up not only being disappointing but expensive. 
With all the major elements curated you'll be able to know and see ahead of time
Everything coordinates beautifully 
(i.e. no design compromises because the perfect pieces couldn't be found later to go with items purchased piecemeal earlier).  
How everything will arrange in your space
How your room will look in an interactive 3D board where you can view it from any side or angle.
This takes the agonizing guesswork out of trying to decide what pieces to buy one at a time because you can see now how it all works together to know you like the whole room.
4. Deciding How Much to Pay for Furniture
Judging quality + Where should you invest the most? 
Popular furnishing styles are quickly copied in various quality levels so it's important to know how to judge quality and not assume if it looks the same or similar it is all the same quality.
Because most of what really matters in upholstered pieces you won't be able to see.
But here are ways you can better assess the quality even beyond any reviews. 
CHECKING QUALITY
Check the Warranty
What components are covered and for how long?
Check Construction & Materials

Weight
Lift a corner if you're in-store or check the weight if online.
Lightweight pieces will be budget quality.  
Upholstery:
Frames: Hardwood or furniture grade hardwood plywood are best.
Corners: Dowel, blocked glued & screwed corners are best, stapled will be budget quality.
Non-upholstery
Drawers: Dove-tailed corners, stapled will be budget quality.

Check Fabrics

Performance fabrics are best for everyday or family use, or with pets.
Natural fabrics tend to stretch "relax" with use and will look loose with time. So be sure that's the look you want.
They are not naturally stained resistant unless treated to be.



TIP: POPULAR BRAND STYLES

They can be priced higher based on demand vs. quality. So again check the warranty, construction, materials, and fabrics to be sure you are comparing equal quality before you decide to buy. 



TIP: INVEST THE MOST IN YOUR EVERYDAY UPHOLSTERED SEATING

It will get the most use so it should be durable.
It will give you comfort that will last over time. 
5. Knowing What Style(s) Fit Your Home
Mixing styles give greater decorating options
but it takes greater skill to do it well  
Because this has gotten to be such a w-i-d-e open field with the popularity of mixing styles it can give the impression that anything goes. But it takes some design know-how to bend the rules in a good way.
MY MAIN ADVICE
Marry your architectural and decorating styles with color. It's the simplest way to coordinate various styles.
In the above room, they have repeated the color of the vintage traditional wood plank floor color in the Mid Century Modern coffee table, a wall hanging, and a potted plant .
The color repeat meshes the style of the home with the style of the decorating nicely, making the room feel coordinated and the decor at home in its surroundings.
TO REFINE YOUR DESIGN MORE
Get initial design guidance to set the color palette and style combination that works for you and your home before making your own furniture selections.
Or have the designer create the whole design concept including curating the pieces for you into a personalized room you can preview.
 I hope these tips gleaned from 100's homes I've helped people decorate
lets you start with confidence on your home!
And if you would like design guidance before you start shopping our 
DESIGN CONSULTATION is perfect for that
(virtual / in-home) 
Or we can create complete, personalized rooms for you with our
DONE FOR YOU ROOM 
(virtual / in-home) 
HAVE QUESTIONS?
Call us at 425-977-5599  or  Connect Online
We'd love to find out how we might help you
have a home that makes you happy!
(Bonus Tip!)
6. How Luxury Items Affect Your Design Plan
Should they drive your style or the other way around?
You'll want to start with what is most important in the space and design the room around it. So a luxury item would always be your starting point.  
And in some cases, there are not many versions of a luxury item like a baby grand piano. So one more reason to start there. Its finish, black, wood stain, or white will set the stage for the whole room
If it's something like fine art or an heirloom area rug where there are lots of style and color options, I'd still start there. Because it will suggest or at least affect the room's color palette.
Avid DIY-er needing feedback, options & answers?
A  Video Call or In-Home Design Consultation
may be all you need: 
Call us at 425-977-5599 or