Christmas Tree Ideas for Small Spaces
to de-stress holiday decorating!
(+my best florist tips)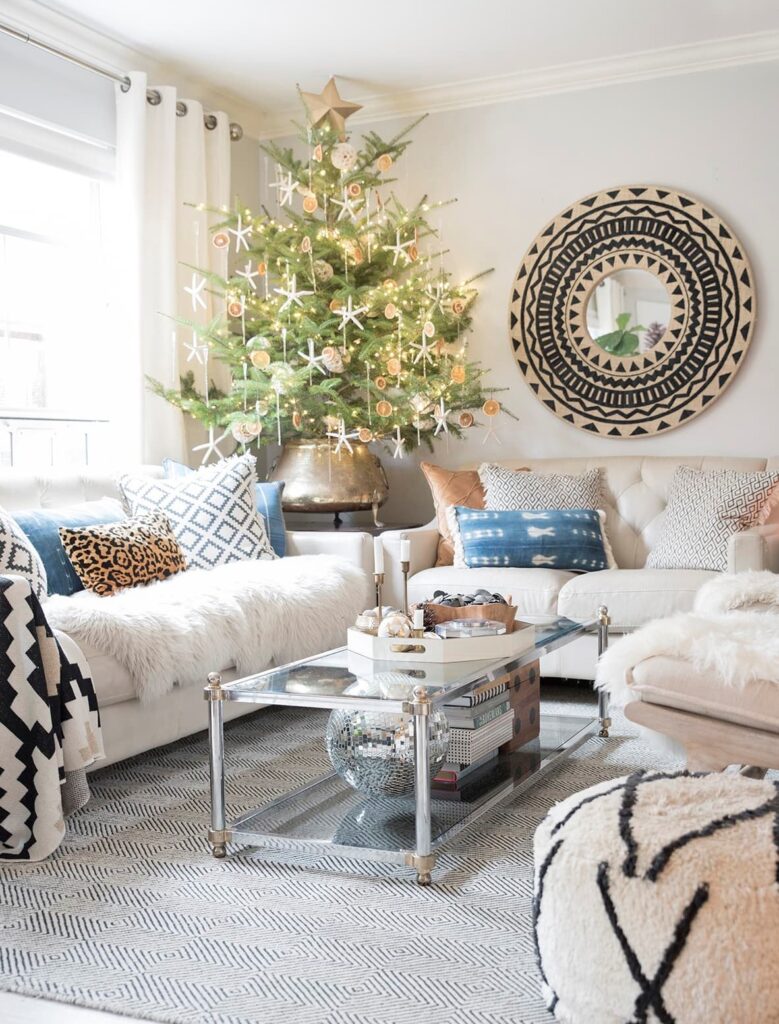 Stressing over a convenient, quick way to have a Christmas tree in a small space, thinking
I CAN'T FIND THE TIME
to buy everything to decorate and then "de-decorate" a tree
I CAN'T FIND THE SPACE
to even fit in a tree
I'M TIRED OF SCHLEPPING & SCRUNCHING FURNITURE
around and  back again to try and fit in a tree


As a florist originally, I found these smaller trees solve all that! 
Very few decorations to buy
Fast to set up and fast to take down.
Little to no furniture to move to make room
And faux trees can be covered with a thin plastic sheet, stored decorated, and be ready to place and plug in next year.
Now THAT is convenience!
I also found these smaller trees worked great for not only a smaller living space but any smaller space in any size  home. Like an entry, a nook, or a hearth with battery candles in the fireplace. They instantly added holiday cheer to easily transform a home.
But, here is one of the biggest benefits I love about smaller trees:
If you know how you use them, Smaller trees can have the same effect as a full-sized tree in your room!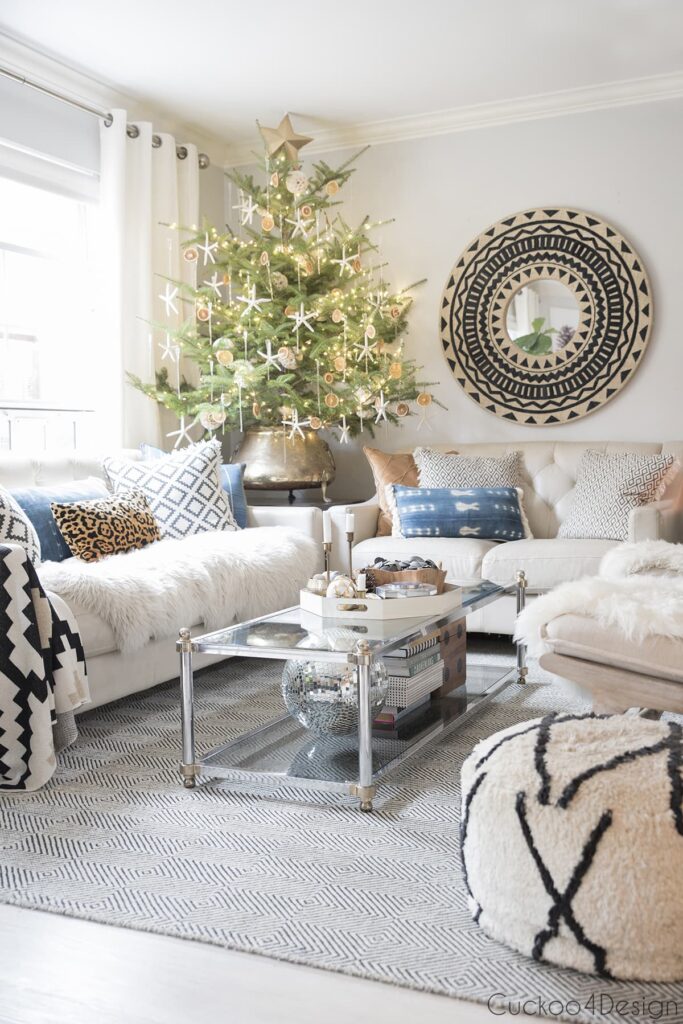 Doesn't this feel every bit as fabulous as a full-sized tree?
The secret is to place your tree at the height of a full-size tree
Now it takes on a full tree stature in your room without taking up the extra 4-5 feet of floor space at the bottom a full tree would.
This is your chance to use a pretty container like a decorative pot or basket. And set the tree on a wide plant stand, or on an existing side table like above or on a smaller but tall, sturdy table. (Just protect any wood surfaces if you are doing a live tree with a clear plastic protective sheet cut to fit the table top.) 
You can also drape holiday fabric over the table or not depending on if your style is minimal and modern or more classic.
And trending now is the look of faux fur at the bottom that can work with several holiday styles.
TREE SKIRT STYLING WITH FAUX FUR
An easy, fast touch to level up your holiday decorating
It beautifully goes with a glam, elegant, whimsical or feminine style tree making them look like they are nestled in a luxurious, soft, snowy cloud.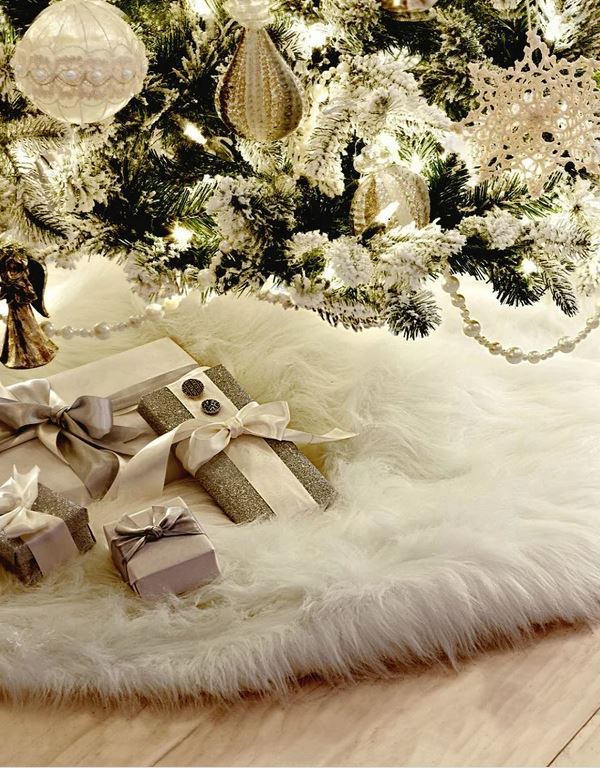 And here's a faux fur working just as wonderfully with a very different style…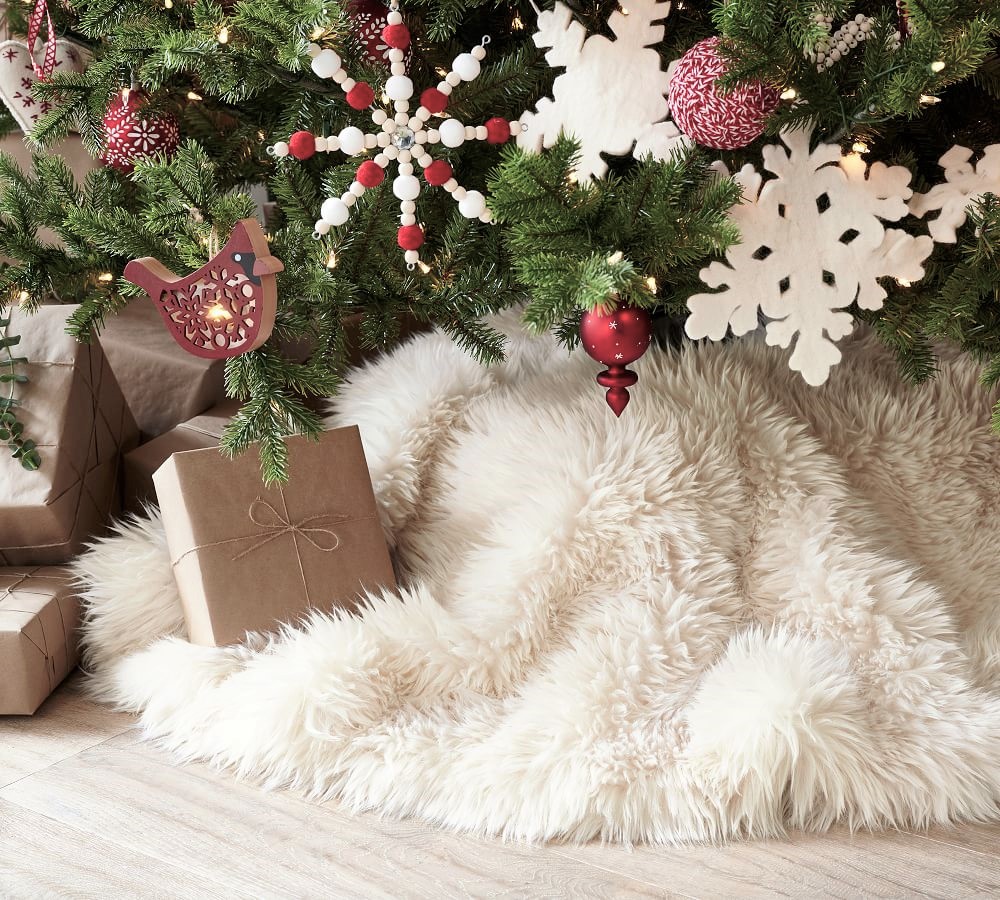 Looking just as perfect with a classic, traditional style tree  
Create a setting that looks like the tree is nestled in a snowdrift mound.
This faux fur look is just as much at home with a natural, woodsy feel, a modern Farmhouse look too.
It's as amazing and it's popular, so even if you tire of seeing it in a few years it comes in a range of price points so there are lots of buying options. 
Let's look at styling your tree and even creating vignettes with them-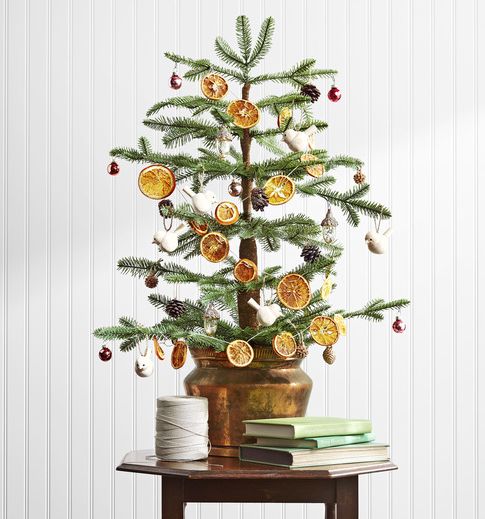 An unpretentious, totally charming tabletop tree makes you want to just sit down and stay awhile,
All by itself, it would change the whole mood of any room it set in.
So simply done with a string of dried fruit, little white forest creatures, tiny balls, and several small vintage ornaments that harken back to another era.
You can stop there or if you like the glow of lights you could always add the wonderful tiny LED light strings with battery packs. (Opt for the timer ones to make it even easier on yourself!)
Set it in a pretty container like this copper pot, or a handmade-looking rustic basket, pottery jardiniere, or even a galvanized pot.
Add some simple, everyday items or nostalgia pieces you already have that look unplanned but all together create a cozy vignette
Next up… some shine!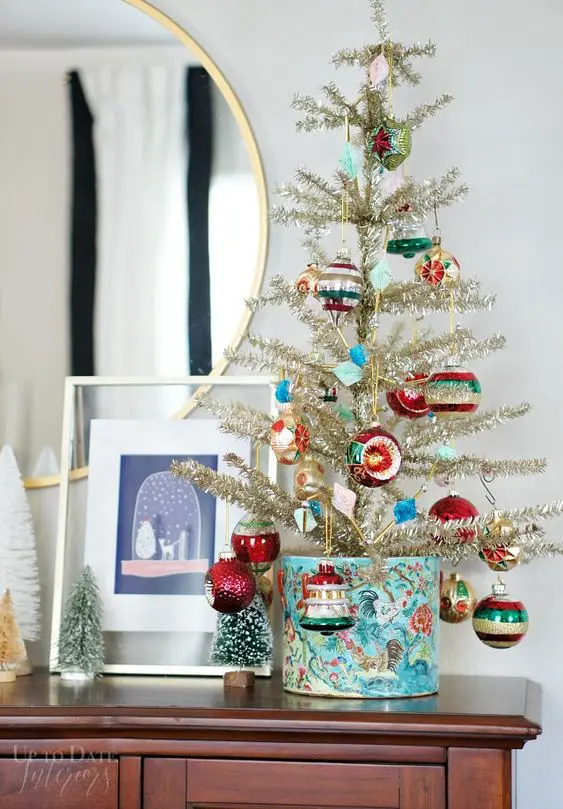 A tiny tree but what a Big statement!
Doesn't even need lights unless you need an extra dose of razzle dazzle to properly usher in the holidays. 
Why I Love it:
It is traditional done in a fresh, less formal way
Notice the regular-sized ornaments that offset the delicate tree.
This made all the difference. (Plus they are not matching but color coordinated instead to still create a themed look.)
Miniature, matchy ornaments would have been too fussy, precious, and well, stuffy looking. This way it looks a bit hip and like it doesn't take itself too seriously.  I love that combination.
And then it sets in an ornate but colorful pot (a decorative cookie tin would work well too). So again not too stuffy because of the playful colors so it's has a fun vibe in an elegant way. 
It's all these nuances that make it work
Notice too how the subtle holiday pieces of the little brush trees and neutral nativity art are tucked in. 
The beauty of this whole vignette they create is they don't compete, they complement as a backdrop. This Victorian-inspired tree would have felt unfinished without a layered full look for its setting. 
How about having a variety of looks, can that still be easily done?  
SAME TREE: DIFFERENT LOOK, DIFFERENT MOOD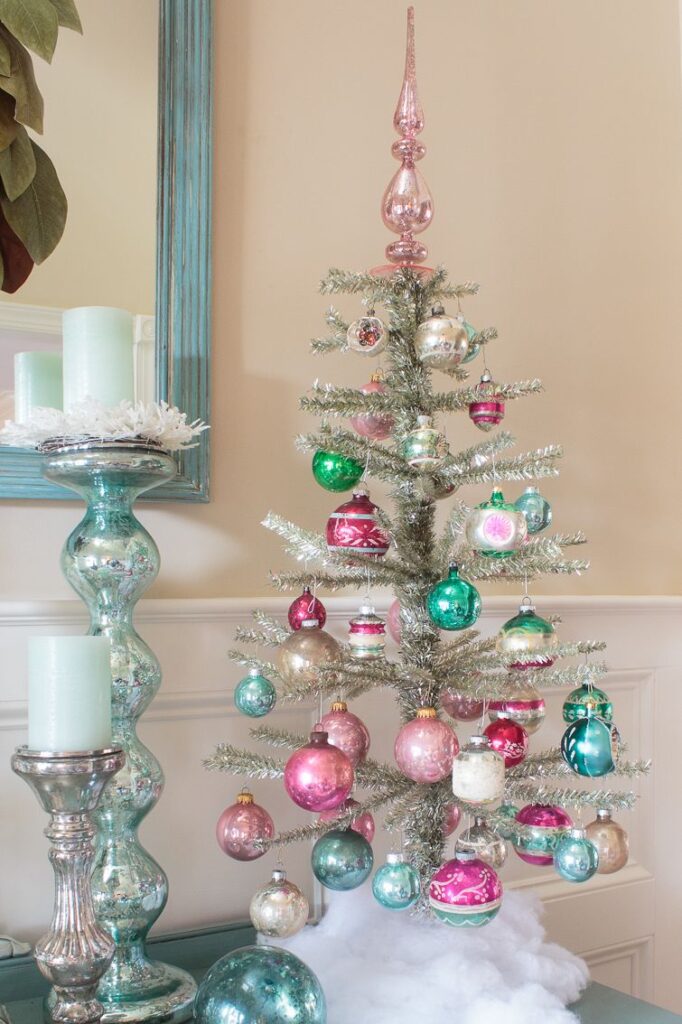 It's easy and inexpensive to have different looks because it takes so few decorations!
That means you can have a wonderful repertoire of ornaments, tree skirts, and containers to choose from depending on your mood that year!
Here's a designer trick if you don't want to purchase vignette accessories to reflect the tree decoration colors that year.
Just incorporate in the tree's decoration at least a touch of the neutrals in your room like the silver and white are doing here.
Then add colorful ornaments that complement the room's palette using your existing decor for the vignette.
Did you notice how this tree has the very same color palette as the first tinsel tree?
(It's a pastel version in pink and teal and the first one is a rich version in burgundy and deep teal.
So they both would coordinate with the same rooms' interior decorating.
One is tipped towards elegant and the other is fanciful in style. But what a different holiday mood they each would create in the room! 
Can you create even more looks but without buying anything new?
MIX COLLECTIONS IN NEW WAYS TO CREATE EVEN MORE LOOKS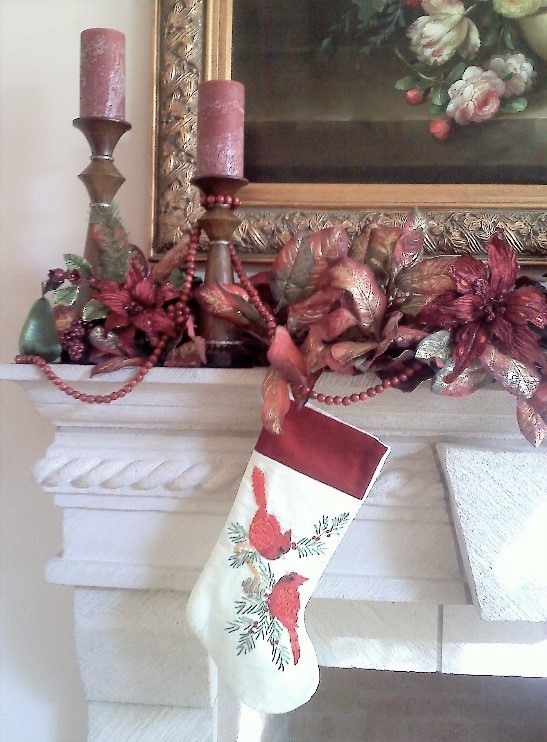 I know! This isn't a small Christmas tree, but I can explain!
(in a minute) 
If you do start building a collection of looks from year to year, you can keep them as separate collections and use them that way and that would be perfectly fine.
But if you are of the sort that likes to play with it even more, you can!
Because it's okay to mix the collections up a bit. Still go for a theme (i.e. so every ornament isn't different) but you mix two or three styles of decorations together. And you may use different accessories you already have for the vignette.  
Okay, the mantle picture…
This is where I learned what can be done when you just start combining decorations in new ways: 
I had a house I decorated every year for clients and it went on well, forever. Four fireplaces for instance and they liked every room on the main floor decorated for the holiday. Every year too I was to curate something new to add to the decorating inventory.
But here was the real challenge… never do the same look twice anywhere from a previous year.
And that's where I found out there seemed to be no end to how many combinations could be made.
But even if there was less inventory to work with I carried that over to other clients' homes and gave them a fresh look every year too. Not wildly different but enough to make it a delightful surprise for them to step in and see their home's new holiday look. What we call "variation on a theme".
So do feel free to try this at home and you might surprise -yourself!
Here's an idea for a departure from a full-on Christmas tree look but a very fresh and minimalist approach- 
LOVE DECORATING OUTSIDE THE BOX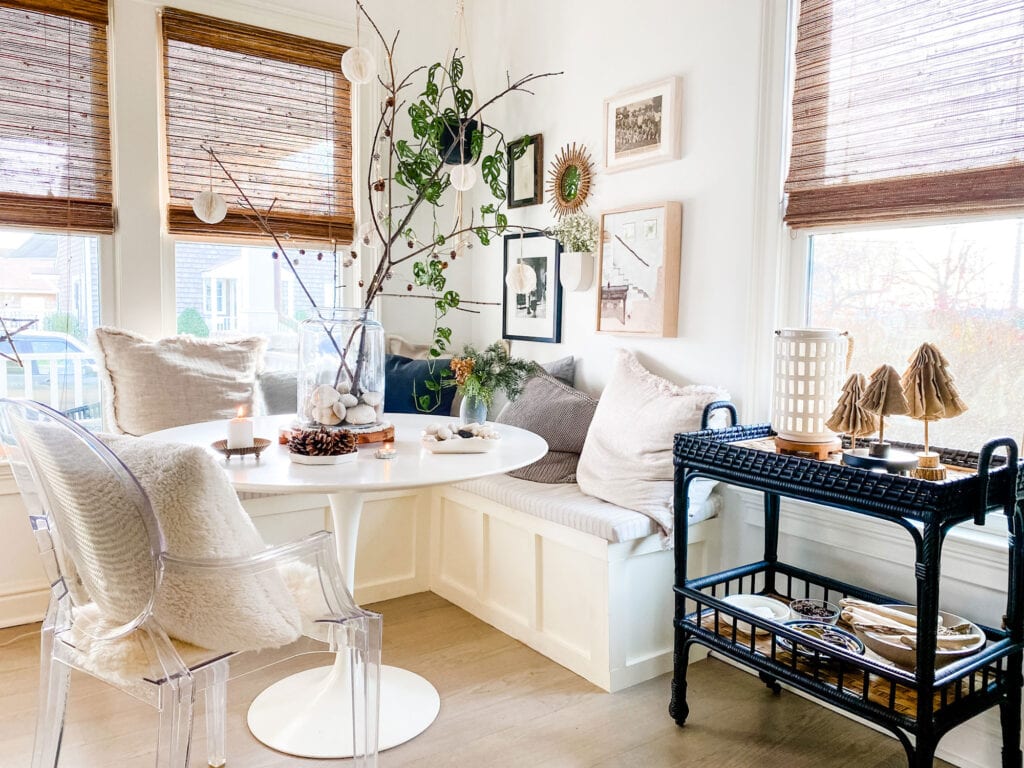 So simple. So fabulous.
A few tall, airy branches in a clear glass vase, several big ornaments & a tiny vignette clusters 
What an impact; it changes everything!
In short order and with minimal investment it has a holiday mood that just brings the whole room to life.
The key to this tabletop tree "centerpiece" working while dining too is keeping the decoration above or below your line of sight.
And by using a clear glass container and selecting only a few stems tall enough so that the side branches are above where you are making eye contact.
One more idea before we go.
(Please excuse the background color, was hoping for a sunny day for natural light but none today!)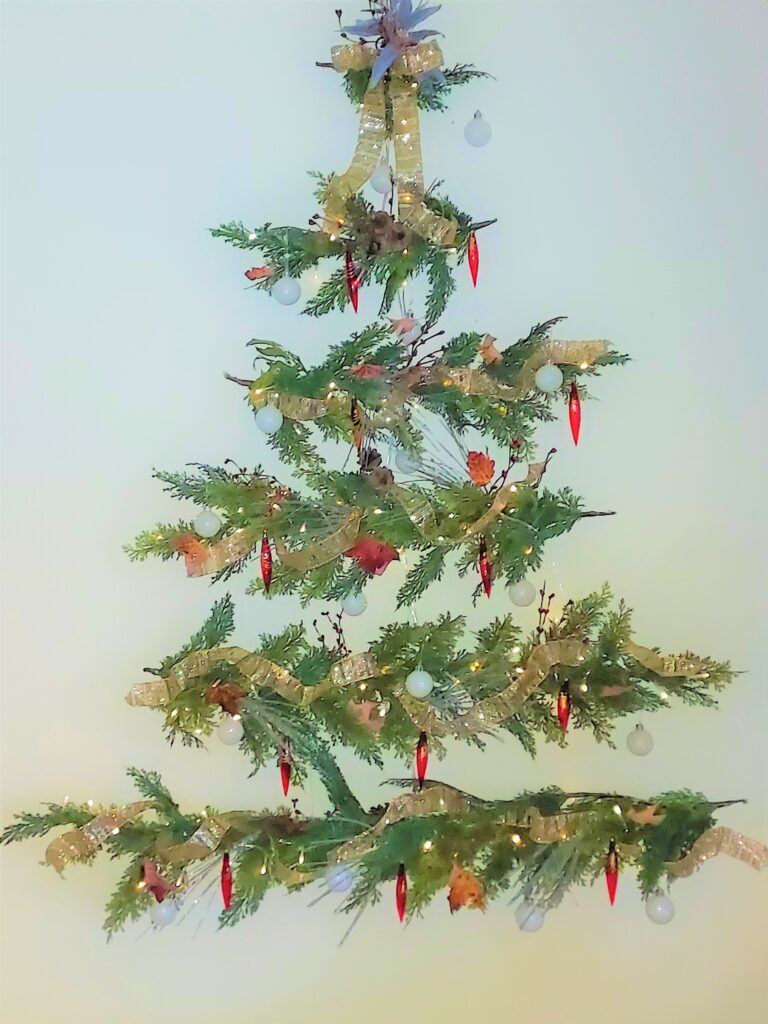 JUST HAD TO SHOW YOU THIS
Wall Trees!
As wonderful as tabletop trees for all the same reasons 
When I saw these last year, I loved they idea and wanted to see what was possible as another quick and easy, space saver holiday tree solution. 
(Side story: First the shipping was delayed and then it was lost for weeks and then poof… it just appeared at the door one day in January. So that part wasn't too quick, but not to be deterred I put it up anyway!)
But well worth the wait as it did not disappoint:
25 Minutes from box to hung up, branches shaped, batteries in & tuned on 
35 Minutes to decorate
+30 Minutes 1 time shopping for decorations
And done!

Just be mindful that since these trees hang off of one hook at the top you'll want to keep the decorations lightweight.
So I choose ball ornaments that were as light as ping pong balls (but cuter with frosty glitter 🙂  and airy wired ribbon, tiny red berries, pine cones, mini pendant hand-blown glass ornaments, and some sparkly long faux pine needles. And tucked in some tiny red maple leaves I found on my daily walk.
I just used three stems of each of the berries, cones and pine and then separated them into smaller pieces. For this type of tree, I'd say it is decorated to the max though to control the overall weight.  
Here's a close-up to see the detail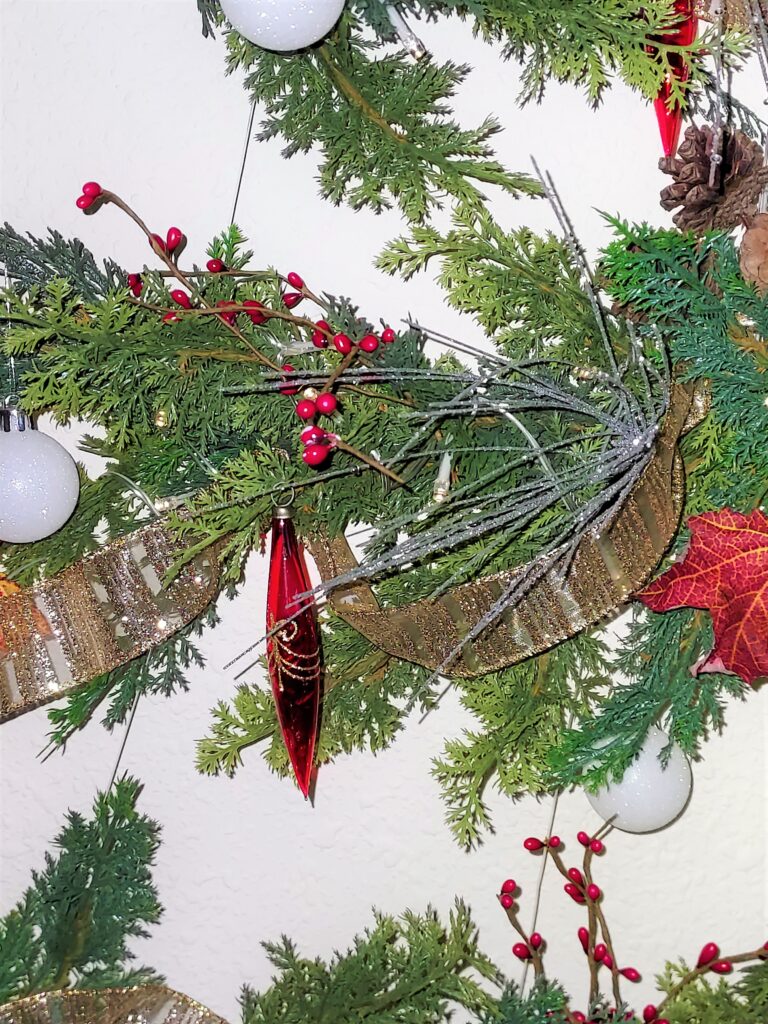 The trees come undecorated (and some are pre-lit).
The one below is from Grandin Road.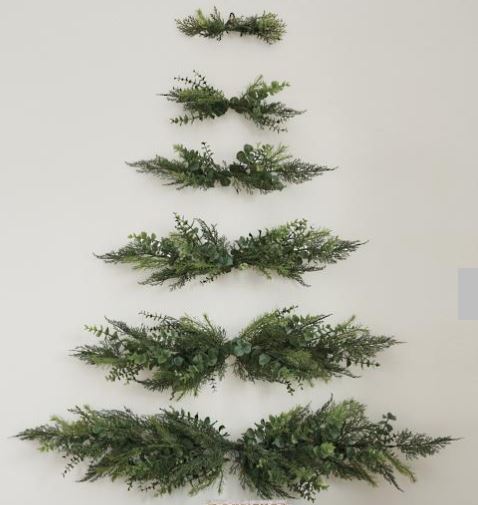 I hope you are inspired now that you can have a beautiful Christmas tree with a  tabletop or wall style!
They can do more per square inch and for the little time and investment made than anything else in the room.
And if it's all the decorating you do for the holiday their charming personality will still create a festive look for your home!
Happiest of Holidays and May the Season Be Filled with Love, Joy and Peace. -Thank you for trusting us to make your home a place you love, and we would look forward to helping you again in the New Year!
We can make it easier and faster & without expensive mistakes
25+ years of creating comfy, inviting designer rooms;
simply start by telling us about your project
Call
425-977-5599
or