When house-hunting if you don't love a kitchen, how do you know when to keep looking or when put in an offer & plan to update?
Sometimes a buyer walks away from a home not realizing it had real (but hidden) potential to actually be "the one". Actually a great fit for their style with easy to moderate updates.  
A simple way to avoid that is to get a realistic analysis from a designer WHILE you are house hunting so you won't overlook your "design match" in a home.
Because without it you can do a lot of looking and still feel like you're taking a chance on the home you decide to buy.
Most of the people I'd helped had just bought a home. Typically, they were unsure what the real design possibilities until I sorted that out for them in a walk-through. 
But I thought how much easier and probably faster it'd have been to find their home if they'd had design input while they were searching.  
So, I created a way to help buyers easily and quickly make an informed buying decision with a "Pre-buy Virtual Analysis" that points out a home's hidden design potential.
It lets you find out things like "Will several small to moderate changes make all the difference?"  "Will something really objectionably style-wise, not need a major fix to transform it after all?"
It's valuable, realistic feedback on a home's design possibilities to help you make a better buying decision.
Here are several examples of Pre-Buy Virtual Design Analysis. Each home had hidden design potential. At first glance, do you think most buyers should look for something better, or make an offer?
Thoughts on This "Problem" Great Room?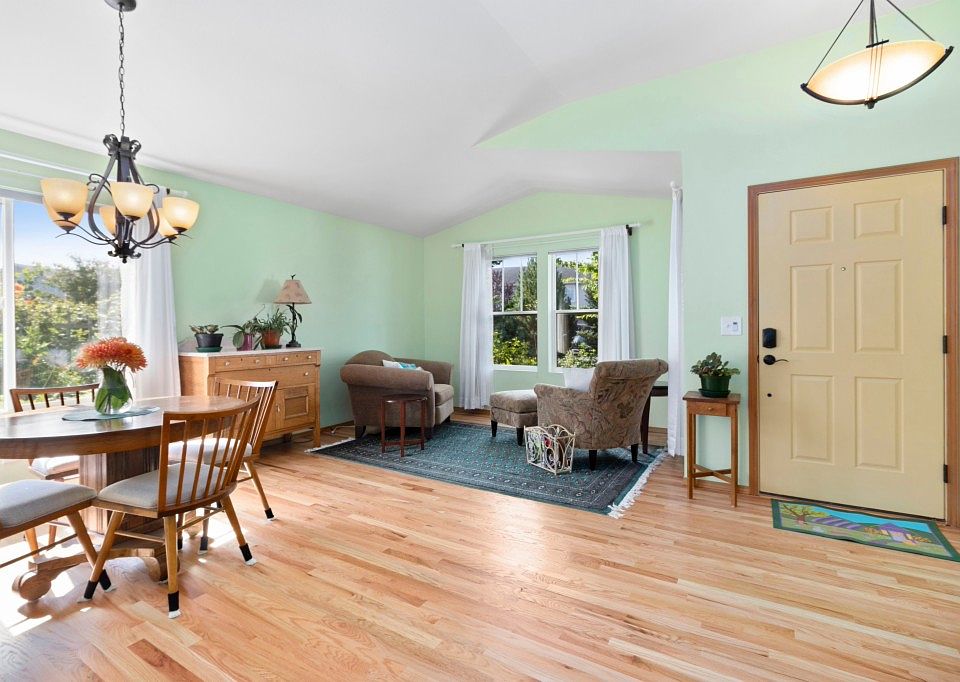 Source: Zillow              
Can't Live With That Unique Ceiling Angle?
SIMPLE DESIGN SOLUTION…  Paint the walls and the ceiling the same color!
A "paint fix" is the easiest, fastest way to improve this home. Once the walls and ceiling match, the angles won't be an issue. 
Plus the room will immediately look bigger. Suggest a warm white color (like the dining room drapes), giving an instant update to the whole space. 
And it will coordinate with the flooring, making the room look bigger still.
Also, paint all the trim white (see dark base molding and door trim). 
Paint the inside of the front door either an updated neutral or color that relates to your decorating.
How About This "Problem" Kitchen?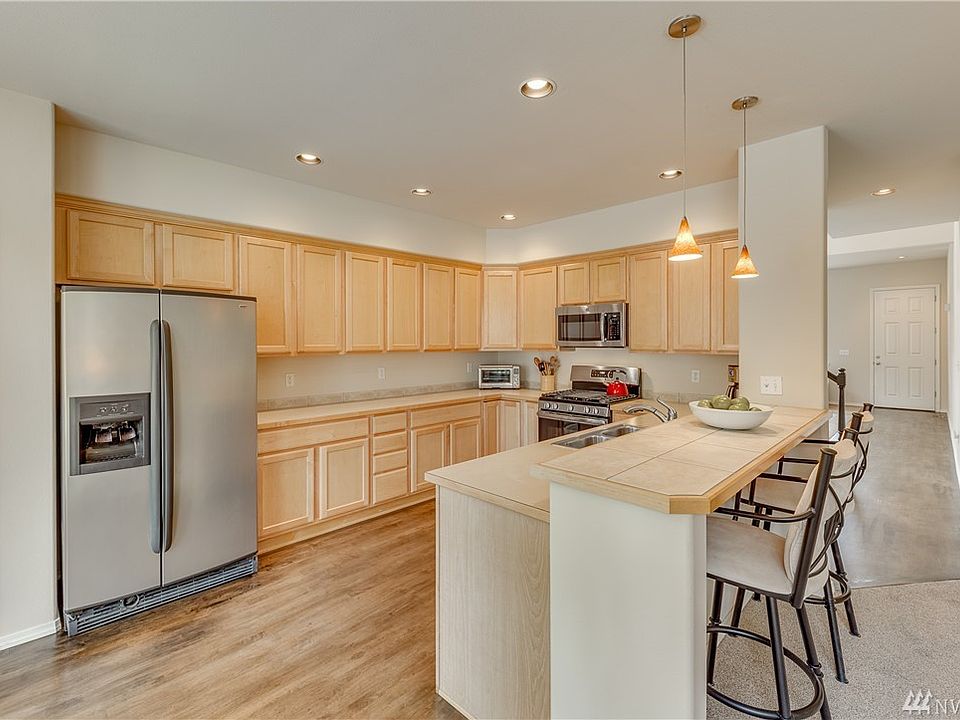 Source: Zillow
Wondering If You Could Ever Love It Short of Gutting It?
There are actually no major problems here. And there is LOTS of design potential by doing cosmetic changes only. 
You can keep the same layout so no utilities need to move meaning a faster, less expensive style update!
MODERATE DESIGN SOLUTION:  

Countertops
Replace with quartz. It will update the style and the color and upgrade it. Plus it's low maintenance with no more grout to maintain.
Dining Bar 
Update and upscale the kitchen with a "waterfall: design that runs the countertop material down the side of the peninsula. This will give that "lux" feel to space.
Cabinets
Keep them ( MAJOR saving) and add personality by dressing up the lackluster run of cabinets by painting the bottom ones medium to dark neutral and the uppers a light neutral. 
Open it up by replacing the solid doors with glass in the four middle-upper cabinets and either side of the microwave. Or by adding open metal shelving.
Accent cabinets with beautiful hardware.
Peninsula Lighting
Updating the light fixtures is another easy opportunity to add great style. 
Pass On This "Problem" Bathroom"?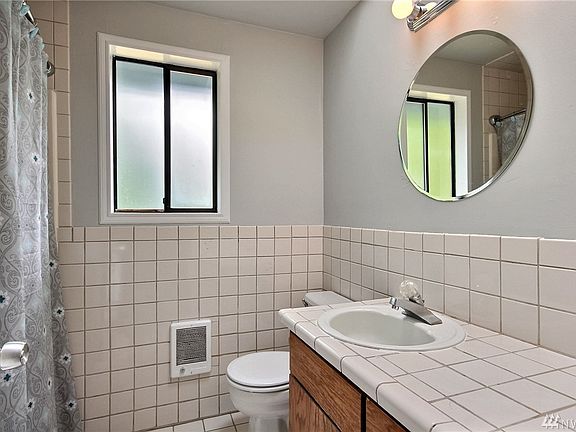 Source: Zillow
Too Much "Grout Grid" Going on?
Nothing but cosmetics fixes are needed as the layout is fine. (MAJOR saving, little to no utilities to move). So there is great potential for turning this utilitarian bathroom into a real gem with these moderate updates:
Cabinets
Paint them a neutral, accent with hardware 
Countertops
Update and upgrade with quartz.
Sink
Quart countertop will let you update and upgrade to an undermount rectangle sink.
Faucet
Your chance to add a statement faucet.
Lighting
Update and upgrade to sconces.
Mirror
Make it almost twice as big.
Walls
Here's where you give it a real style boost: Wallpaper above the tile. Once the countertop is a solid surface, the wall tile will be fine!
Wall heater
Since it is placed so "front and center" as you enter the room, deflect the eye with a semi-dramatic beautiful patterned wall covering above the tile that grabs the attention.  
Need to know your "Home Design Match" before you buy?