5 Designer Tricks for Styling a Console Table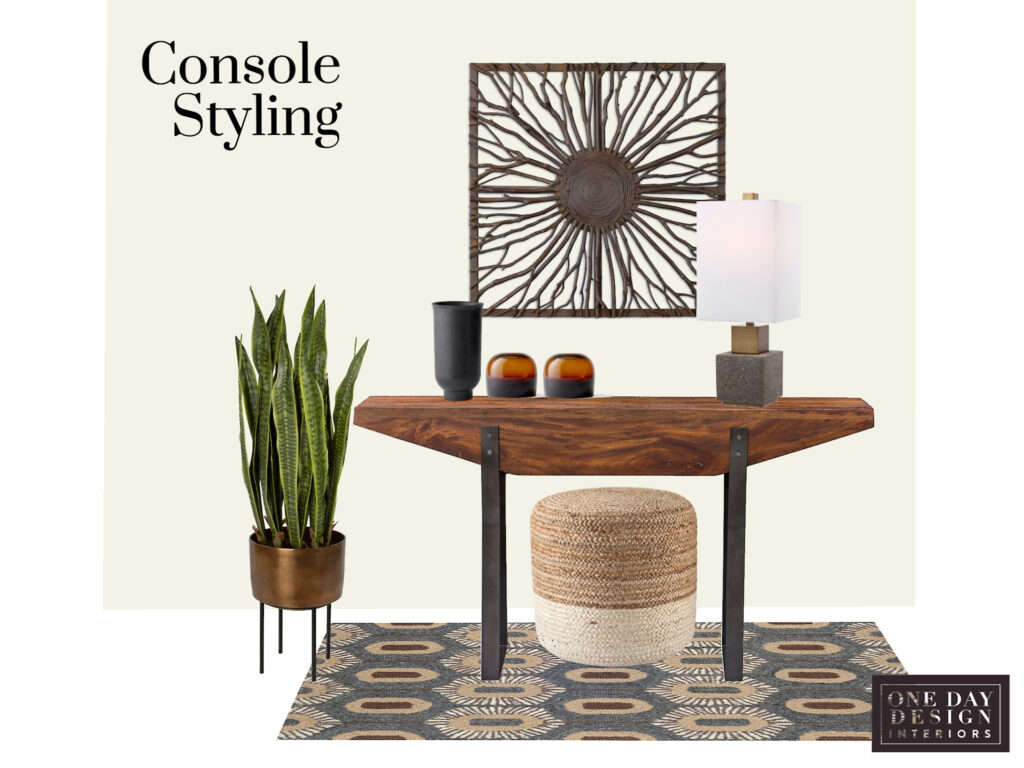 Consoles Are So Versatile
Perfect for entryways, (where they set the mood and style of your whole home), hallways, niches, and master bedrooms.
And they can easily be used as sofa tables by using the wall decoration elsewhere in the space.
But if pulling it all together into a look you love is a struggle,
I've created three different console vignettes sharing my go-to tricks for console styling to help.
My 5 Go-To Tricks for Console Styling
1. Select a Theme
You want variety to keep it interesting while still creating a coordinated look.   
The best way to do that if your style is eclectic is with color. 

But if you like one style, that will largely all by itself hold it together. BUT the trick to avoiding that cookie cutter look is to use an interesting (but coordinated) variety of colors, finishes, textures, and patterns. 
Because I went more eclectic here I chose color to pull together the mix of styles: 
The console sets the stage for a rich warm and cool neutral palette with its solid mahogany beam and rustic iron legs.   
The patterned area rug was the perfect way to set the whole palette AND a visual trick to pull all the colors together.
Based on that I choose everything else from the smallest accessory (amber glass vases) to the biggest (black iron wall hanging and the charcoal and brass lamp).
2. Select a Focal Point
Start by looking for the wall decoration 
Besides the console, what is on the wall will be the most visible element so make it a statement piece.  Which will draw the eye into the space while balancing out the whole look.
I choose this graphic-looking metal wall decoration because
It's a strong piece that will get attention quickly in even a pass-through space.
Its ornateness softened and complemented the simplicity of the big beautiful chunk of solid Mahogany of the console and its industrial-looking legs. 
I also liked how it related back to the finish on the console legs.
The size was right since it's not longer than the console which would have made it look too top-heavy. 
3. Ground The Bottom
If you are styling an open console (i.e. with legs like a table) add some substantial pieces underneath that are large enough to set on the floor. 
They will balance out the decorations so the console doesn't look top-heavy and the bottom unfinished.
It can be pieces like a bushy plant, baskets, stools, poufs, large jardinieres, or any piece that goes with your theme.
I choose this braided jute pouf because
The organic woven texture complemented the console's smooth wood and metal finishes. 
I liked the warmth the natural colors added.
The height was right since it fits well under the console (without too large a gap) so they relate to each other as a vignette.
4. Add The Main Accessories 
I always start with the larger accessories and work my way down to the smaller ones. It just makes the process easier.
Look for the lamp first, it will always catch the eye, especially when turned on. It should be the biggest accessory other than if you add a large vase with tall foliage/floral stems.  (I typically keep those arrangements simple or airy.)
Here's why I chose these accessories
The modern lamp with blocky lines reflected the console's geometric style.
A pair of amber glass vases added their rich warm color that fits our palette plus the variety of a shiny finish and curvy shape, again to accent the console.
A matte black vase reflected the other dark matte finishes.
A copper planter was chosen for its color and satin finish. That also allowed a beautiful green plant to be added to the vignette. (I especially love any vibrant greens with a charcoal and amber palette.) 
Overall I'm always thinking too about layering and varying the height and size of pieces. (There's always a look of small, medium, and large, and low, mid, and high).
5. Styling The Details
Once the main elements are curated, now the detailed styling begins, to finish it off
It can be stacking books to elevate and highlight a smaller accessory. (I only use hardbacks with covers removed.) 
Layering artwork or mirrors, (a large one hung and others or all are overlapped and leaned). 
Small but meaningful framed black & white photos you need to almost pick up to see. (Arranged to be seen from the main viewing angle.)
Fresh branches or sprigs from your yard (or even potted lanai plants) added to the vase(s). Or drop in some realistic looking faux.
Placement Tricks
Inches and angles count in getting a balanced, cohesive, and interesting style so here are some of the things I look at
Place large accessories on opposite sides of the vignette, i.e. a lamp and a large vase or piece of décor
Or offset a large accessory with a grouping of medium to smaller accessories opposite it. 
Or place a pair of large accessories, one on each end of the console
Or place a large floor accessory in the middle or opposite end of the large accessory on top of the console.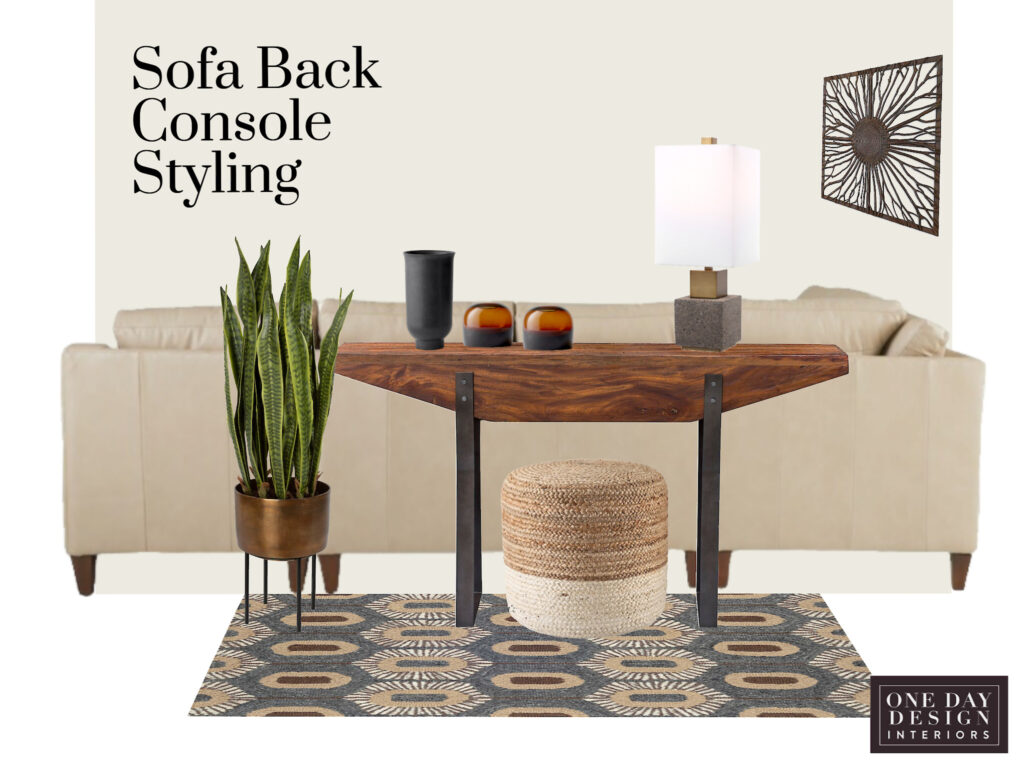 Below are 2 Different Console Vignettes but the Same  Styling Tricks   
Eclectic but refined with a touch of classic lines, this look used all the same styling tricks.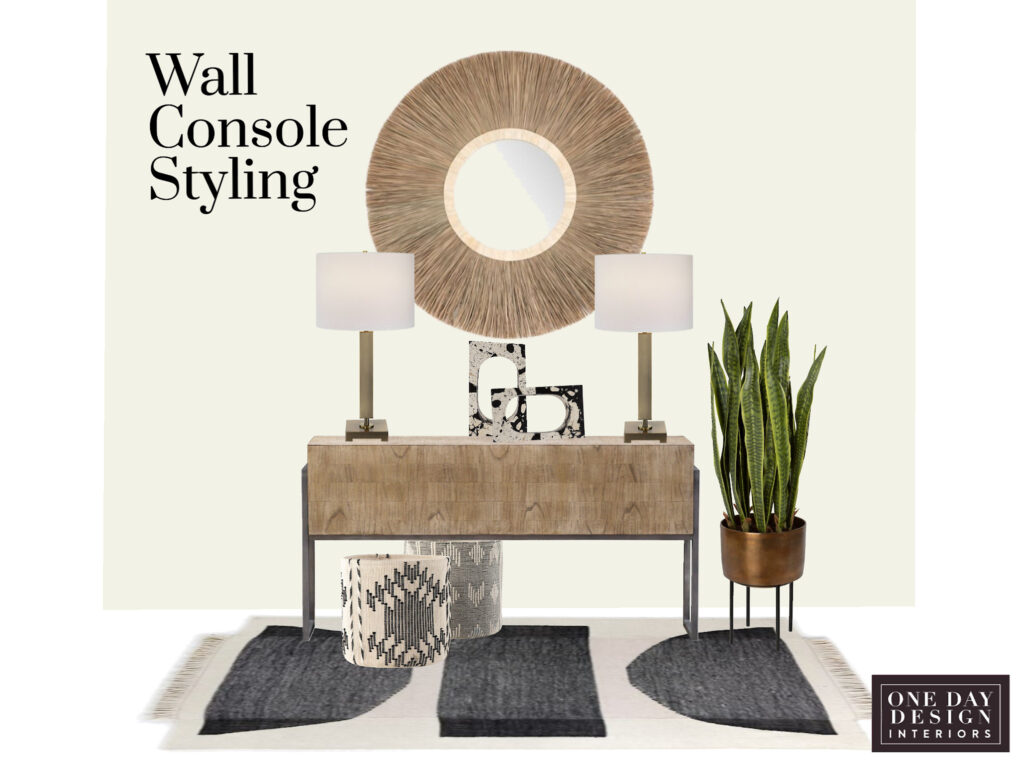 Once again I used a color palette to pull an eclectic style together into a coordinated look
THEME

I chose this mahogany with mindi wood veneer console with iron legs because of its modern and rustic features, which could be dressed in so many ways. 

FOCAL POINT

Loved this large seagrass mirror for creating a strong focal point with its design, size, and texture.

GROUND THE BOTTOM

These global baskets in an interesting intricate pattern contrasted well with the bold design of the rug. And were a perfect snug fit under the console.
The wool area rug also grounds the vignette plus repeats the global look. 

MAIN ACCESSORIES

The modern lamps picked up on the modern console style but by using them as a symmetrical pair it gives a classic touch. 
The copper potted faux plant adds an organic feel that every vignette needs.

STYLE DETAILS

Loved these unique and beautiful white and black Coral sculptural pieces. And by setting them in opposite directions adds even more interest
Here it's working beautifully with a sofa/sectional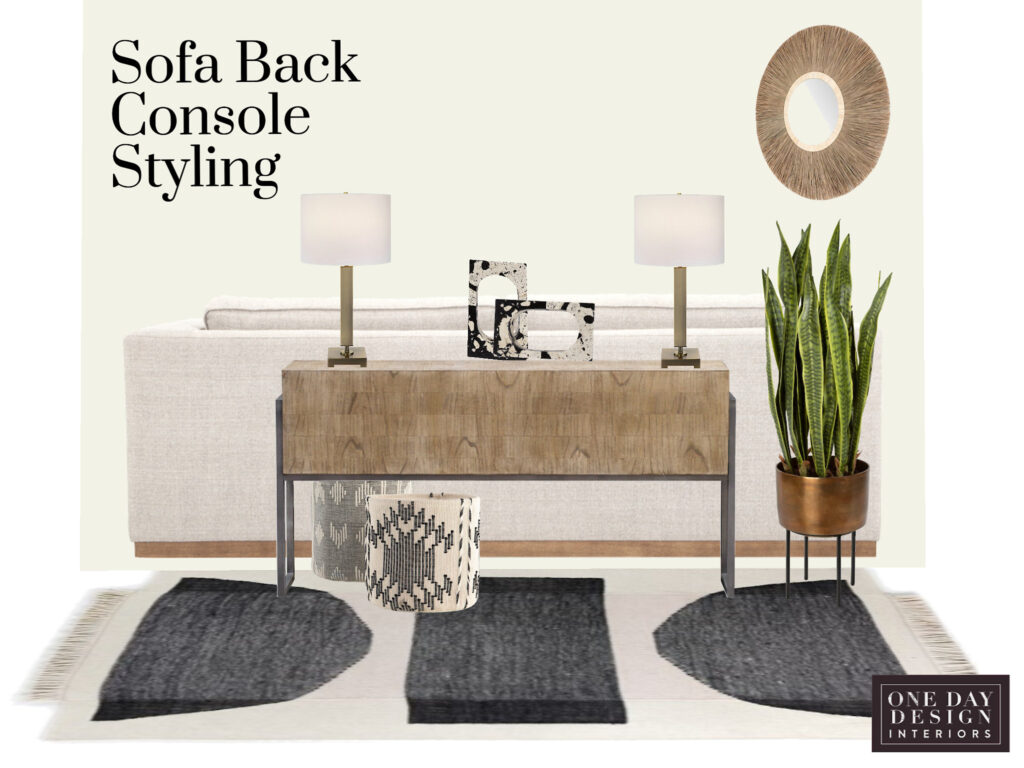 Console Styling for a Smaller Space
That will still make a big statement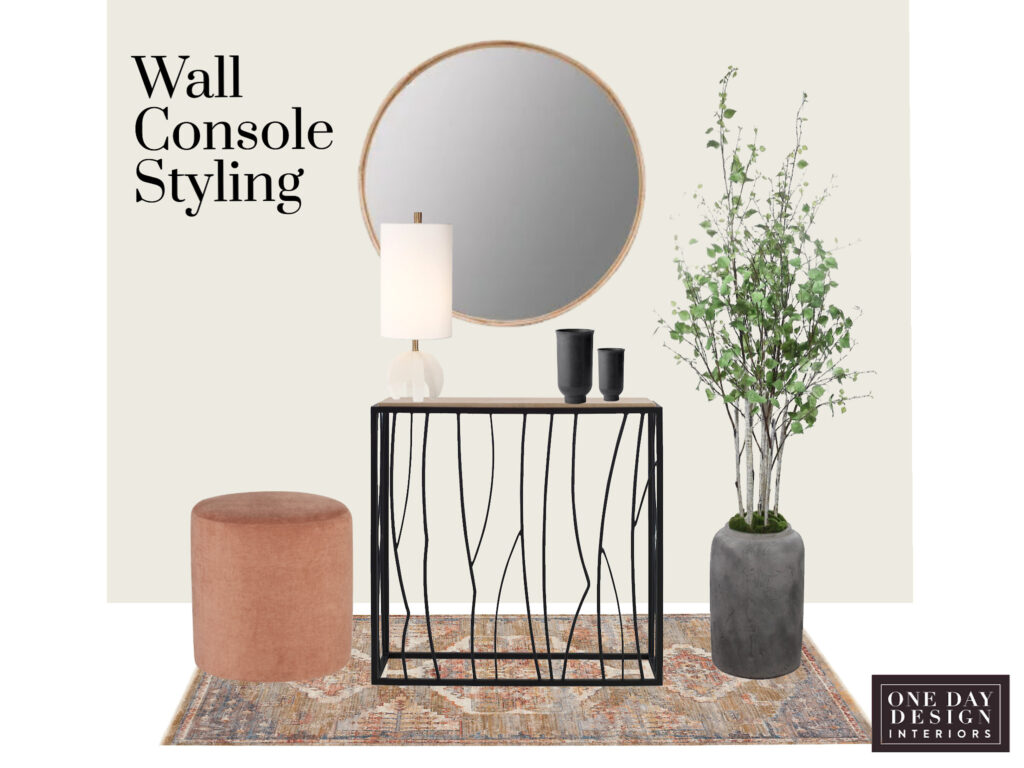 A compact console can still be styled to make a beautiful statement for your home 
THEME

I loved this organic-looking iron console with a white travertine top and wanted to use it to create a botanical, eclectic look. 

FOCAL POINT

This simple, big round mirror was the perfect focal point to contrast with the shape and linear style of the console.
Plus it's sized to the max to make the console vignette seem more significant.

GROUND THE BOTTOM

Because it has an open feeling but didn't allow for anything to be placed underneath it, setting a pouf beside it still helped ground it. (If you don't have wall space for that you can forgo it as the space won't feel bare in that case.)
The area rug both grounds and pulls the vignette together with its color palette.

MAIN ACCESSORIES

The unique white alabaster lamps add a sculptural element and the black ceramic vases give contrast.
The plant does triple duty by helping to ground, plus adding height and the look of nature.

STYLE DETAILS

Adding the classic ceramic vases opposite the lamp balances it out.
The pouf and tree balance each other out if you have a longer wall or sofa/sectional.
Also a perfect accent for a sofa/sectional
And if you need more light a floor lamp can be added to one end of the seating too.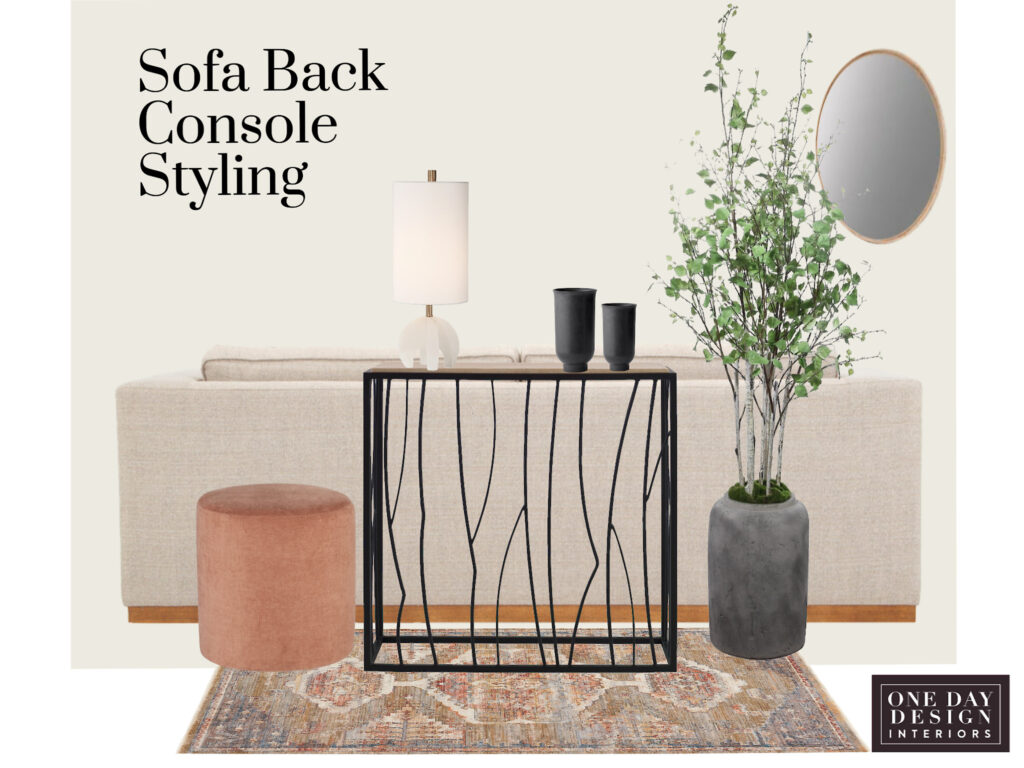 I hope these Console Styling Tricks has inspired you to make your home a place you love!
And if you'd like more help here are 4 easy ways we can do that  
FULL ROOM DESIGN
(Designer Rooms Done for You)
e-design, on-site/Seattle or a combination
(Flat fee for set scope + hourly)
DESIGNER BY YOUR SIDE
(Answers, Feedback & Solutions)
Advising you hourly "as needed" on projects you're managing
e-design, on-site/Seattle or a combination
QUICK DESIGN ADVICE
(Fast answers, feedback & solutions for occasional needs)
30 or 6O Minute Video call
(Starting at $97)
COLOR CONSULTATION
(Stress-free custom color palettes)
Interior & Exterior
(Seattle)
Making it easier, faster & without expensive mistakes
25+ years of creating comfortable designer rooms
Tell us about your project by
Calling
425-977-5599
or