A wonderful Canadian couple asked for help in updating their beach suite rental.
During their on-site DESIGNER ON CALL consultation, (virtual consultations are now an option as well), I suggested 4 ways to transform it that gave them what they were looking for (and more): 
A "Wow" online photo-op to attract quality reservations
An updated, bigger & better-designed space
A simple architectural feature upgrade 

A more valuable rental property
The Main Challenges 
The owners had already begun the project because of mandatory code updates but were now struggling to make a compact lounging space not only look updated but bigger and well designed. The particular challenges I saw were:
A built-in bookcase inherited from the previous owners that took up valuable floor and wall space. (Its base, hidden behind the sofa, extended into the room.)
An electric fireplace that had no place to set that didn't position it like an electric heater instead of adding the ambiance of a fireplace.
A dated yellowy-ivory paint color  (not quite discernable in the photo.) 
Dated decorating that didn't say "wow, I'm at the beach!"
Finding Those Perfectly Suited Solutions
Once I knew their concerns, goals, ideas, timeline, and investment it was time to get started with some workable solutions. They had been trying to make a design work without removing the built-in bookcase, but we needed to think outside the box (or bookcase in this case.)
Solution #1
Remove the Bookcase
The first thing I suggested was removing it. That added valuable floor space and wall space. Both of which we could put to much better use, and… BE THE KEY TO UNLOCKING THE WHOLE TRANSFORMATION.
Solution #2 
Add a Faux Fireplace Surround 
Now that there was a wall to use we never had before and it was our big opportunity to add a simple BUT major enhancement to the room:
A faux fireplace for the electric fireplace to set
(Simply adding tile to the wall & a mantel)   
Adds an updated Coastal style to the suite
Adds an upgraded architectural feature
Creates a focal point
 I provided them creative guidance and inspiration with an example of a Modern Coastal style fireplace in a pale gray faux stone porcelain tile with a simple fresh white painted mantel. 
COLOR TIP: Even though gray with white has trended out, it is a classic color combination for a beach location making it timeless in that setting.
Add a Matching Hearth
Which would both solve a problem and furthered the look of a fireplace:
Cover the exposed subfloor where the extended bookcase base had been removed. 
Create a hearth space for the electric fireplace to set and add to the look of a fireplace.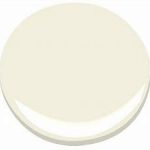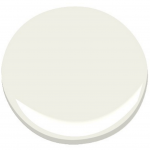 Solution #3
Add a Fresher, Updated Wall Color
Next, I suggested a fresher off-white wall color: Benjamin Moore's "White Dove OC-17" to replace the yellowy-ivory walls. Painting it throughout to create the feeling of more space and to add an update to the entire suite.
Solution #4 
Create a Bigger, Better Designed Space for Adding Updated Decor
This simple faux fireplace surround feature:
Created enough space to set a sofa opposite the fireplace wall where both it and the TV could be enjoyed together.
Made the room bigger by creating a place to hang the TV on the wall and eliminating the TV console. 
Helped pull the room together by grouping the TV over the fireplace


Updated decorating says "seaside setting" even when indoors:
Adding a Coastal style personality 
Navy & soft neutrals palette is current, nautical, relaxed & fresh looking
Sofa chaise offers a footrest, still allowing room for a coffee table
Seascape art "adds "a window with an ocean view to a unit without one. 
Remember Where We Started?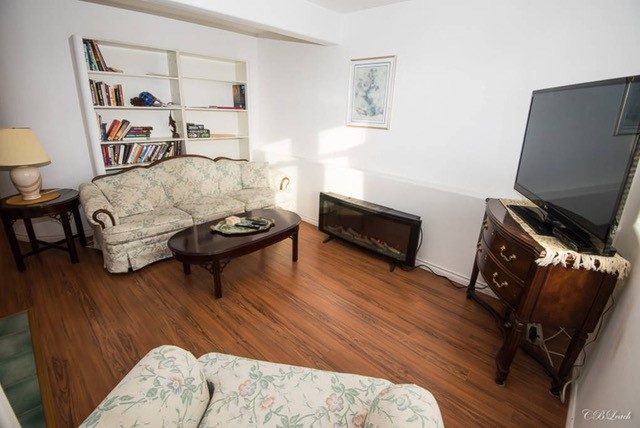 Here's What it Looks Like Now...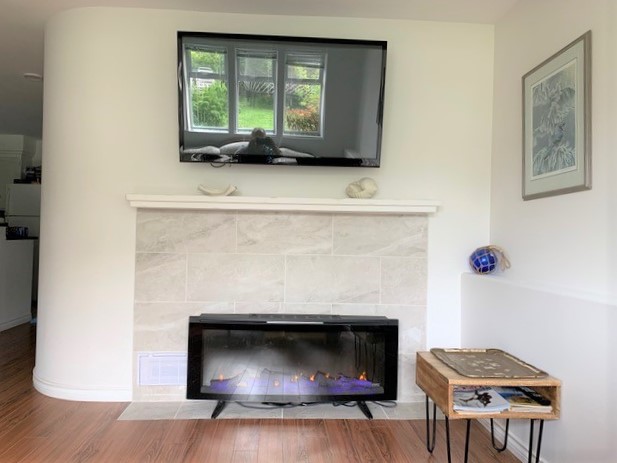 The faux fireplace has started the transformation & the new furnishings will finish it
"We were very happy with the results…" 
"We have used Mary several times to work with us over the years to help redesign or redecorate parts of our house… Most recently, we did some code upgrades to our basement suite and had decided to reconfigure the living room to better accommodate an electric fireplace. Mary came up with the idea to remove a built-in bookshelf, mount the tv on the wall, and create a floating mantle to put above the electric fireplace. She also gave us some great tips on paint colours, which created a seamless look and made the room look larger. We were very happy with the results and her advice and enjoyed working with her again."
Semi-Minor Modifications Did the Job
Everything the owners wanted to see happen did, and more. This beach suite refresh will make it easier to attract quality reservations.
Have a space you need design solutions for?
We can help in 3 ways
DESIGNER ON CALL / Design Time Blocks
Zoom Consultation
Actionable ideas
Inspiration photos
On-going support as needed
DONE FOR YOUR ROOM / Curated & Arranged Virtually
Zoom Consultation
Mood Board
Shopping Links
Furniture layout
2D Interactive Furniture Floor Plan
3D Interactive room