My 3 Favorite Ideas For Outdoor Spaces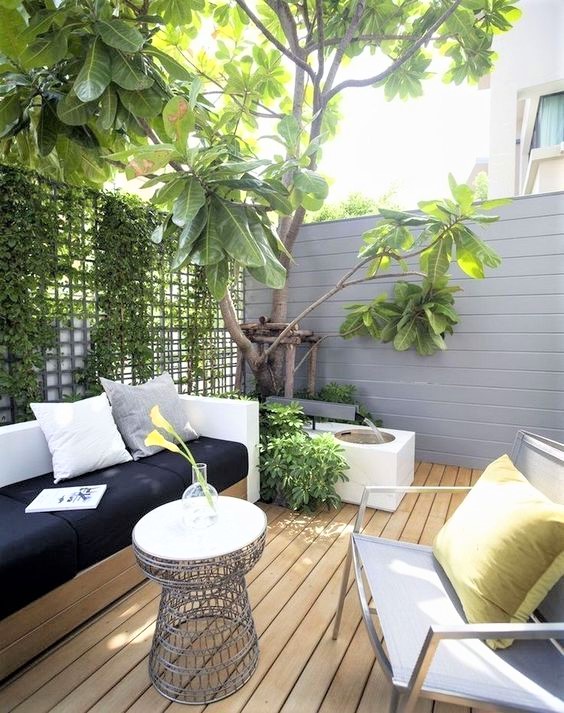 Our outdoor spaces have become cherished places 
Any size outdoor space can make us feel good because it's always a bit exhilarating to step outside. It just draws us out as we hope to be relaxed, refreshed, and ultimately recharged as we head back into life's routine on the inside.
But some outdoor spaces make us happier than others, right?! Because just like our indoor living spaces, we can't really enjoy them until they feel beautiful and finished to us.    
But what to do to get it there? Potential is so often hidden, or we can't see where to start or what the best solutions are, or what will make sense with our style interior.
We won't be able to solve all that in one blog, but let's look at some beautiful solutions to inspire you to look at your outdoor living area with new eyes and start to imagine the possibilities while also trying something beautiful and new!
These are 3 of my favorite ways that could make your space into the "great" outdoors you've always wanted!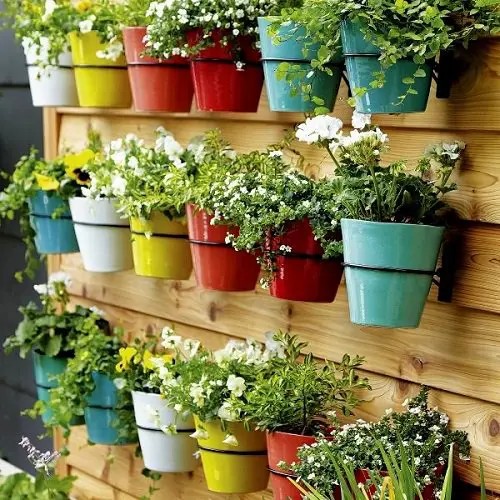 Simple Yet So Many Ways to Create a Wall Garden For Any Style 
Every outdoor space needs plants in a big way. Because it's a big part of what makes you feel like you're outside with nature. 
When I say in a big way, it doesn't necessarily mean an overabundance of plants if there's no room for that but that they are used in a way that they are very noticeable, adding a lot of the feeling of nature to your space. 
I especially like the idea of wall planters because they:
WORKS WELL IN ANY SIZE SPACE
They can be used even when there is not a lot of floor space for plant pots.
SOFTENS BARE WALLS
Outdoor patios, decks, pool areas are basically made up of "hardscape", or hard surfaces. And landscaping is what's needed to soften them. Then the hardscape becomes appealing in its rightful role as the backdrop.
BECOMES LIVING ART
Wall planter gardens will decorate your wall the same as art does on the inside.

TIP: USE YOUR PLANT & POT SELECTIONS, & ARRANGEMENT TO CONVEY YOUR STYLE & COLOR PALETTE 
This wall above looks like cheery "Cottagecore" style with its abundant mix of colorful pots, and plants that make you think of the meadows.
The way the wall planter is used below though and the succulent chosen creates a sleek, modern, calm and organic feeling style.
Totally different but beautiful looks when used in the right style setting; while using the same idea. 
2. Decorative Outdoor Flooring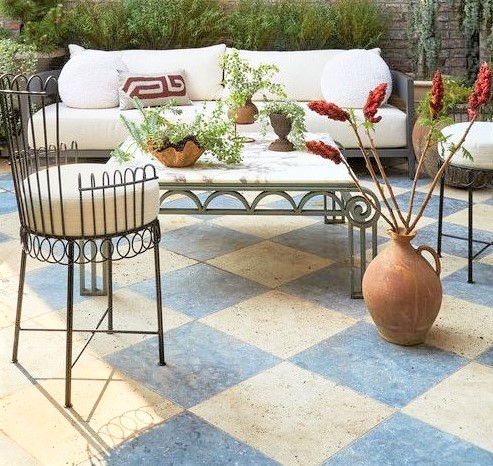 Love what patterned flooring can do for space!
There are a variety of ways to create them so let's dive in.
CLASSIC TILE PATTERNS 
This same outdoor furniture grouping above that is sitting on a cement slab patio would be beautiful. But add in the classic oversized diamond-patterned tile flooring and the whole space becomes a show stopper.
Tip: KEEP THE FURNITURE FABRIC SIMPLE
So as not to compete with the patterned flooring it's generally better to keep to solids or textured fabrics. (There can only be one real star in any space, otherwise, it's a wrestling match between 2 competitors with no clear winner!)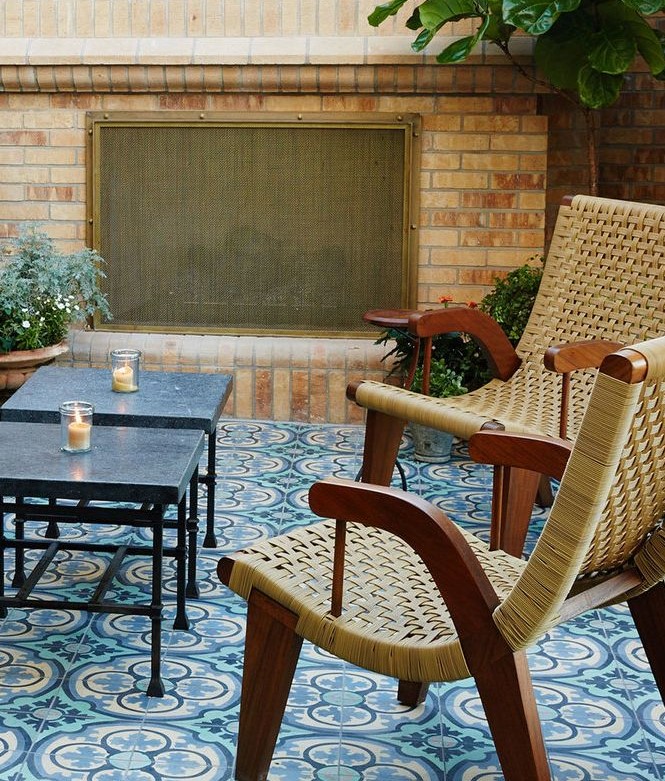 ENCAUSTIC TILES 
The space above shows some of the beautiful medieval age inspired encaustic tiles that create the feeling of an area rug. 
The highly patterned tiles can also be used to create different zones like for dining or lounging.
(This is a great option for warmer climates that will harbor way too much of the insect world under outdoor rugs, ugh!) 
Tip: COLOR IS EXCITING BUT NEUTRAL TILES WILL ALLOW THE MOST DECORATING OPTIONS OVERTIME
As well as color options for exterior paint, and flowering plantings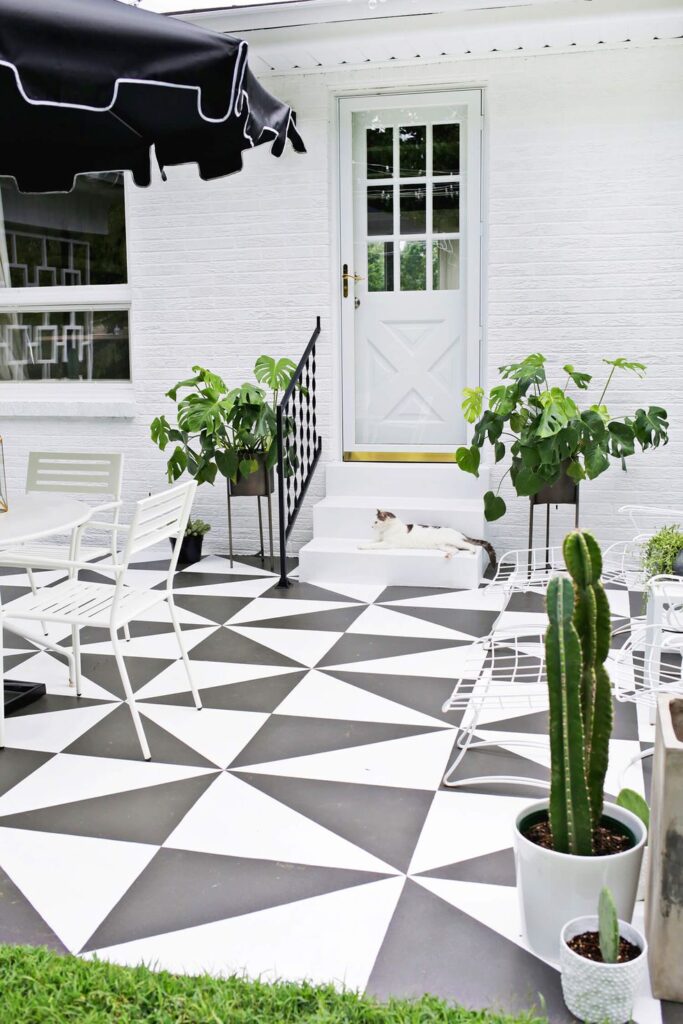 PAINTED FLOORING 
Another great way to make an incredible design statement.
A space like this off a small utility-looking back porch would usually be nothing to catch the eye and make you want to stay awhile and enjoy it.
Except this flooring treatment has made it go from a 1 to a 5-star rating!
Again, notice how they have kept the overall palette simple to not overdo the visual effect.
And the simple brass touches of the doors kick plate and hardware are small but important details that elevate not only a simple back porch but the whole space!  
Tip: GREEN PLANTS & LAWN WILL SOFTEN A DRAMATIC COLOR PALETTE
Natural greenery is a beautiful accent to a dramatic but fresh white with black palette. (Including ones with color-coordinated pets!)
3. Fun & Functional Outdoor Furniture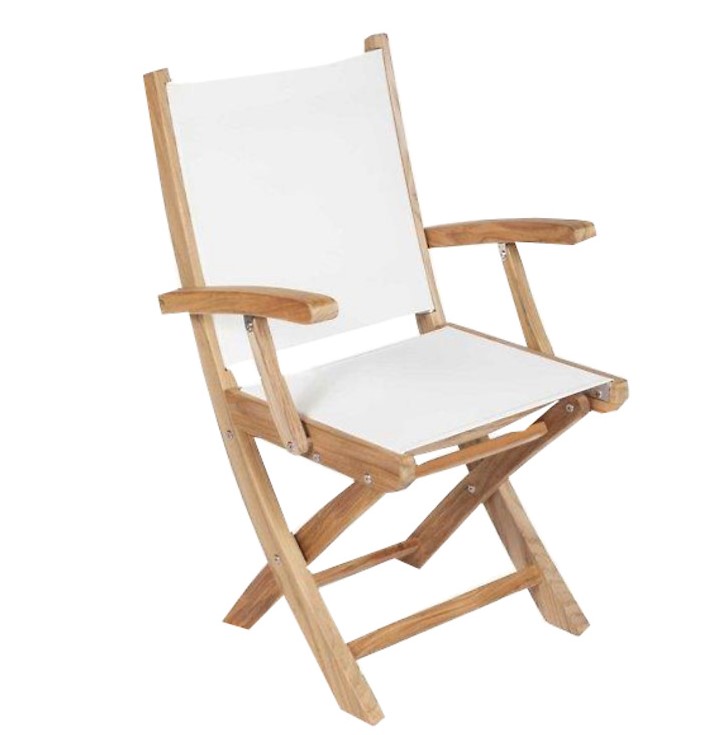 No lack of options but these especially caught my eye

Every season there are more varieties of options for outdoor furnishings but these are several I chose because I liked that they either had something surprising about them or they were very flexible in their use.
FOLDING FURNITURE
This teak sling chair has such beautiful lines to it with its gently curved arm and combination leg to back piece. It avoided the heavy chunkiness so many teak pieces have had.  
But I also liked that it was a folding chair. Which can make a big difference when it's time to store outdoor furnishings during the off-season.
Plus it's easy to move around for flexible seating arrangements for various activities.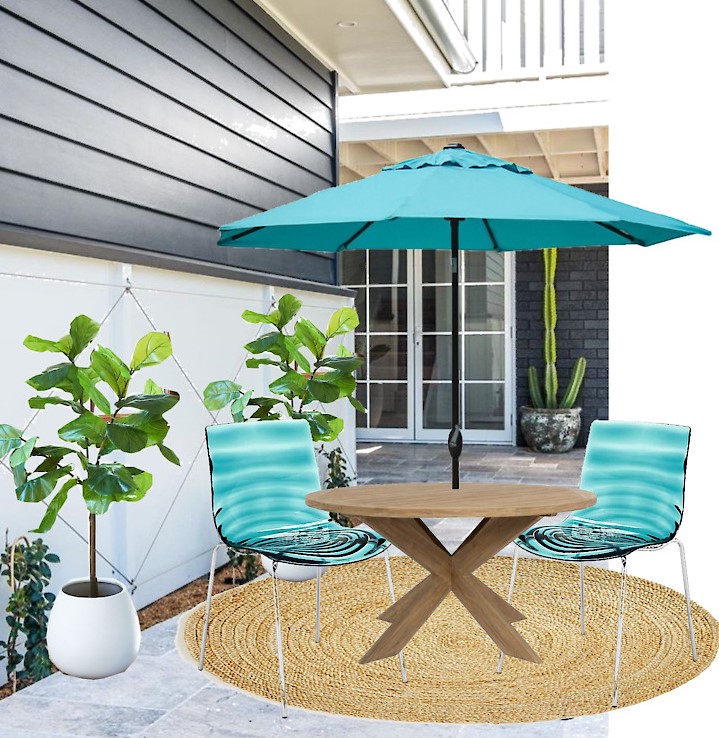 LUCITE ACRYLIC FURNITURE
It is also an outdoor product for seating or side tables!  
This mood board I created shows a cozy outdoor seating area using Lucite Acrylic chairs warmed up with a wood-stained table, seagrass outdoor rug, and complementary umbrella.
These fresh, fun colors are a seasonal way to add color that also accents your home's exterior. 
And in the winter the chairs don't need to be stored but can find a home inside again!
Tip: Because outdoor spaces have rough flooring avoid acrylic lucite legs in seating
where chairs may be scooted back and forth at dining tables.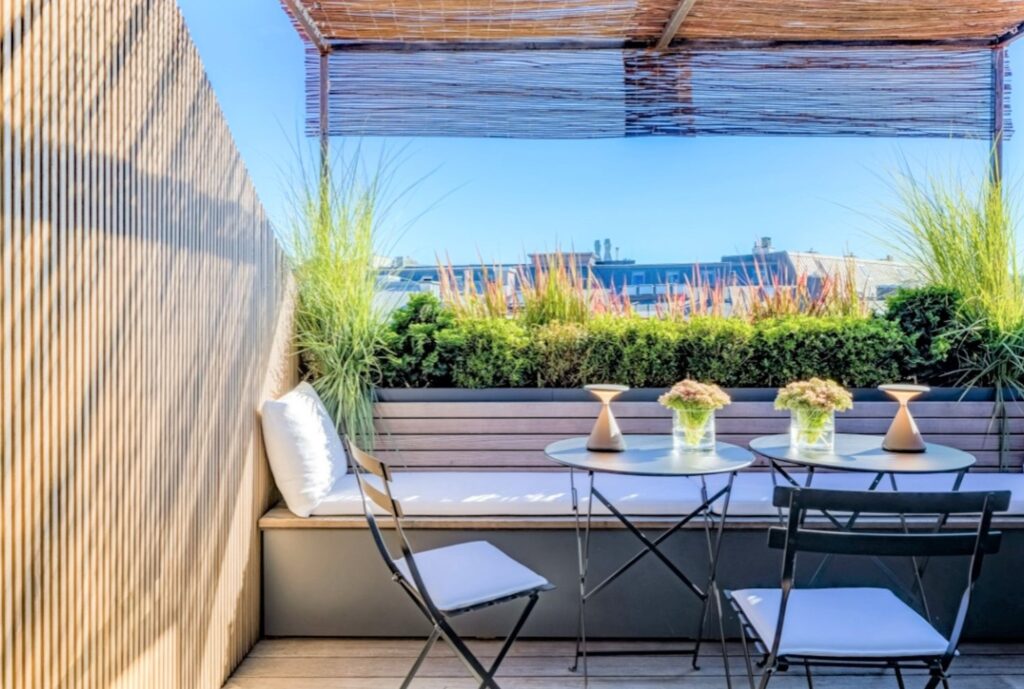 BISTRO TABLES
Bistro tables (which range from 2 to 3 feet wide) are not only perfect as singles for small outdoor spaces, but they are also fun and flexible pieces to group for various size gatherings.
Two or more tables can create any shape grouping for a planned or impromptu gathering. And a cluster of bistro tables feels cozier than one large table if your style is more easy-breezy.
Tip: Coordinate a grouping of casually arranged bistro tables with the same table accent(s)
Does your outdoor getaway need a lift?
Time to fix it then by having a space created you'll love getting away to!
Simply start by telling us about your dream outdoor space:
Call
425-977-5599
or
Avid DIY-er needing feedback, options & answers?
A  Video Call or In-Home Design Consultation
may be all you need: 
Simply call us at 425-977-5599 or