"Custom Inspiration Rooms"… lets you create a look you know you'll love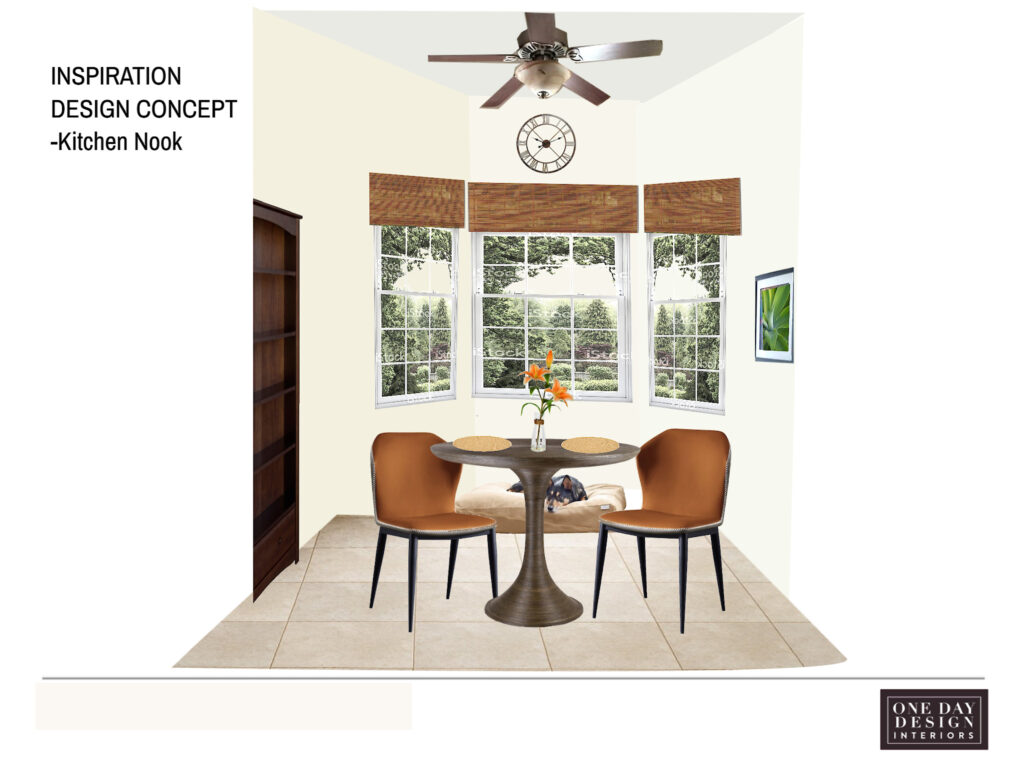 Need more than a design consultation for ideas but not full service?  
Then this is designed for you…
 "Custom Inspiration Rooms" created for your taste and space as a "Shopping Guide" to create the look
We'll suggest the decorating colors, styles, and arrangement without diving into the details of selecting the exact pieces.  
But let you use it as your DESIGN GPS for SHOPPING so you can create adesigner space in your home yourself.  
It means you can stop working backwards in designing your home! Because without having a clear vision of your room before you start shopping that's what happens…
Trying to shop your way into aroom piece-by-piece. Thinking if you choose all your favorite things you will automatically love your room.
Now you can do it like a designer does…
Fabulous spaces start with a great design concept for the overall look.
Then we curate specific pieces to reflect the look and the feel.
Now you can have the concept for your own "Shopping Guide"
See the look of a designer room in your taste & space first to know you love it

Know what kinds and colors of pieces to shop for to reflect the look

See how to arrange and style your space 

Have us for design support for any questions
Your Custom Inspiration Room

takes the stress, guesswork and mistakes
out of shopping & creating designer spaces 
Suggested product links are included
We provide all the shopping links in case an inspiration piece is also a perfect fit for your space. Or just use it as originally planned to inspire your shopping. 
Have pieces to incorporate?
Just let us know and we will make them part of your design concept.
Just need a room refresh?
This is perfect for adding anything from new accessories, plants, accent pieces, area rugs, art to lamps for a quick update.
How "Custom Inspiration Rooms" Work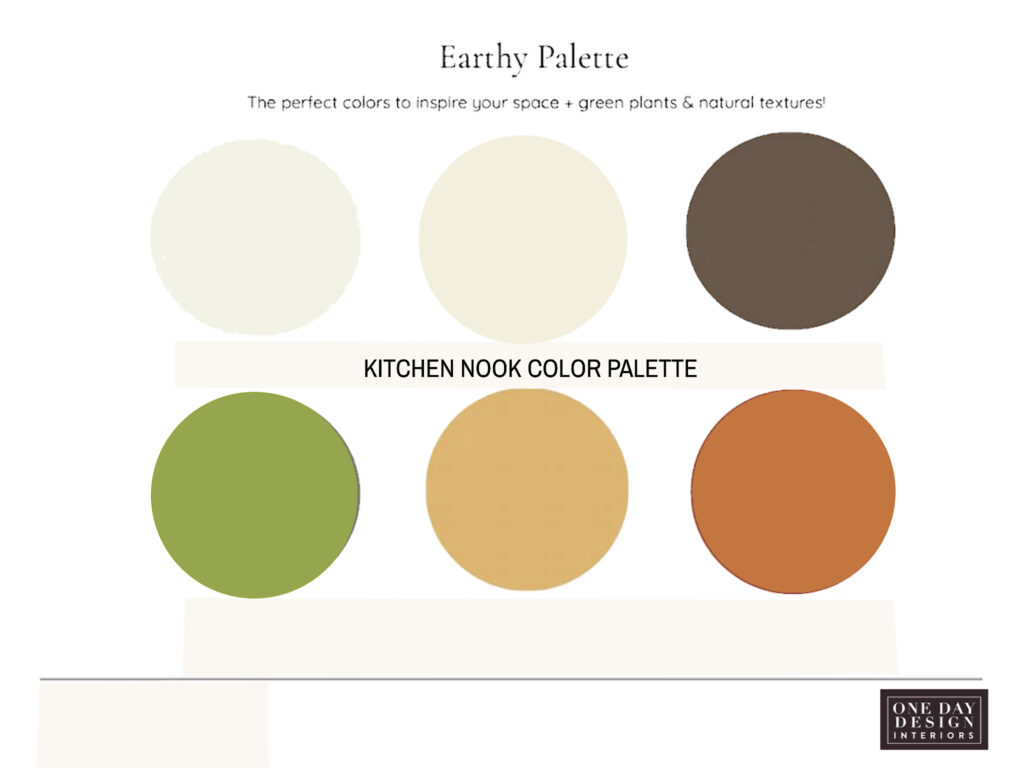 Everything needed to guide your shopping & styling
Our goal is to give you one, clear, creative, custom vision for your space to shop by
So we've also included these other key design tools and assistance for creating your designer space
Color Palette
Coordinated colors for furnishings, decor, wall colors, wallcoverings, flooring, window treatment, cabinetry, countertops, tile, hardware finishes
Furniture Floorplan
Your rooms styling guide
Design Advice
Shopping, styling, coordinating colors, etc. 
Design Support
For any questions as you finish your room
This "Custom Inspiration Room" design set makes it so simple our recent client (for the nook at the top of the blog) said after her presentation "That was fun!" 
Now she's got one clear vision for her whole room.
AND she knows what to look for to create that designer look to have a space she'll love.
4 Steps From Your Existing Space to Your Inspired Space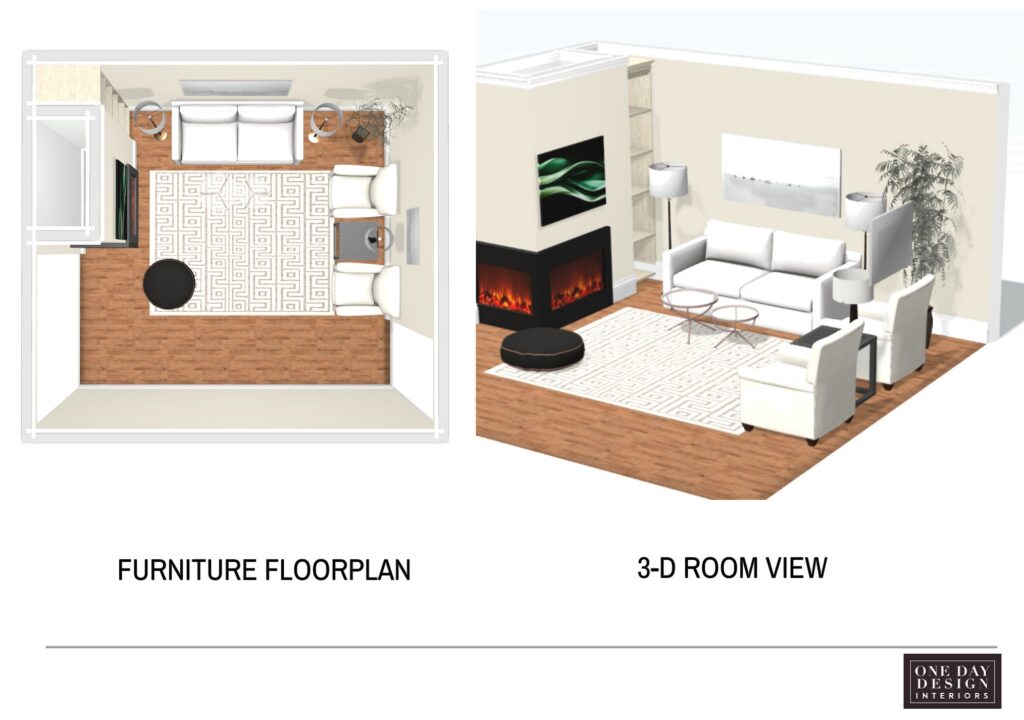 (Above furniture floorplan and 3-D Room view is another room in this Nook project. It's included here just to show these design tools. The nooks' 3-D view easily showed the furniture arrangement so a floorplan wasn't needed.) 
Having your custom-designed room in view as you shop will make all the difference in the pieces you'll know to select to create it. 
Here Are The 4 Steps We'll Take to Your Custom Inspired Room 
1. DESIGN CONSULTATION via Video Call
We'll discuss your project needs, wishes, ideas, any planned budget range or questions.
Review your home's photos & any inspiration rooms or products you like.

2. CREATIVE CONCEPT SET Created
Here's where we get busy creating the design inspiration that will guide you into your inspired room: 
CUSTOM INSPIRATION ROOM
-The overall vision of your room for a shopping guide in selecting pieces that reflect that look.
-Plus links to all inspiration products shown. 
COLOR PALETTE
A color guide to coordinate your shopping
FURNITURE FLOORPLAN
An arrangement guide for styling your rooms, including art, mirror & window treatment placement.
3-D ROOM VIEW
See our design inspiration ideas dimensionally in your space's configuration.
3. DESIGN PRESENTATION via Video Call 
We'll review our design rationale with you for your Custom Inspired Room, and the Colors, Selections & Styling Arrangement in detail.
You'll receive additional Design, Shopping & Styling Tips
And your Custom Inspiration Design Board Set
4. DESIGN SUPPORT
You'll also have our ongoing design expertise for any questions while completing your room.
Now, let's take a behind-the-scenes look at that "Kitchen Nook" Inspiration Room project, so you can see these steps in action.
How this Kitchen Nook got its new look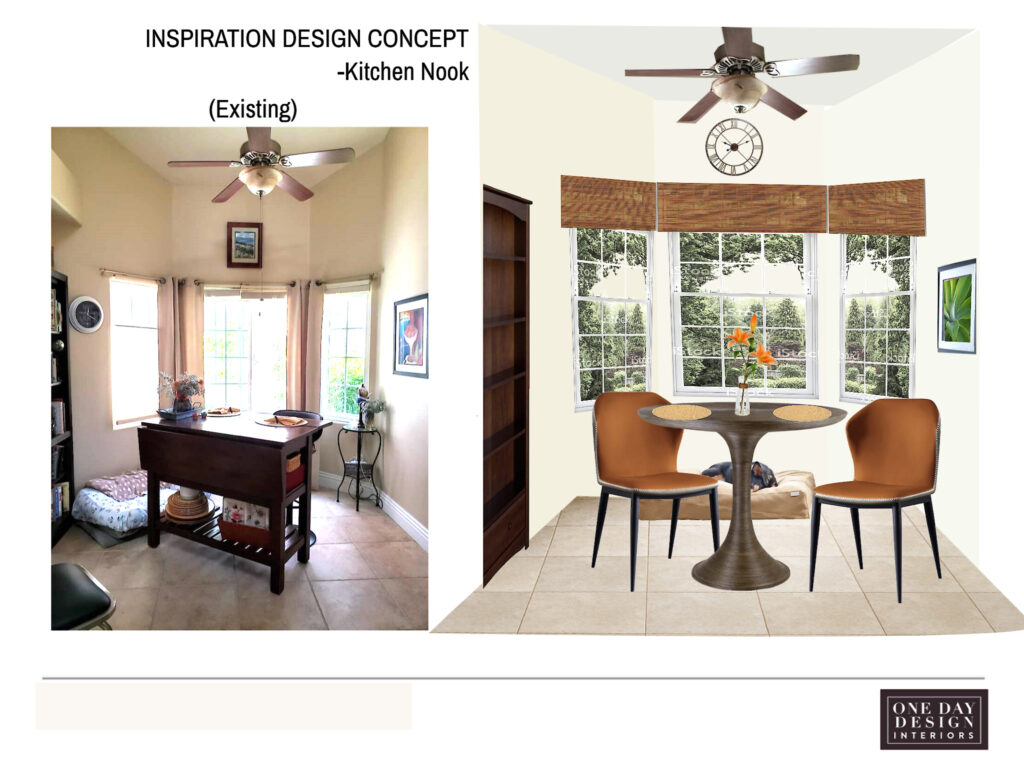 Kitchen Nook: Design Challenge & Solution 
Capturing Potential!
A wonderful San Diego client of mine from past projects got in touch again to tackle some new spaces and update others we'd done previously. Only this time everything was going to be done virtually.
Here's how we created her Kitchen Nooks' new look with a Custom Inspiration Room Set…
DESIGN CONSULTATION VIDEO CALL:

We reviewed her room photos, why the space wasn't working for her, looked at a few pieces she liked and went over her style and color preferences, lifestyle & project needs.
We Set the Goals
-Update the nook to coordinate with the newer dark chocolate cabinetry in the adjoining kitchen
-Create a better arrangement while making it work for 2 people and a big dog.
INSPIRATION DESIGN CONCEPT SET & PRESENTATION:
Here are all the ideas we presented

UPDATE FURNITURE STYLES


Changed up the traditional style by mixing modern pieces with classics.

FURNITURE TO FIT THE SPACE


We took advantage of the shape of the space with a round table for a better fit and a symmetrical arrangement.

MAKE IT MORE SPACIOUS


Made the space look more spacious with standard height dining pieces.

UPDATE WINDOW TREATMENTS


Woven wood cornices will also help decorate the tall walls.
Added top-down/bottom-up pleated blinds for privacy as needed.

STYLIZED WALL DECORATIONS


Added simplified and more decorative wall decorations.
(Less can be more when it's the right pieces 🙂 

UPDATE COLOR PALETTE


Lighter, fresher wall color to also make the room feeling light next to the adjoining darker kitchen. Added cognac tones and a few dark pieces to still coordinate with darker kitchen cabinetry.
3-D ROOM VIEW/FURNITURE FLOORPLAN
The 3-D view also showed the 3-sided nooks furniture arrangement. (In a typical 4-sided room we would also show a top-down furniture plan view.)
Once our client saw the presentation of her customized inspiration vision for her Nook she said
"I loved working with you again and you did a perfect job of marrying items I loved and used all the time yet giving me good ideas and even links to updated products. I found the format easy and loved Mary's input on the whys." 
It was an easy way for her to see her Nook's beautiful potential so it was exciting to now have a clear guide to shop with to create it.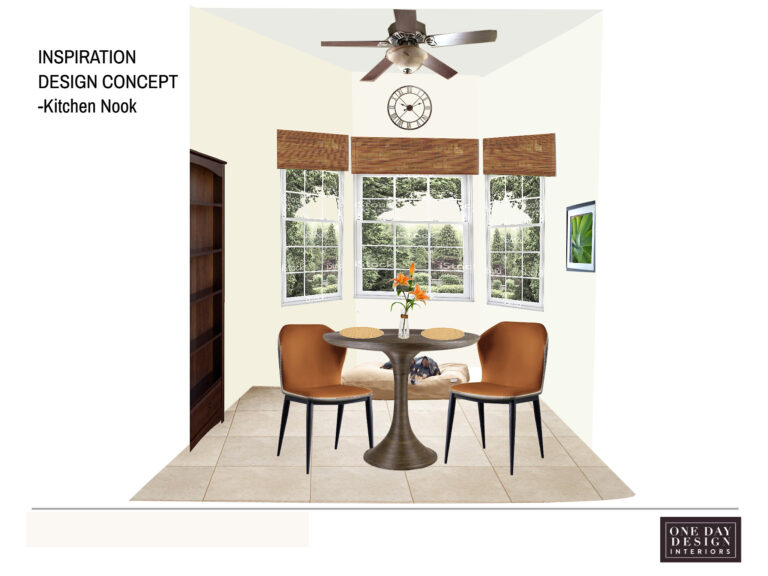 CUSTOM INSPIRATION ROOM +3 other ways to have a home you love
created by HGTV featured Designer Mary Brown
Tired of buying things and still not loving your rooms?
Let's fix that!
FOR MORE INFO / TO  BOOK:


Call 425-977-5599
or 
NEW!   CUSTOM INSPIRATION ROOM DESIGN SET 
– SHOP FOR SIMILAR PIECES
(Inspiration Concept, 3D Room view, Furniture Floorplan & Inspiration Shopping links) 
CUSTOM FULL SERVICE DESIGN


-PURCHASE CURATED FURNISHINGS & DECOR COLLECTION
+HANDS-ON STYLING
(Custom Concept, 3D Room view, Furniture Floorplan, Shopping links) 
COLOR CONSULTATION 


-PAINT PALETTE
(Interior & Exterior, 2 Hrs. In-Home)
Live in a cheery, designer home you love!
Simply start by telling us about your project.
We'll show you how we can help.
Seen on HGTV/ Best of Houzz since 2017
25+ years of creating beautiful exteriors & comfy interiors
Call
425-977-5599
or