The Art of Choosing & Using Art for Your Home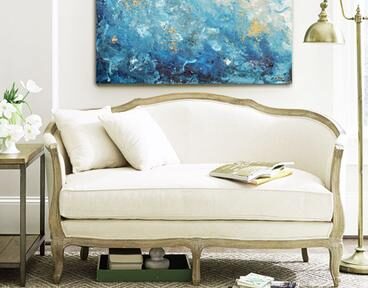 Art not only can set the mood, but it adds your personality to the space like nothing else in the room will ever do. It uniquely reflects what you like and gives you another reason to be happy in that space.
When I started in design, I was an interior stylist and did full-room makeovers. Arranging everything from the furniture to the accessories, and placing the art.
And if a client couldn't resist and peeked back into a room before it was finished, and before the art was hung at the end, it was still a big surprise at the reveal when they experienced the finished room with the art added. 
Art is like the frosting on a cake.
When the walls are decorated, the room feels welcoming, cozy, and finished.     
But even though art has that kind of impact on a space, too often it is treated as an afterthought. When really, choosing it is a whole different level above accessories.
So let's look at ways to beautifully add art to your home by
Planning your art
Adding art in unique ways
Avoiding common mistakes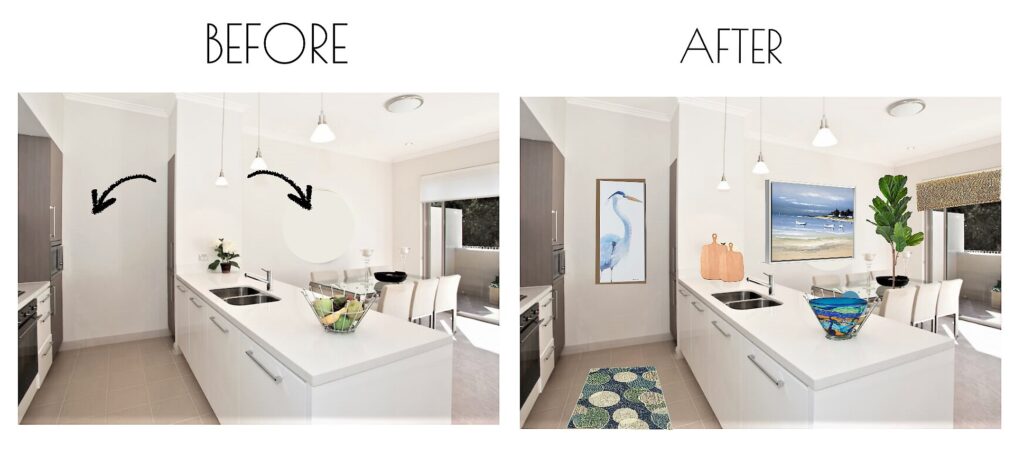 First Things First
When designing a space, early on I'm identifying where the "art walls" are
This is an unfinished room that was a good way to show you how to identify your art walls. And how much difference the right art in the right place can make, along with how the art can then inspire the rest of the finishing touches.
Finding your art walls 
Do a walkabout in your home to identify the art walls where you will need a wall decoration.
Notice how many art walls you can see at one time from every room.
It might be even a view into an adjoining space like this hallway off the kitchen. 
Check where direct sunlight might hit so you can choose wall hangings that aren't sensitive to fading.
And also, to know to add non-glare glass to any art under glass, so you will still see the art from any angle and not a window reflection.
Every room should have an art wall(s), even if it's a very secondary space like your laundry area, which often gets overlooked.
It might only be a narrow stretch of wall, but a piece or two of art paired vertically can still give you something of beauty to enjoy while doing everyday tasks.   
Speaking of Task Spaces, Let's Not Forget the Kitchen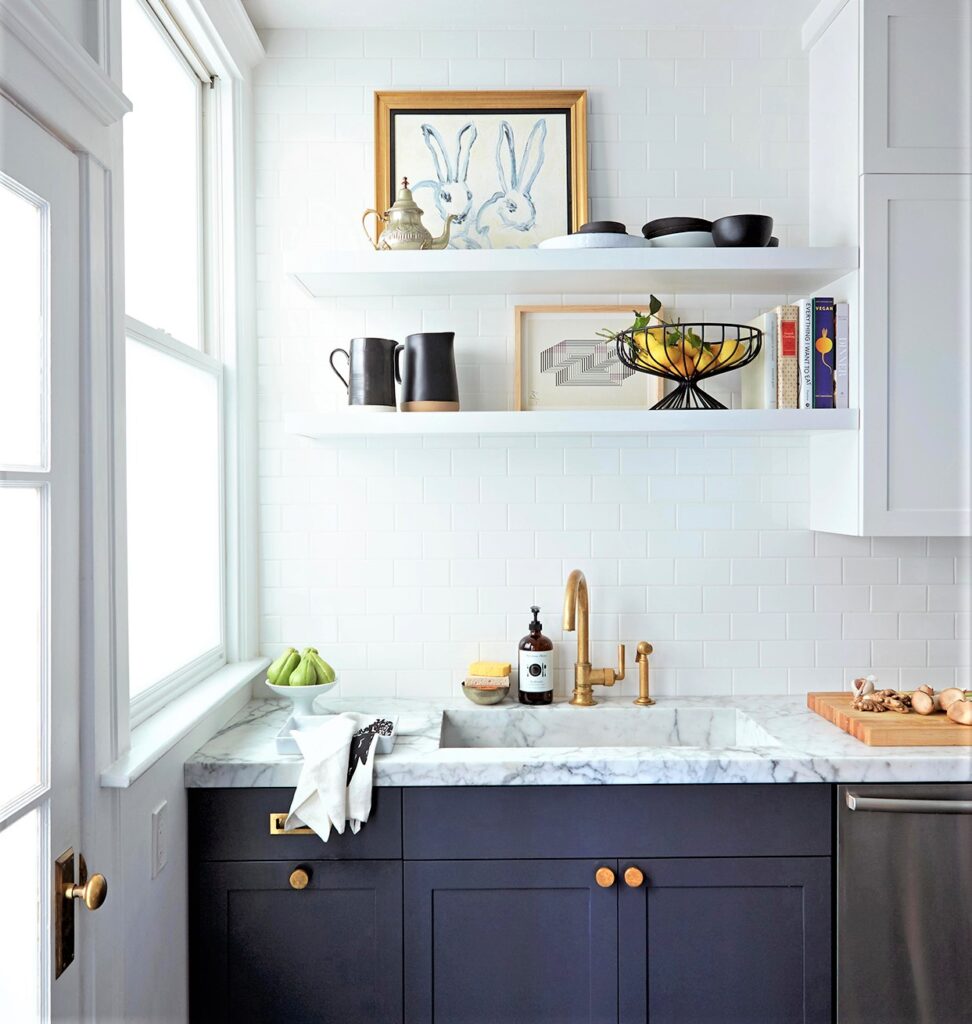 Kitchens typically don't have a lot of bare wall space.
They are either filled with cabinetry or have few walls in an open floor plan. So look for even small opportunities to add art.  
What a difference these two small pieces of art do for this kitchen. Art creates a mood like no other accessory seems to do. 
And when art's displayed on shelves, it can be changed so easily as you find other treasure you love. (Because the only thing you will have to hang is the shelf.)
You can let your art reflect the seasons too, so it never gets stale. But rather feels nostalgic as you bring out the next season after not seeing it since last year.
Little traditions like seasonal art can add to the feeling of home.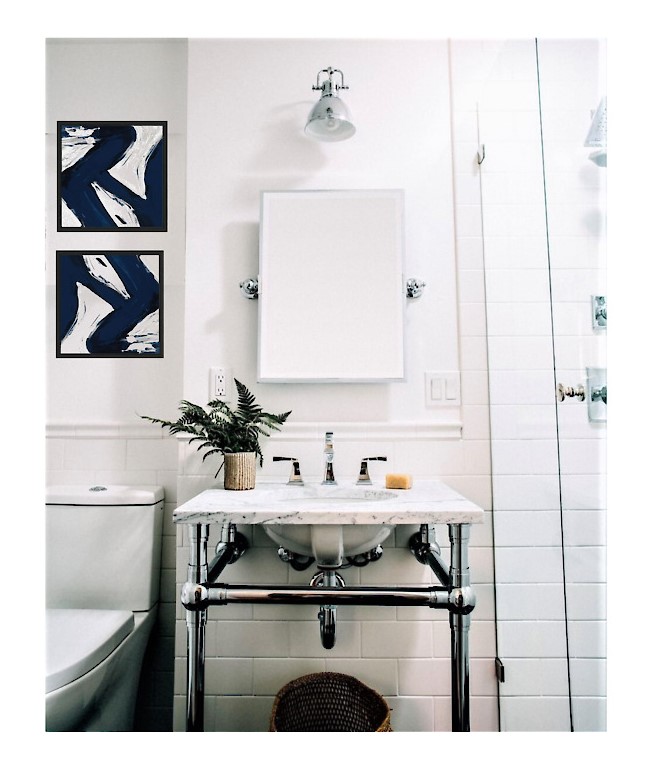 Create Your Own Unique Art Pair

You can give your own personal twist to abstract art (even if it's been widely produced) by purchasing two of the same abstract pieces and flipping one on its side. (Genius, I know!)
Do this and you will have created a unique grouping. And it can be an easy and creative way to fill up even a large wall space.
And this will work whether you have a horizontal or vertical wall space to fill. Just group them to match the shape of your wall.  
Your Kid's Art, for Their Space & Beyond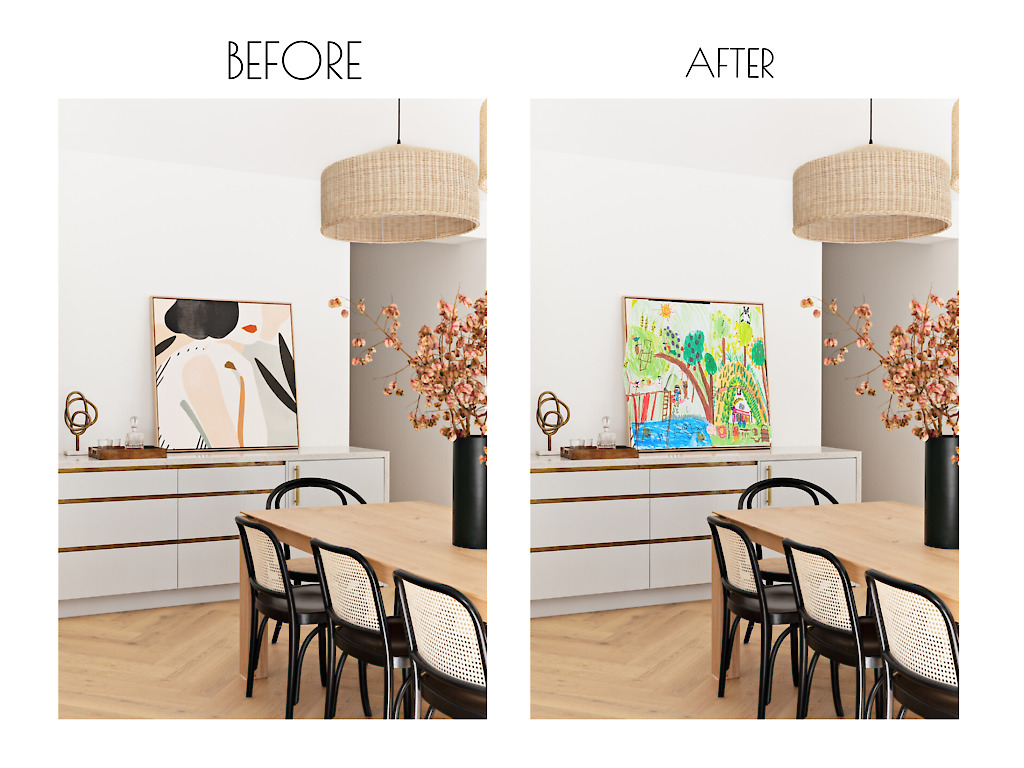 My eyes were opened up to taking kids art seriously when I had a client who…
had her child's drawing out to discuss as a part of her initial design consultation for decorating her home.
I paused for a moment to take in the idea, and then thought, well why not! This will have the same effect in a space as a piece of primitive art.
There is something innately appealing about a unique individual creative style, especially when contrasted in juxtaposition against all the refined décor in a grown-up's space.
It just needs to be framed to be taken seriously; (in a delightful way).   
In Kid Spaces, Easy Art Change-Out Frames are Perfect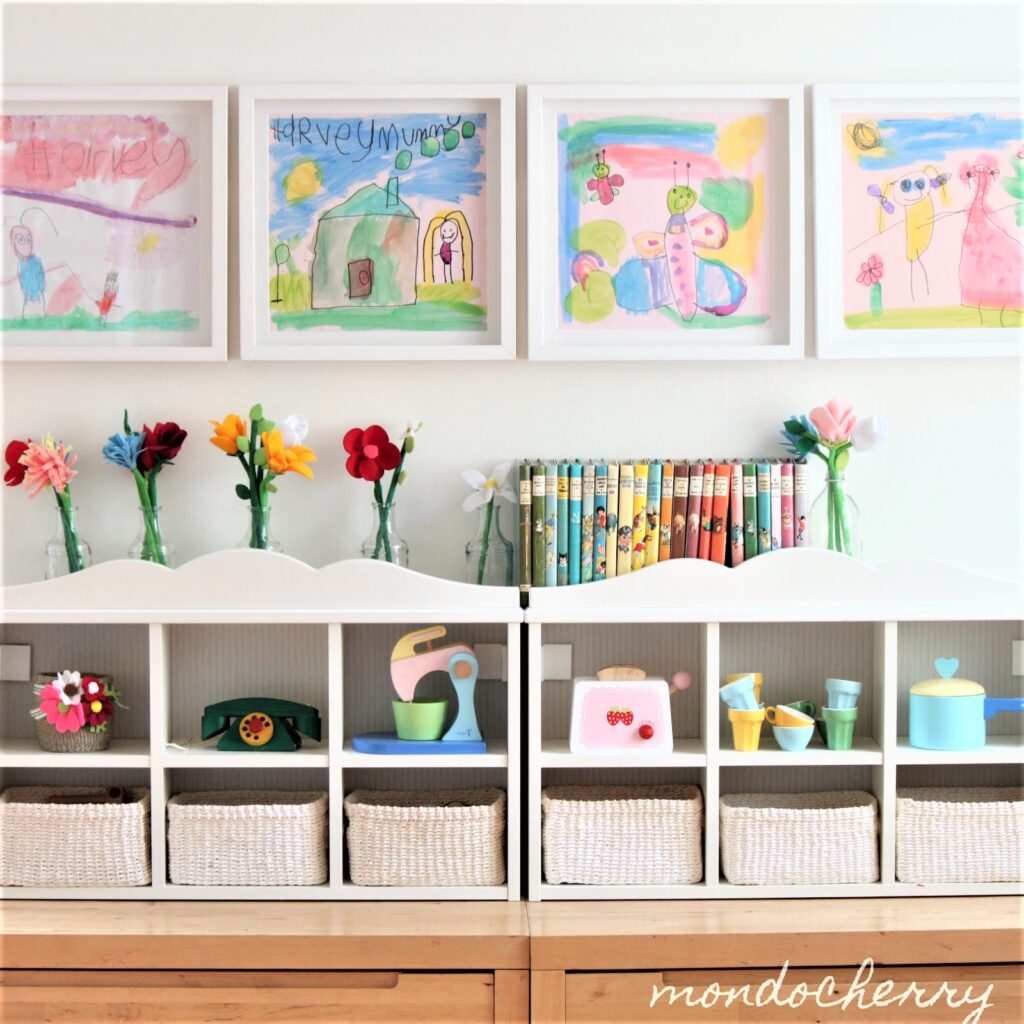 In  kids spaces (or casual spaces like kitchen or laundry), these frames
let you slip out the old masterpiece & slip in the new! 
Turning random rumpled art papers into a framed collection
Previous art can be easily stacked & stored since it's all the same size.
Love it!
Mix It Up: Modern with Classic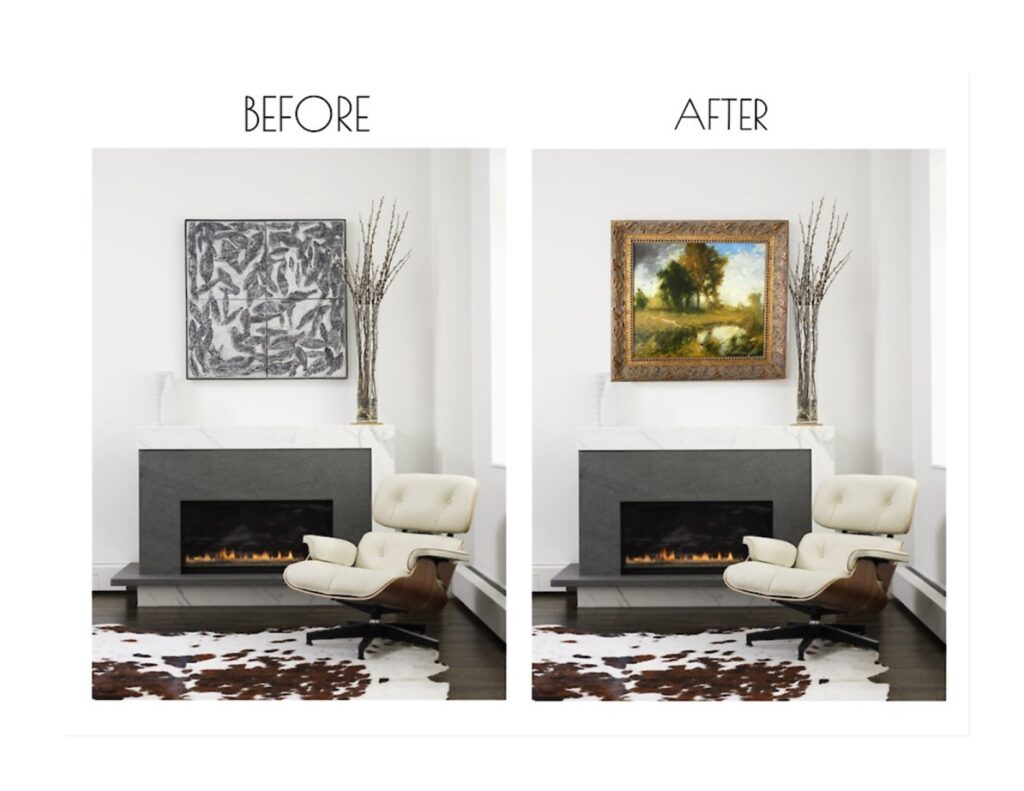 Such a Fan of Mixing In a Totally Different Art Style Than the Room Style
It's unexpectedness (is that a word?) is wonderfully exciting & the contrast makes the room uniquely original.
Just remember to tie the two styles together with similar colors. Unless if you have an all neutral room than you can pretty much add any color art you like.
This very classic piece of art contrasted with this contemporary space shows how different the room feels when we add this ornate art piece giving a sense of history to it.
And the gold gilded frame takes its color cues from the warm browns of the hide area rug.
You can mix any style of art and furnishings, just keep the color rule in mind.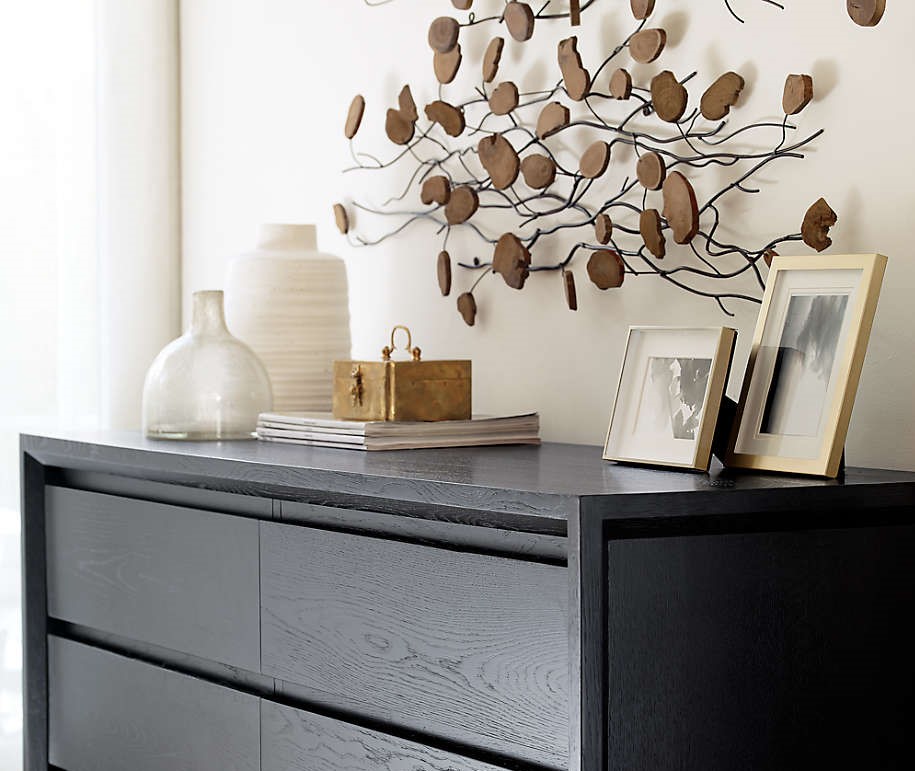 Mix in 3-D Art with Your 2-D Art 
I always do this when decorating a large space or a whole home to keep it looking interesting.
Plus, a variety of coordinated wall decoration creates a much more custom look.
For instance, if I have more than one art wall in a space I mix it up between 2D art, 3-D wall décor, and mirrors. 
Love how this coordinated vignette above was created by repeating the teak wood tones in the antiqued brass box, and the dark furnishing is reflected in the wall décors dark metal.
It's all those little details that make a room well designed and a joy to be in.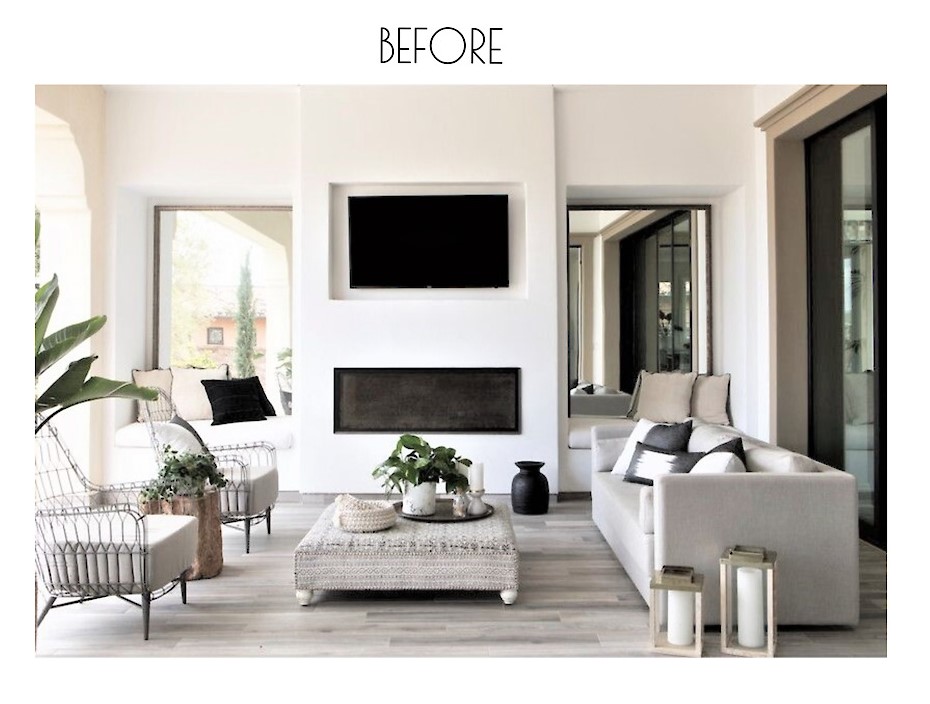 Every Room has 6 Walls to Decorate, the Floor is One of Them!
There is a bare floor trend happening right now but come winter I'm wondering if it will be seen more as a seasonal summer look.  If you do plan area rugs though, think of the floor the same as the wall in the sense it can be decorated too.
If you have largely if not all solid neutral or colored furnishings or bed covering:
Choose rugs the same way you would a piece of art for the room. Because it can have almost the same effect.
Look for colors, pattern or images, and style that speaks to you and complement the rest of the room, and watch the rug elevate the design of your whole space
If you have patterned upholstered pieces in your room: 
Look for a different size pattern so one is large and simple and the other is smaller.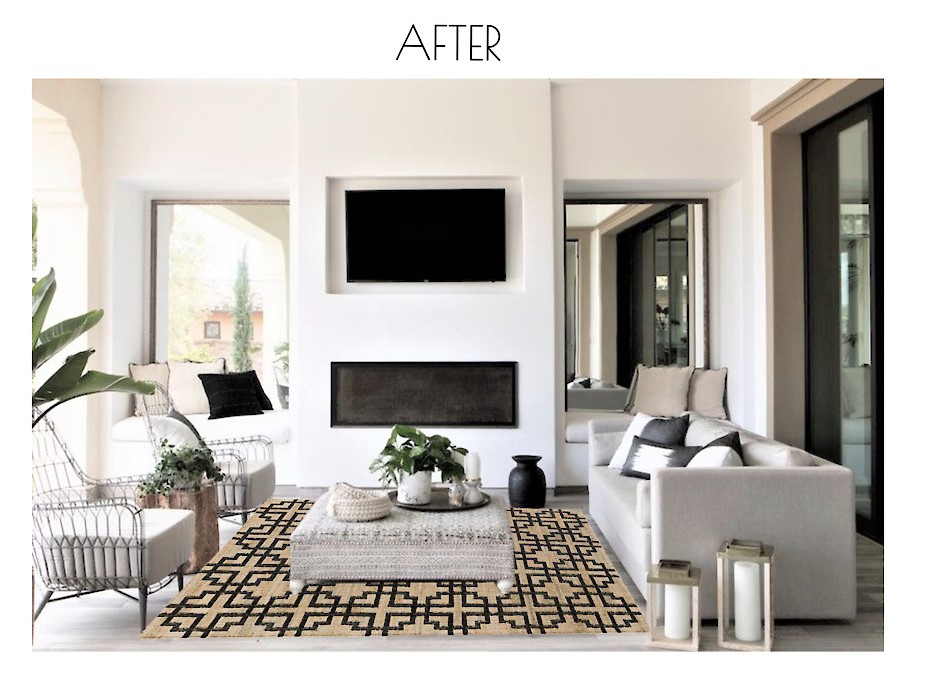 Look at What Rug Floor Art Can Do For a Space!
Beautiful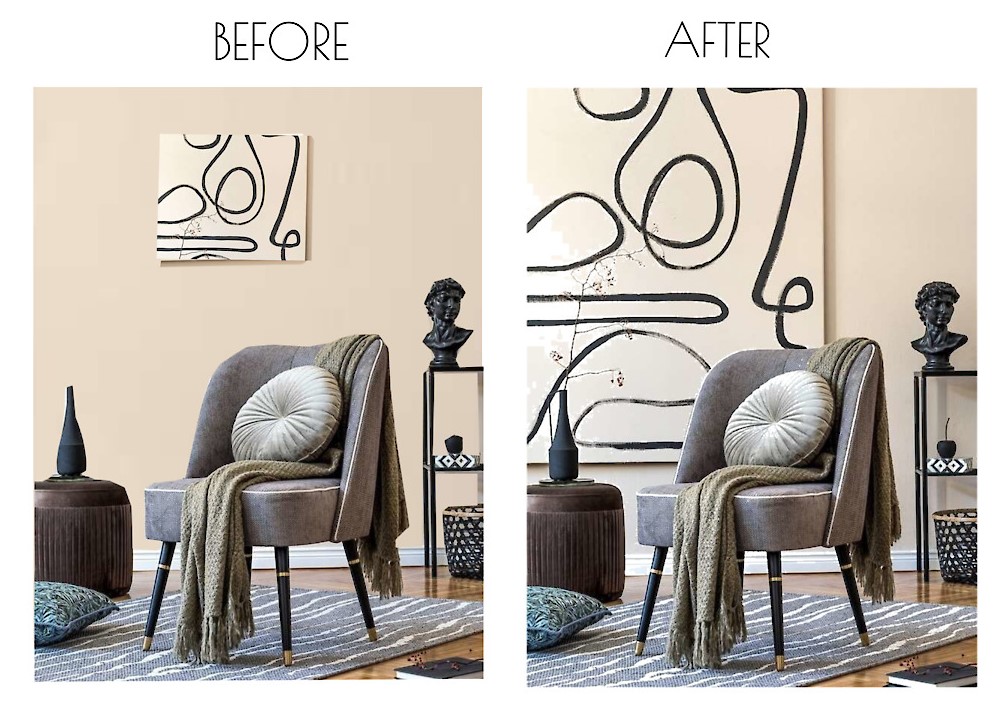 I remember walking into a small powder room and being taken aback…
 (in a good way) at the size of a ginormous piece of art
I mean, it went almost all the way down to the floor. It took up a good 2/3rds of the height of the wall. But the effect was in a word… spectacular.
Ever since then I have been taken with the look of big art no matter what size the space.  It typically makes the whole room.
If your taste is "less is more"
You can go parred down with the décor or keep it simplified in style if you like and let the art  pretty much be the show.
If you are a maximalist
You can bring in as much as you ever would and let the art put the room over the top. (Again in a good way; which will usually require some design help as this style has so many layers to get right to look fabulous vs. a little crazy.)
The vignette above shows the difference big art has on a space. It goes from ordinary to unforgettable.
Which leads me to mention one of the biggest mistakes people make when decorating with wall art:
Making it too small.  
So even if you don't go all the way and super-size your art, just know it's better to be too big than too small for your space.
Big looks luxe, small will leave your space looking, well, chintzy. And we can't have that!
Staring at blank walls wondering what to do?
We'll make it easier & faster to decorate them, & without expensive mistakes!
25+ years of experience in creating inviting designer rooms
Simply start by telling us about your project:
Call
425-977-5599
or
Avid DIY-er needing feedback, options & answers?
A  Video Call Consultion or In-Home Design Consultation
may be all you need: 
Simply call us at 425-977-5599 or