7 Simple Spring to Summer Refresh Ideas 
Give your home that easy breezy summer living look
Spring is my favorite season and when my favorite flowers are out (yeh tulips!) and the perfect time to "summer style" our homes.
But if it's hard to imagine your home in it's summer look here are 7 simple ways to do it.
#1. Change Out The Details
This room is like a lot of rooms that don't necessarily express a season. But one way to keep loving your rooms is to refresh them with seasonal touches. 
Below is how I "summarized" this room with simple seasonal decor changes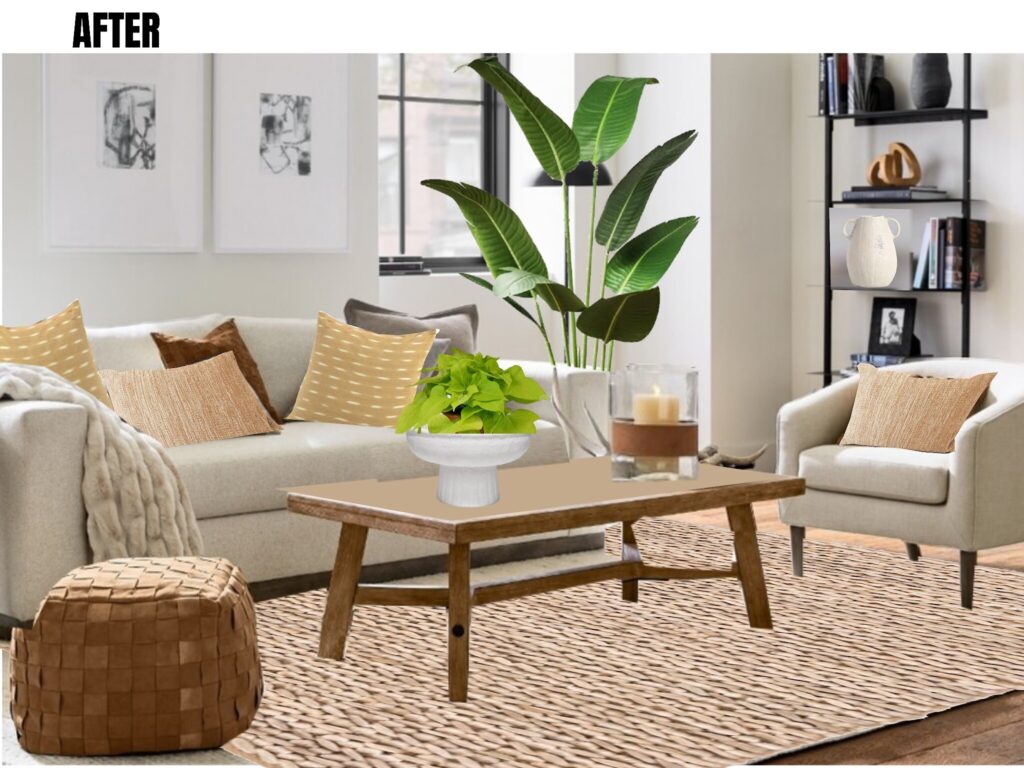 Changing out details gives the whole room a fresh look
Bring the outside in with plants
Even one tall floor plant and an annual plant on the coffee table will make it feel like summer has arrived  -inside.
Pare down accessories for a simpler summer style
Less is more in summer when we want a more relaxed feeling. 
Mix in lighter or more colorful decor
Lighten and brighten accessories, accent pillows, and area rugs to add the feeling of summer fun to your space.
It's amazing how much just changing the details will freshen a room and add seasonal summer style. 
#2. Add Outdoor Plants & Pots Inside
 Outdoor Plants in Garden Pots Create Garden Looks Inside 
 All of a sudden your space will have an atrium-like garden feel to it.
Outdoor garden plants in terracotta pots work beautifully in front of a fireplace too
Easily dressing up an otherwise dark, unused space in summer with fresh, outdoor plants and floral color.
#3. Place Colored Glass to Catch the Sunlight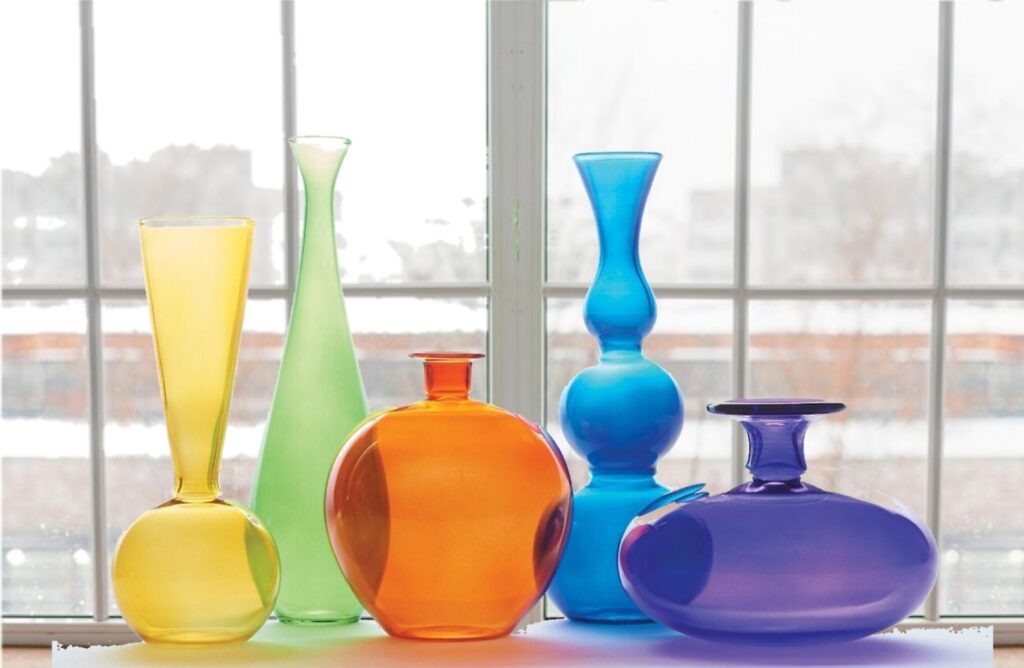 Add colored glass pieces in the window
Their colors will come alive with a whole new brilliance and add a happy summer looks to your window and your space
Vary the height and shape to create a styled look.
#4. Create Cozy Vignettes In Outdoor Spaces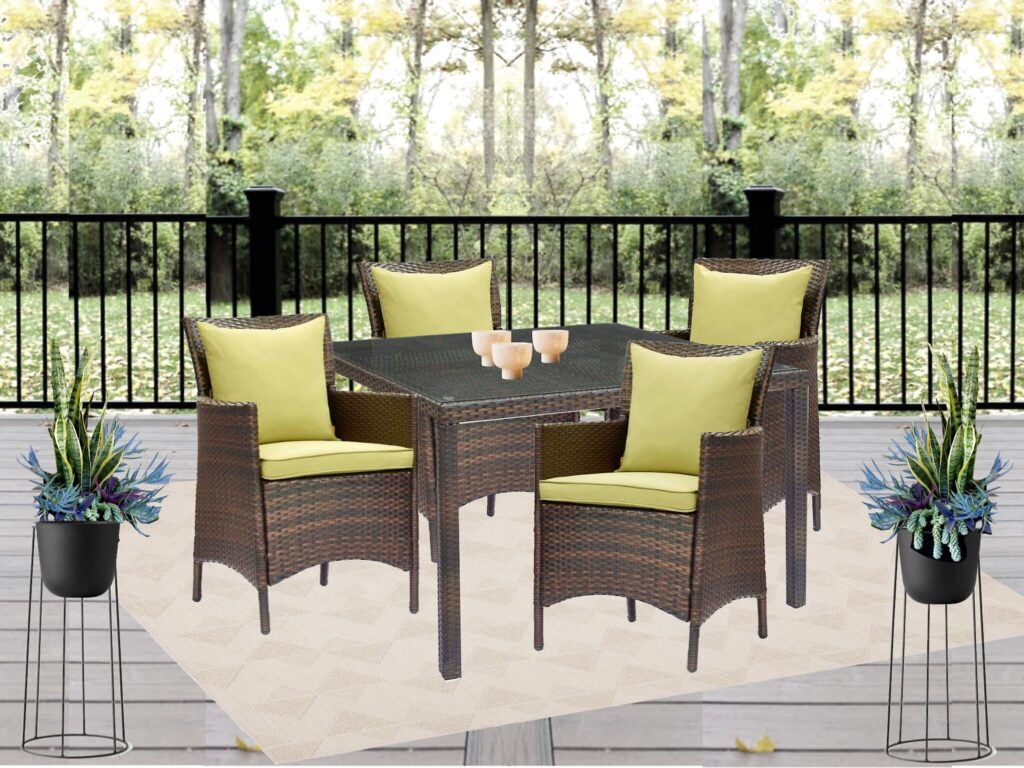 Think "Room Arrangement"
Style your outdoor spaces to create the look of a room, just without walls. Arrange a grouping that includes the finishing touches of an outdoor area rug, decorative planters, and a tablescape.
If you have an overhead structure add an outdoor chandelier and/or light strings. 
If you have a wall nearby accent it with an outdoor wall hanging. 
A styled arrangement of a collection of furniture and decorative elements will create the feel of a beautiful, cozy outdoor room for summer.
#5. Create Intentional Outdoor Views
(or this can happen)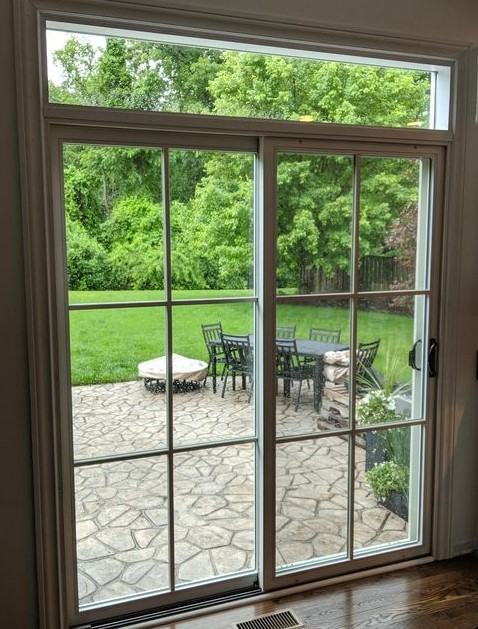 Creating Beautiful Indoor Views of Outdoor Spaces 
Creating an intentionally attractive view from the inside is usually overlooked in the planning and styling stages of outdoor living spaces.
But think of it this way, looking through a room to an outdoor space is like looking around a great room. You have several rooms open to each other that have different uses. But because you can see into all of them they need to make design sense as a whole.
Two ways to do that with outdoor spaces:
Coordinate the outdoor and interior color palettes
It can be a brighter or more colorful version outdoors if you like but it will still keep a connection. Let's say you have a light neutral room with blue accents; a blue and green or yellow or burnt orange theme outside with a similar neutral would create a complementary look.  
Plan the outside arrangement with an eye to how it will be framed from the inside.  
In the example above, placing the dining area more to the left and away from the patio's far edge would create a beautifully framed view of that outdoor living space.
Adding some finishing touches like large decorative pots with taller colorful plants, and a colorful umbrella would soften and help finish out the look of an outdoor dining space.
#6. Even a Small Space Can Be a Great Space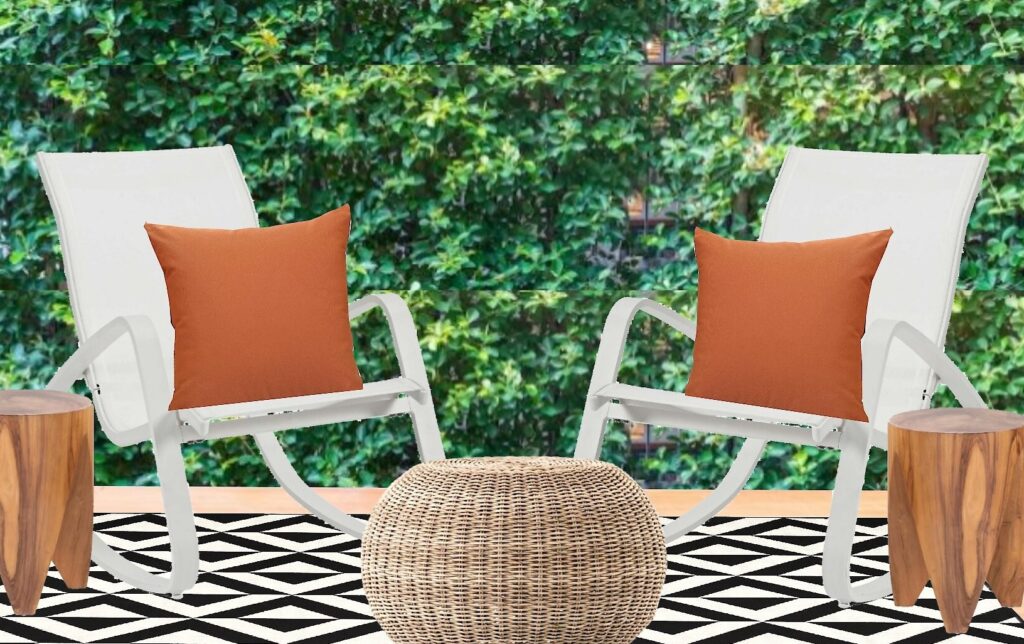 Great style will carry even a smaller space
Just a few coordinated pieces gathered into a styled vignette will have just as such appeal as a large space. So don't feel your space's size will limit how wonderful the overall look can be.
In a smaller space decide what you want most that will fit. Here the options for a lounging space were one chaise and a side table or a pair of chairs and side tables and a shared ottoman.  Either way, the finishing touches would still include an area rug and accent pillow(s).
A larger space might just have larger scale side tables and individual ottomans with any chairs.  Otherwise, it would just be a multiplication of the seating or lounging pieces.
So no real style shortage here because of the spaces scaled down size.
#7. Fancy Up Your Front Entry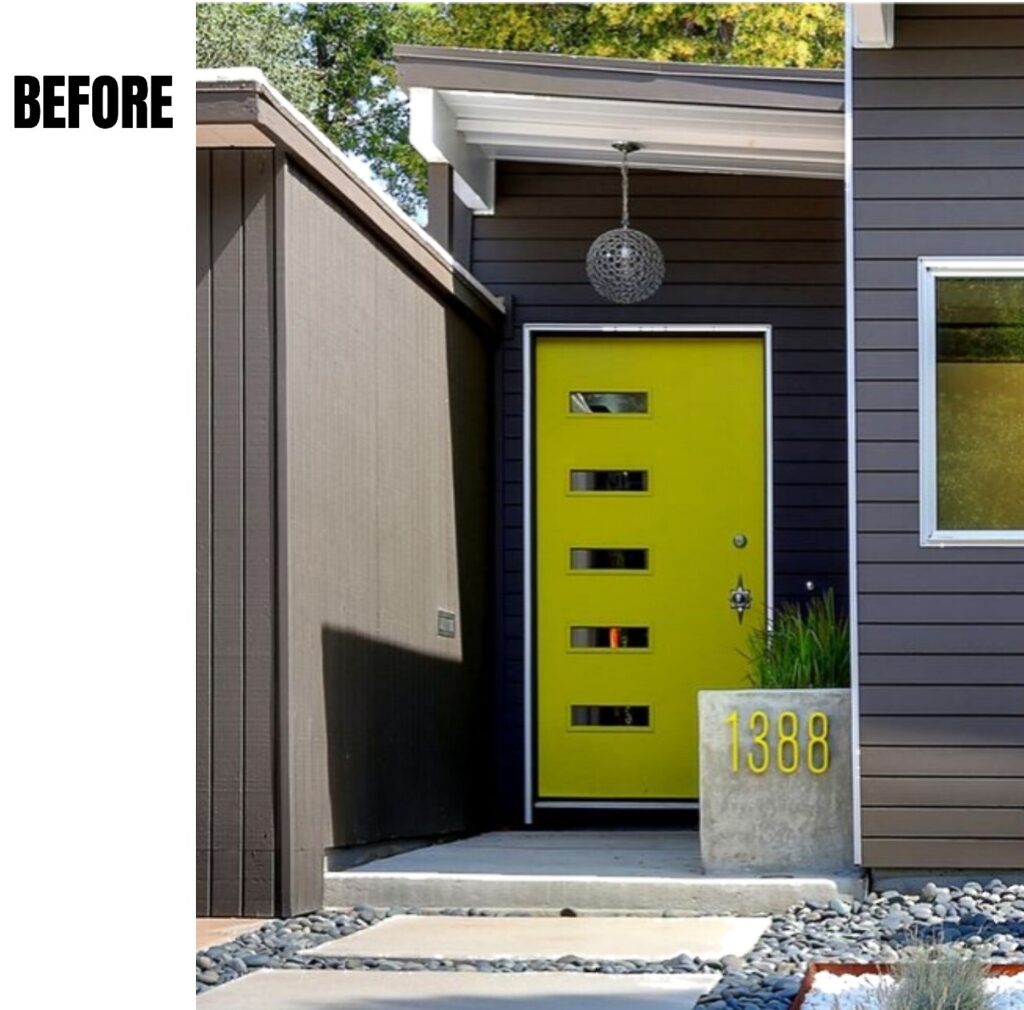 Architecturally and color palette-wise this front entry works
But it is a missed opportunity to add some fun for summer so here's how easy it was to turn that around.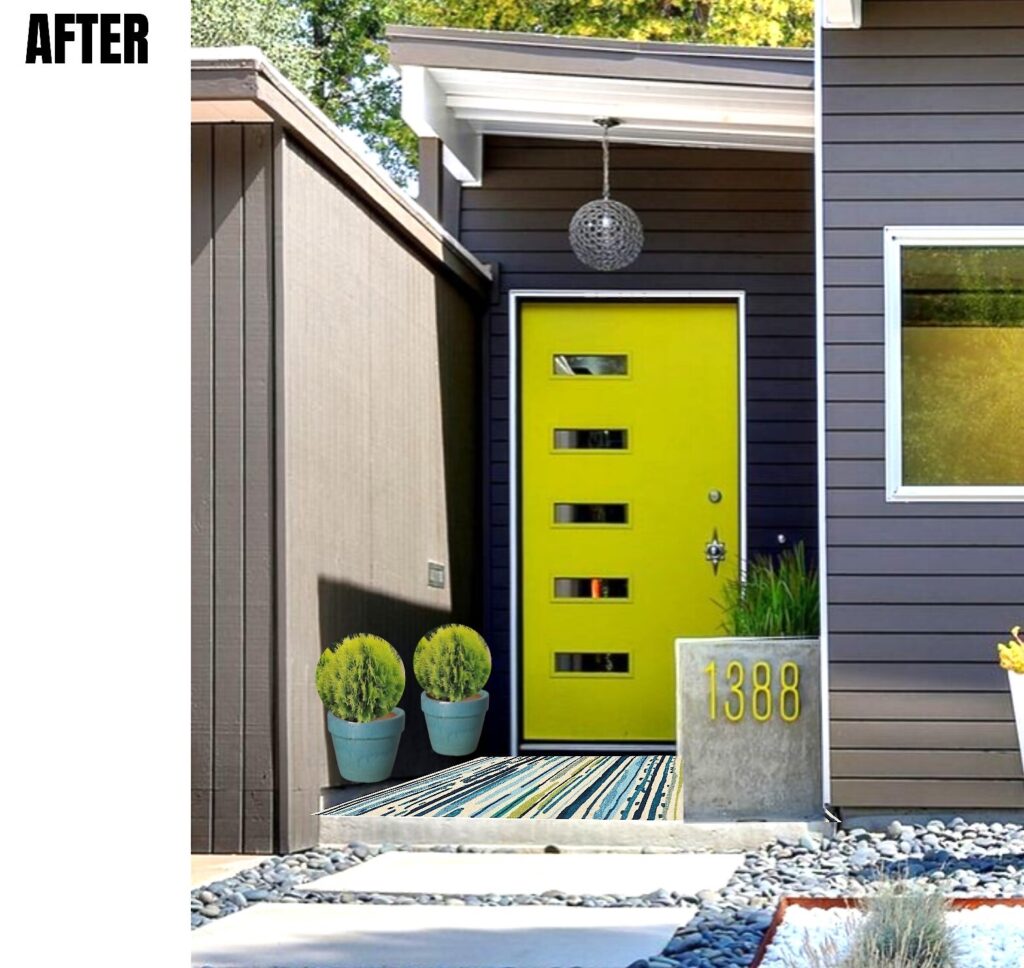 I love using an area rug in summer instead of a doormat
Playing off the bold front door color I added this color-coordinated striped outdoor area rug and teal plant pot with chartreuse plants. 
It is unexpected, makes a statement from the curb, and creates a mini outdoor room out of any size porch. 
Just a few of the right finishing touches at the front door can make your entry go summer on you that easy
If you need help to "summarize" your spaces
this was made for you…

QUICK DESIGN ADVICE



30 or 60 Minute Video Call
Personalized answers, feedback & ideas 
Plus curated decor selection option
 You can reach me at
425-977-5599  / office
or