Ever need some quick design advice to get it right?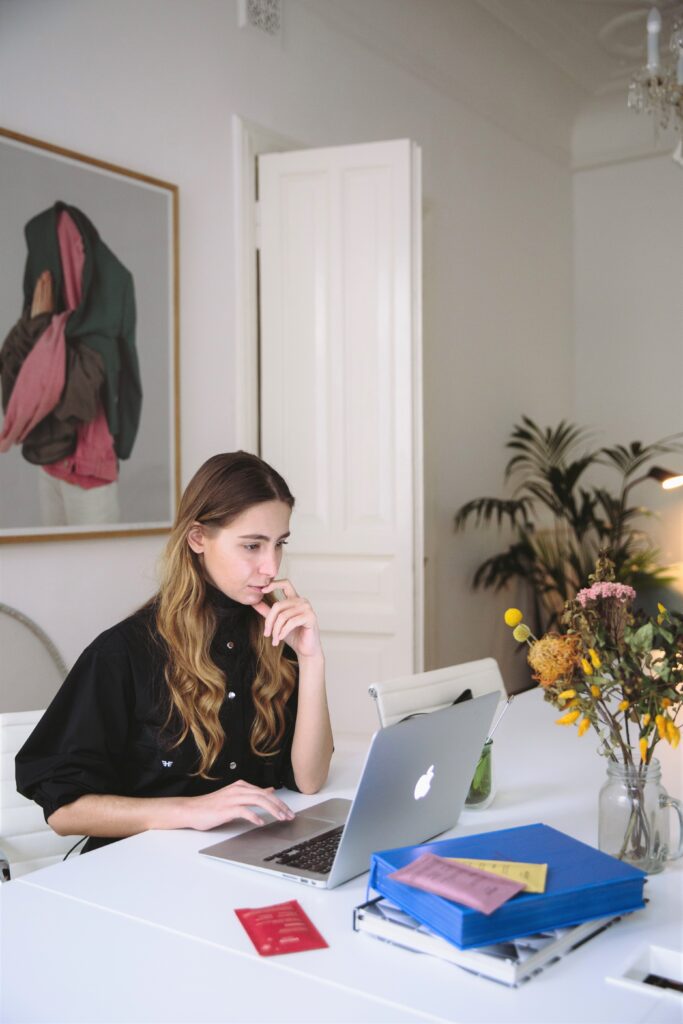 If only you knew someone who could answer a few burning questions, give fast feedback, and quick expert solutions 
Well, actually you do.
I've had more people looking for just this kind of design help. Because it lets them do more with their design investment by getting just the help they need on sporadic projects as they handle the rest of it themselves.
And I enjoy doing it and am happy to help, so I'm making it official and adding it as a service.
"QUICK (expert) DESIGN ADVICE"
30 or 60 Minute VIDEO CALL
to get you unstuck and on your way
It can help in so many ways. For example, these are common topics I have come in for design help:
Kitchen & Bath renovations
Furnished Room Decorating
Flooring
Fireplaces
Wallcovering
Decorative Lighting
Window Treatments
Space Planning
Styling
Colors
Exteriors
Feedback on Ideas & Product Selections
Reviewing what you are considering before you make final decisions
Project Review & Planning
Steps to working through your project like a designer
Questions to ask the trades about your project needs
Related design aspects to know about before making final decisions

Recently someone called who was trying to decide on wood flooring for her new home  
She brought two large samples home, one almost matched the main wood finish in the house, and the other was lighter, but still wasn't sure if either of them were right.
Because it's both an investment and a big design decision, she knew if it was done right the update would add value to her home and create a look she'd love. And if it missed the mark, it'd be a disappointing, expensive reminder everywhere she looked. 
Here are the two samples and the advice I offered to help guide her because even knowing why something doesn't work will help you not make a mistake.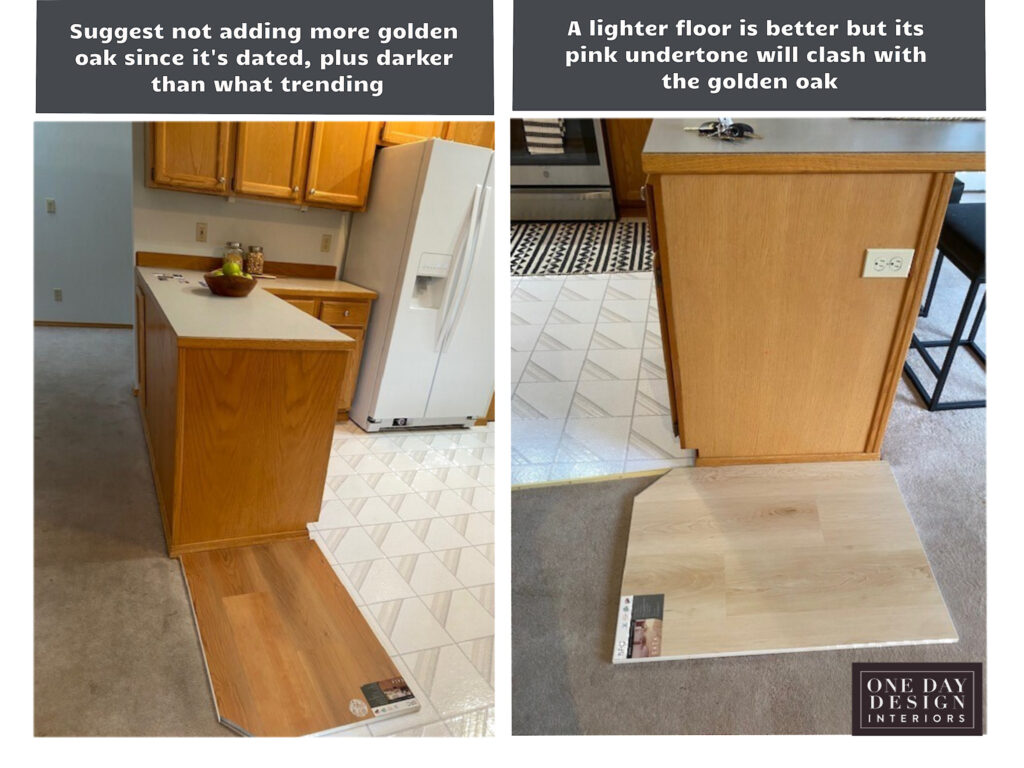 When I saw the photos of her home and the flooring samples, I could see what the problem was. And also, what would be the best solution for solving the challenges that were making it hard for her to get it right. 
So, we did our Video Design Advice call where we could Share Screen to do a walk-through of her home's photos. And look at the flooring samples photos for feedback.
Then I showed her what the perfect flooring solution would be. A look that would do everything she wanted to both help update her home and add her style.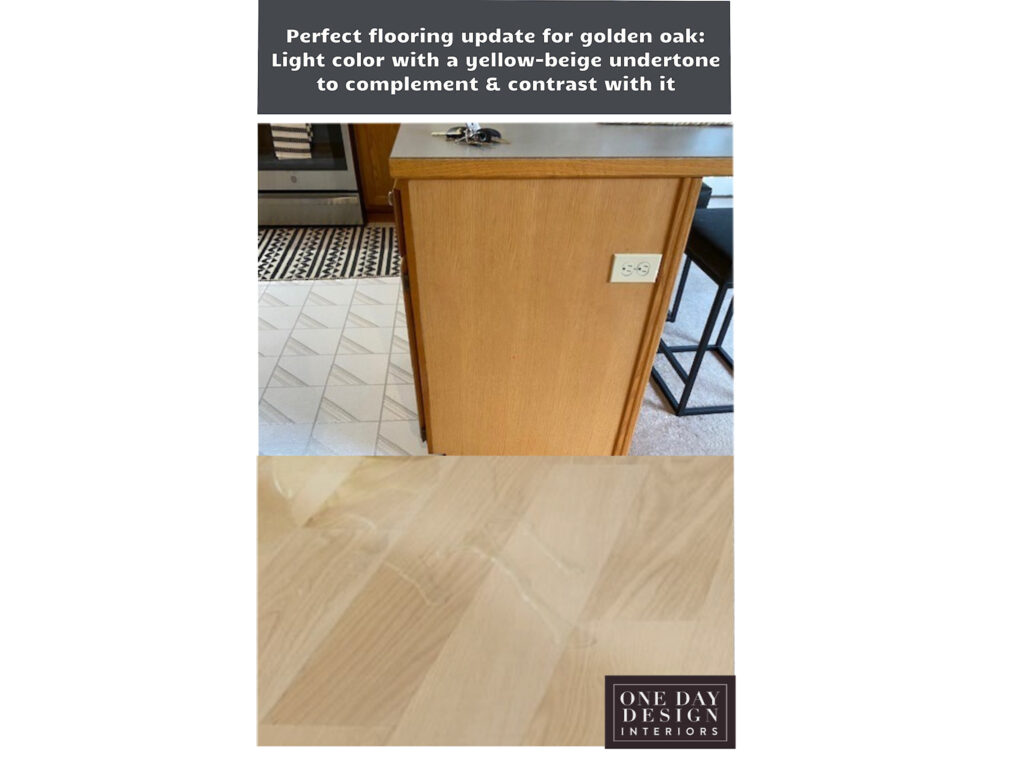 The photo below let her see the difference between these three options, so it was easier to know what to look for and to have confidence in her design choice.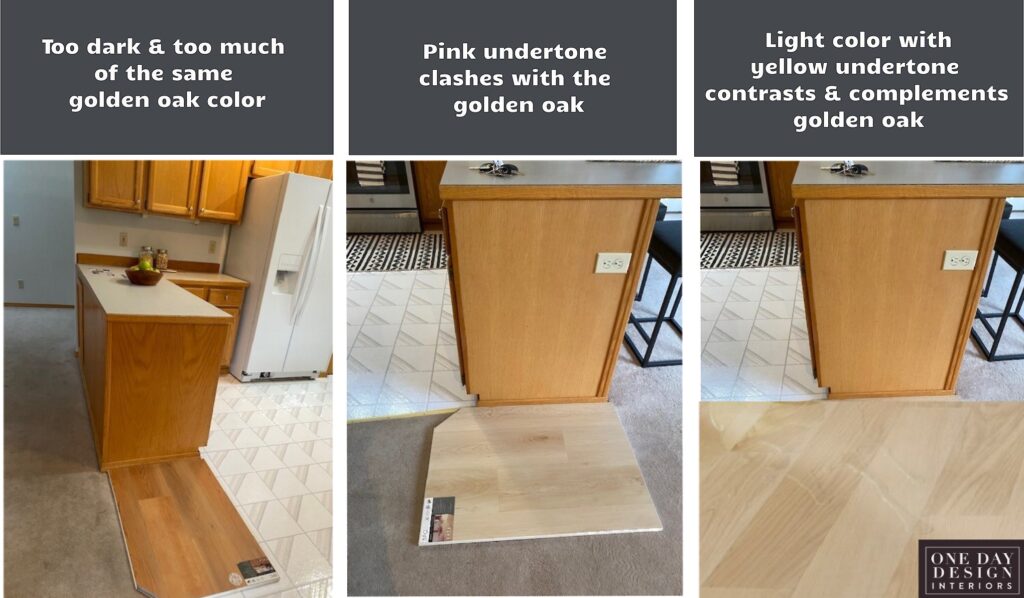 Here's the Quick Design Advice she got on her video call to help her make the best design decisions for her home
(At the end, there were some Bonus Ideas for affordable kitchen updates too.) 
PROJECT:
Updating the flooring by replacing the living and dining room carpet with a Luxury Vinyl Wood Plank, and the kitchen with Luxury Vinyl Tile.
CHALLENGES:
Getting it right was complicated because the new flooring needed to work with so many other finishes:
Golden Oak cabinets, doors, molding & trim throughout 
Wood-stained hardwood entry flooring
Gray carpeting that was staying in some areas
Kitchen and laundry room vinyl flooring
Beige bathroom vinyl flooring
QUICK DESIGN ADVICE:
Sample #1: BEST TO AVOID ADDING MORE GOLDEN OAK FINISHES 
The first sample repeats this dated finish so it may coordinate but it's not going to give you that updated look you want.
Sample #2: BE SURE TO WATCH FOR CLASHING UNDERTONES 
The Golden Oak has an orange undertone, and the sample has a pink undertone.
YOUR PERFECT FLOORING CHOICE?  PALE BLOND WOOD TONE!
– Its pale yellow-beige undertone will work well with Golden Oak's orange undertone.
-Its lighter color adds a complementary contrast to any existing Golden Oak finishes that are staying
-Its lighter color is also an on-trend update and will brighten every space it's in.
REDUCE THE NUMBER OF FLOORING VARIETIES
-Design-wise, lots of different flooring starts to break up a home visually rather than create that flow you'll want.
– Multiple varieties also make it challenging (sometimes impossible) to add one more flooring that will work with everything.
– The more flooring varieties you have to coordinate with the fewer new flooring options you will have to choose from. 
MINIMIZE FLOORING VARIETIES BY REPLACING THESE WITH THE NEW FLOORING
– All carpeting (except bedrooms)
– All vinyl tile (kitchen & laundry room)
THE HARDWOOD ENTRY WOULD BE BEST IN THE SAME FLOORING TOO
-In addition to the above you will also avoid having two different wood finishes butting up together.
-This is especially true when you have one real and one faux wood product next to each other, like Luxury Vinyl Plank you are considering.
SEE IF YOU CAN AVOID THE CONTRACTOR'S SUGGESTION TO INSTALL NEW FLOORING OVER EXISTING
– This will make it higher than the adjacent flooring and uneven flooring is always a noticeable shortcut and devalues a home at resale.
– There can be some complications to removing it and getting back to a level floor depending on if the current exposed flooring runs up to or under the cabinets. So have your contractor check that first and go over your options with him from there.
PAINT ALL GOLDEN OAK TRIM (OFF-WHITE SEMI-GLOSS) EXCEPT
– Wood-wrapped windows
– Trim around wood-stained door
– Pony walls caps (living room half walls)
(Even paint the countertop backsplash strip and fireplace trim.
Overall, this will help to minimize the Golden Oak getting so much attention and calm the rooms down visually.)
Then, while looking at the flooring option working with the golden oak especially (since that was the predominant finish), I recommended it be in the kitchen too. And that led to a couple of other affordable kitchen update suggestions! 
BONUS DESIGN ADVICE: Affordable Kitchen Updates
The client's original plan was to replace the white kitchen vinyl tile with an updated vinyl tile pattern
Instead, I suggested 
USING THE SAME LUXURY VINYL PLANK WOOD LOOK
– It will keep the design flow going and make the kitchen and adjoining spaces feel bigger.
– It's a way to update the look (at no additional cost over new tile pattern vinyl) since the trend with open floorplans like yours is to keep the same flooring flowing through the kitchen.
– Its wood tone color will blend more with the cabinetry rather than contrast like white tile making the cabinet finish stand out more.
PAINT THE UPPER CABINETS OFF-WHITE
Another affordable way to further lighten and update the kitchen's look.
REPLACE ONE UPPER CABINET WITH WOOD-STAINED SHELVES
For a more open and updated look.
It can be ready-made floating shelves vs. this custom look.
ADD SIMPLE, BLACK CABINET HARDWARE



Below shows the two vinyl flooring options plus these simple, affordable but transforming updates: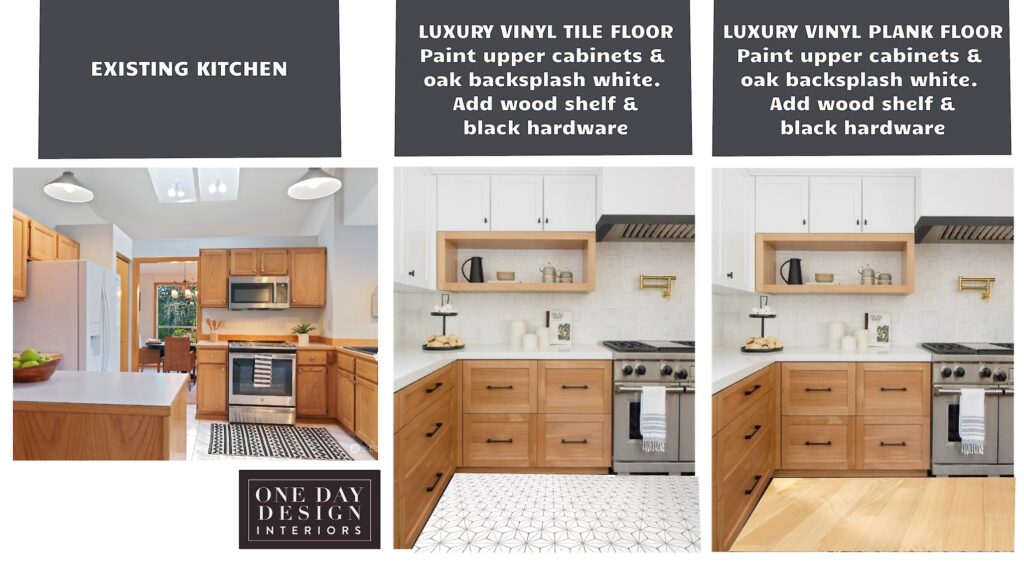 If you'd like my help creating rooms you'll love and won't regret,
request my QUICK DESIGN ADVICE here
or Call 425-977-5599
for
ANSWERS
to questions
SOLUTIONS
for challenging spaces
VALUABLE FEEDBACK
on ideas & products before committing
ADDITIONAL IDEAS
that you might not have thought of 
TIPS THAT CAN SAVE YOU
from common, expensive, time-consuming mistakes
QUICK DESIGN ADVICE will guide you in making your own selections. 
If you'd like specific products selected for you, check our DESIGNER BY YOUR SIDE. 
For specific paint color palettes created for you check our COLOR CONSULTATIONS.