The Laundry Room
Yet to meet anyone who loves doing laundry,
so all the more reason we need to
make that space sing!
See how we did a complete makeover for one couples' impossible space while still using their same room layout. So no utilities had to move, maximizing their investment.
Here's an "After" virtual view of  the main wall 
Collaborating virtually on the makeover, our first Zoom consultation was going over their challenges and goals…
This was a busy multi-purpose laundry room. And the challenges came down to several very common problems
Not enough storage 
Not enough covered storage, so it didn't look cluttered
Not organized storage for easy access
Not intentionally designed to look more spacious, light, and inviting 
Because the laundry room was a multi-purpose place space planning was job one. They needed a way to control and organize everything.  And then to be able to easily access it later.
Along with that and also at the top of their list was the space didn't feel inviting and felt cramped. 
They wanted a space that felt fresh and cheery for doing laundry in. And well designed as a much used pass-through for them and their guests to the backyard living area.
So our mission was clear:
Create a space designed to be as highly functional as it was spacious, light, and fresh feeling. 
I'll share the many functional solutions and design details  in just a moment but first, let's look at the "Before". It's from the same view as above design baord and our starting point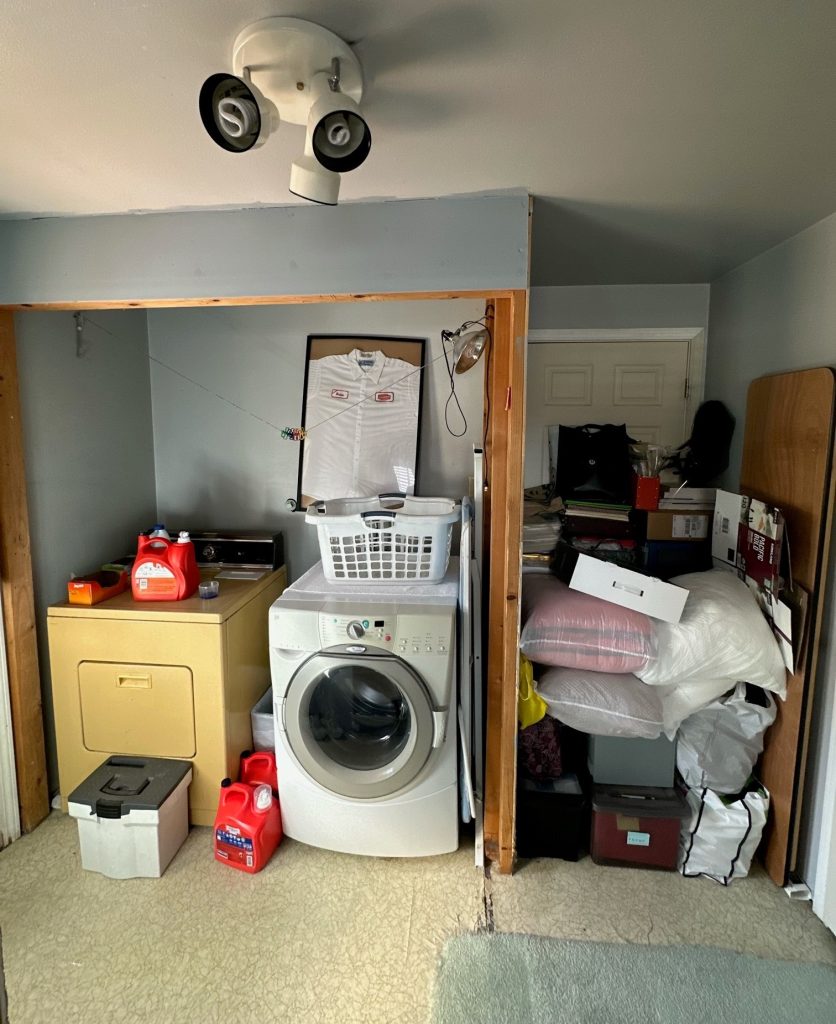 It can often be hard for clients to imagine the possibilities or even know where to start sometimes 
But I actually love getting projects like this! 
Because we can make such a difference it's a wonderful feeling to be able to give people a room they never thought was possible.
So let's look at the ideas that can help you too and that make this space work beautifully.
FUNCTIONALITY FIRST
Edit Your Stored items
Look at what you need to store first to see if it can be edited down.
Usually, it can as things have a way of automatically flowing in but not out!
Add Upper Cabinets to Unused Wall Space
 We added upper cabinets over the washer dryer area creating not only more storage but covered storage. Which visually calms a room down considerably and makes it more more organized.
Add Decorative Woven baskets
Some things need to be readily accessible like laundry baskets. So by replacing plastic ones with decorative woven baskets the open shelf tower was a storage solution that could be used for quick access and still looked attractive and organized. 
Watch the Walkways
There were three doors into this space so if you have more than one check first if you need them all.  
(The client had the option of adding more tall storage units over the door on the back wall if they choose to just use the other two.)  
Let's look at that AFTER again for design ideas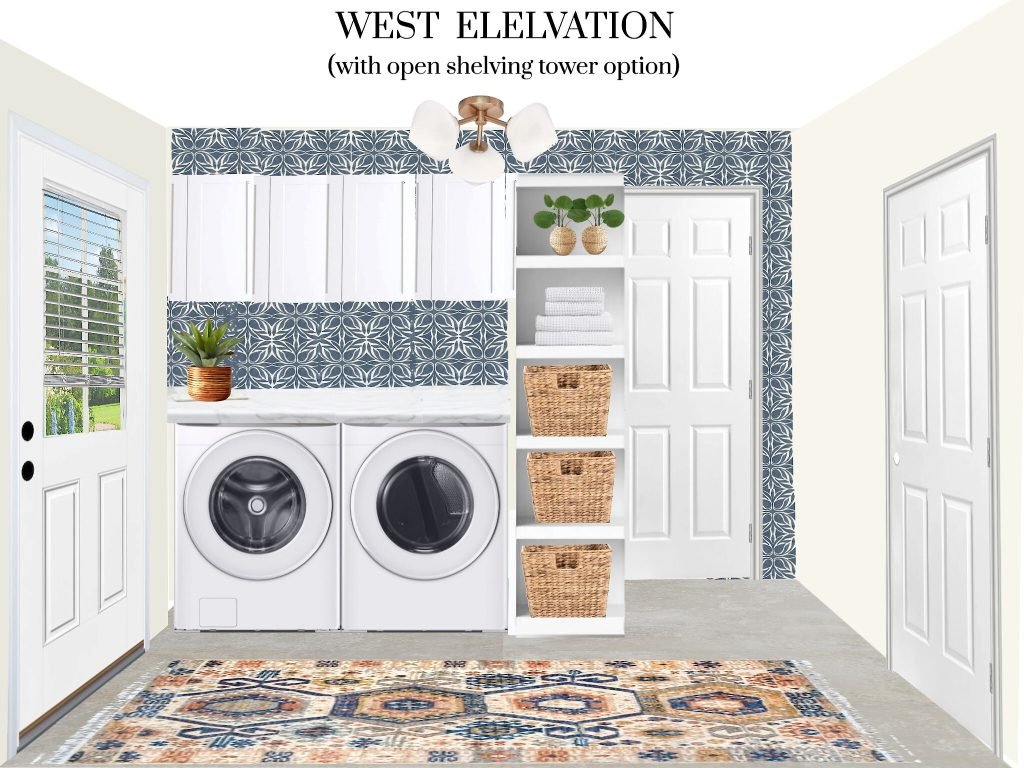 The style and color palette set the mood
Just like in any other space! 
Sometimes laundry room because they are first and foremost a task oriented space it doesn't get the design attention other spaces get.
But in my world it needs to be the opposite. We need all the help we can get to want to go in there and do the laundry!  
Design ideas to make a bigger, brighter, better looking space!
The Right Whites
Off-whites and warm whites will give a sunny glow to a room with little natural light coming in like this one. And True whites will actually have a gray cast to them, especially on a cloudy day. 
Keeping the room in a white palette will help bounce the light around. And give a laundry room a fresh, crisp, clean feel. 
Where to Add Color 
Keep your accent colors surrounded by lots of white. It makes the colors pop and the whites look fresh.
And notice how the white in the blue wall covering mimics the white in the room?
This is one more way to tie the palette together so you don't have blocks of color that look overly bold. 
And the rug ties the whole color palette together:
The blue wall covering, the honey color woven baskets, the soft white walls, cabinets and countertop, and the gray faux stone flooring are all in the rug.
The Right Lights
There were two smaller windows in this space so having it well-lit was key to not only the functionality but the whole feeling of the space. This three-bulb fixture with clear shades helped spread lots of light around the room.
Watch out for fixtures that have metal shared that create a spotlight effect if you need ambient lighting in a room.
But we needed added light on either end of the room too where there were taskwork surfaces. So the upper cabinets will allow for under-cabinet (but hidden) lighting at this end. And then you will see in another AFTER view a decorative lamp at the other end.
Waterfall Countertop Option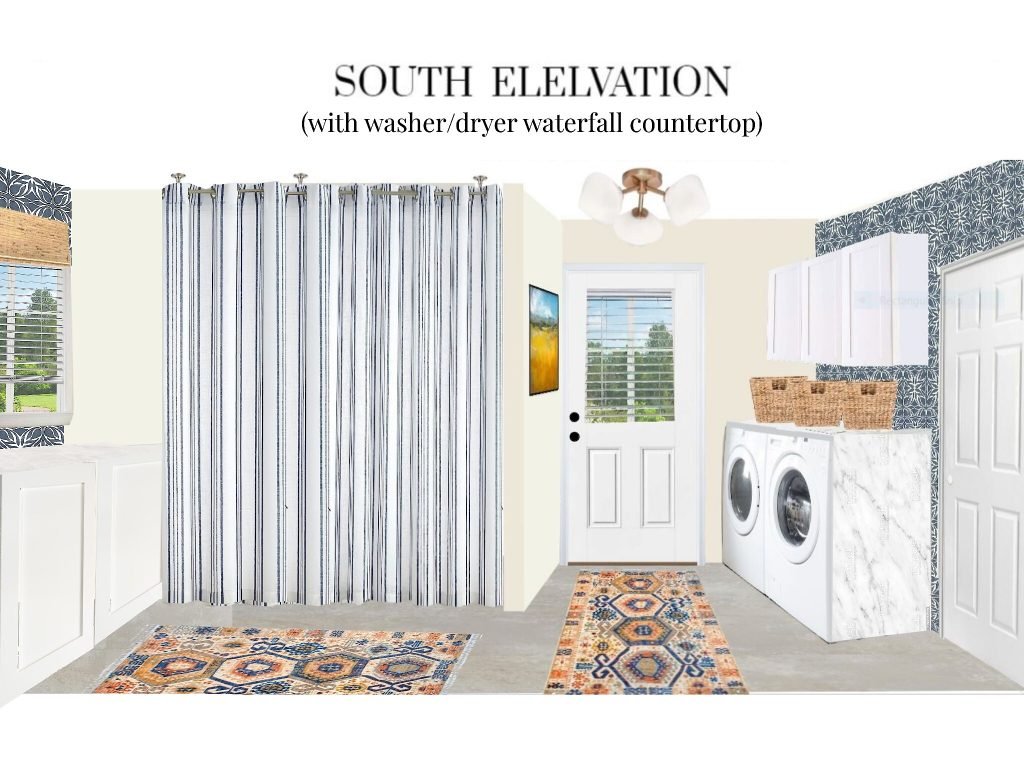 If the client wanted to keep the door accessible on the washer and dryer wall and forgo the open shelving tower, they could still create a well-designed view of the exposed appliances with a waterfall countertop to give them a finished look.  
This waterfall countertop treatment can be done with a stone or a faux stone laminate surface for a lux look.
With the washer/dryer alcove opened up and with lighter surroundings and  appliances wrapped top and side with a faux stone material, it looks so much fresher and spacious compared to before.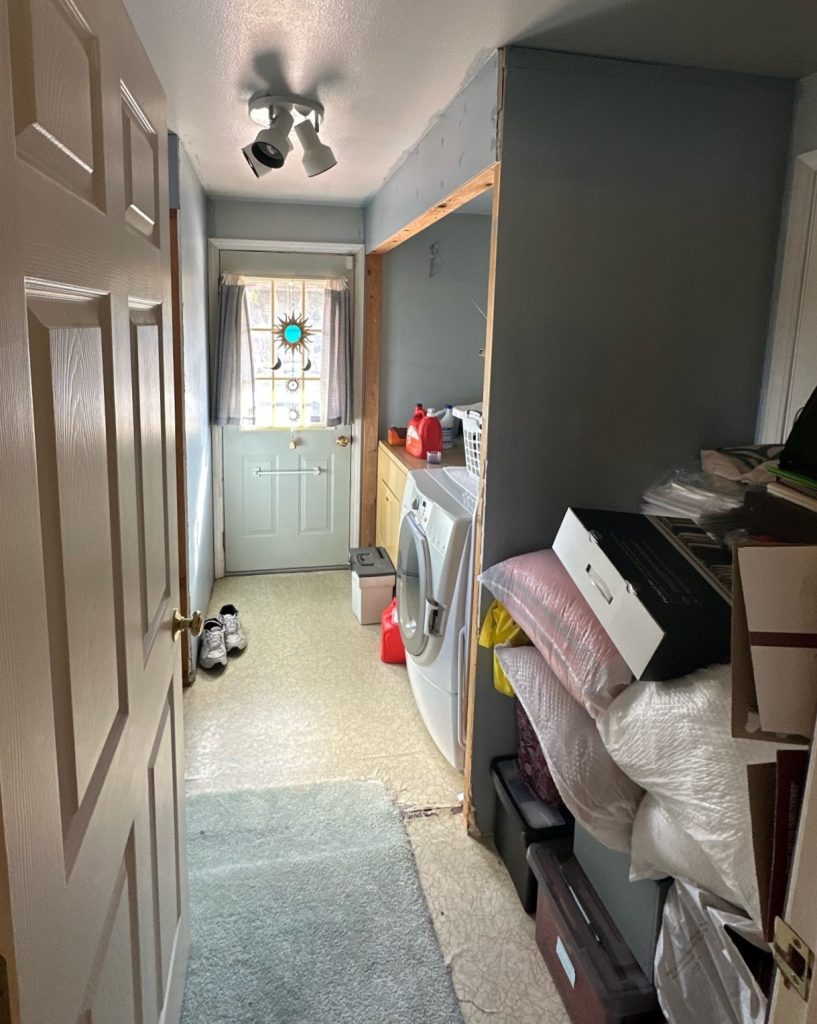 The waterfall countertop would not only create a beautiful view from here but provide a very handy surface for laundry tasks 
The AFTER view opposite the washer dryer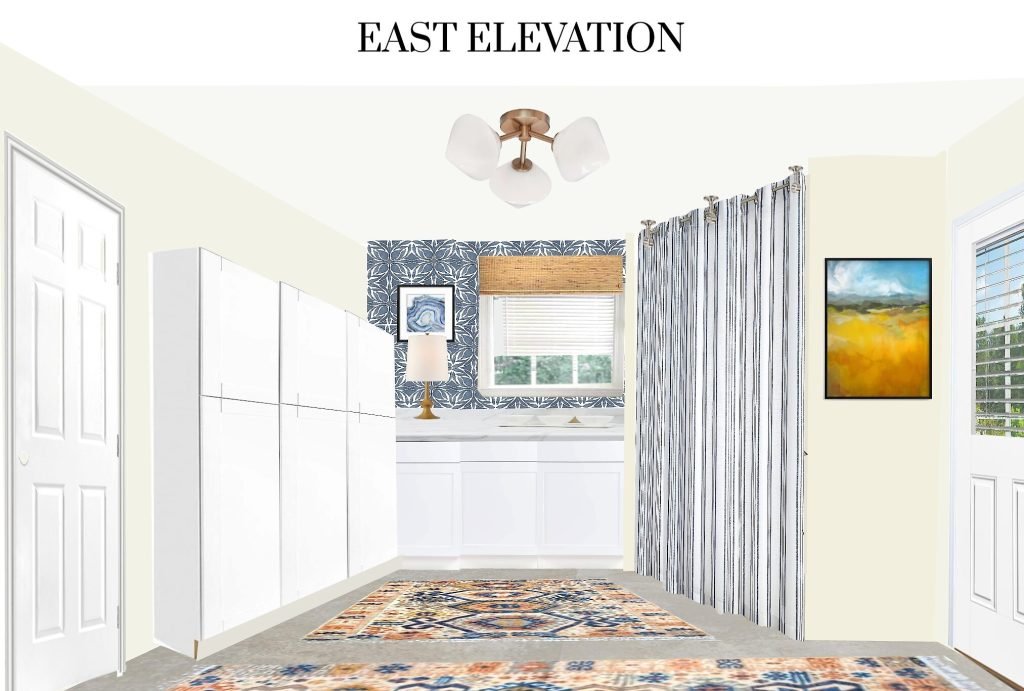 Lots of storage solutions here too and design details
Let's see what the challenges were to start with and the design ideas that solved them.
Maximizing storage in a well-designed way 
Where function and design meet!
Tall Wall Units For Extra Covered Storage
Simple, tall cabinetry that matched the cabinetry under the window and over the washer and dryer pulled the whole room together. And eliminated any visual clutter with all covered storage solutions 
The tall units are so versatile too because they can be configured inside to hold tall items like vacuum cleaners or moveable shelving for smaller items.
Drapery Panels For Flexible, Convenient Covered Storage
On the other side of the room is a multi-use alcove that holds a
-Water heater
-Tall rolling wire metal shelving unit acting as an extra pantry
-A drapery rod that  functions as a laundry drying rod on occasion  
So flexible access was needed to the whole space. And the best solution was fabric panels that could be opened as little or as much as needed and easily.
The drapery panels were hung on a ceiling-mounted rod for an uncluttered floor-to-ceiling look. That will also cover the opening from end to end without any end gaps 
Simple, classic striped pattern fabric panels were chosen to complement the more intricate wall covering and rug patterns.
Add A Table Lamp or a Wall Light 
Either will decorate and light this end of the room in an inviting way that helps balance out the overhead lighting.
Add Patterned Decorative Rugs 
For low maintenance choose
-Indoor/outdoor rugs 
-Busy patterns in mid-tones that are more forgiving of laundry lint, outdoor debris etc.
If you have a non-rectangle space like this one look for rugs that come in multiple sizes so you can fit in what you need.
Here I used a runner rug for the main walkway that ran from the outside door across the room. And a matching rectangle (or a round would work too) for the alcove.
Add Art
Adding any art pieces will add so much to the feel of any space including your laundry room. Don't hold back choose what will make you smile! 
A design trick I use, if a room is a bit short on windows, is to select outdoor subject matter like a landscape or a city scene. Because it has the effect of adding a window!
Add Decorative Window Treatment
It's a very noticeable update because it sets up on the wall by itself and immediately will catch the eye so use that to your advantage and add something you love.
It can also make a small window look larger based on how you mount it:  hang it mostly on the wall so it just covers the window trim next to it.
For instance, here I added a valance mounted up on the wall and that only extended down enough to cover the top window trim. The illusion is the window goes almost to the top of the valance.
Another option for added functionality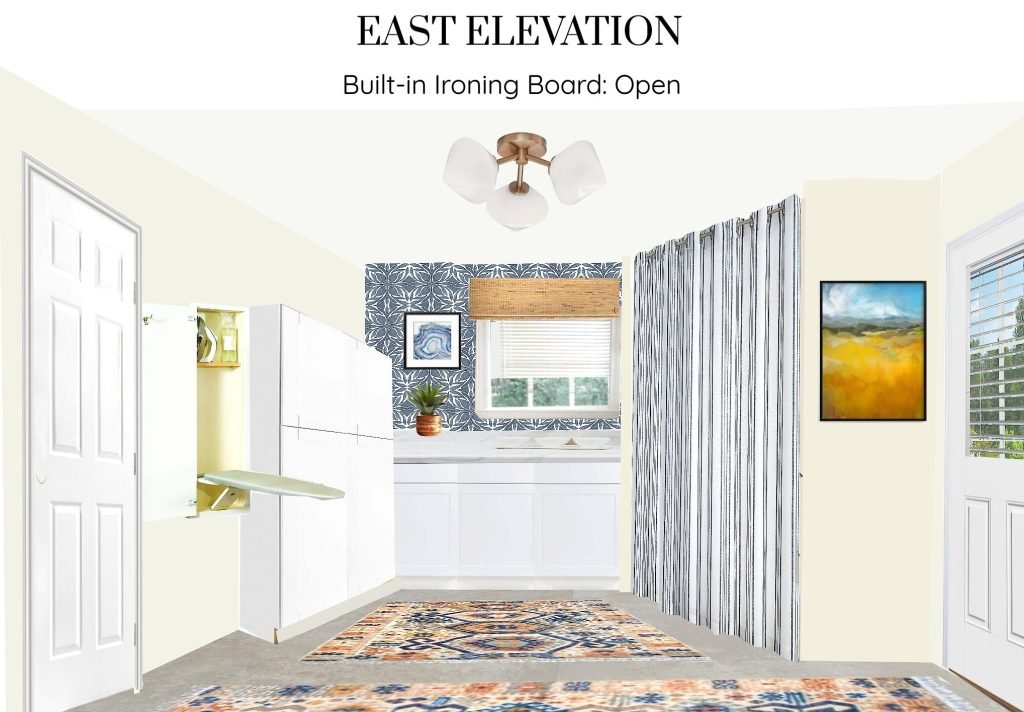 A built-in ironing board
They needed storage for an ironing board and a tall storage wall unit could provide that. Or a pull-down wall-mounted ironing board would provide both off the floor storage and extra convenience. 
Here's the main wall again Before and After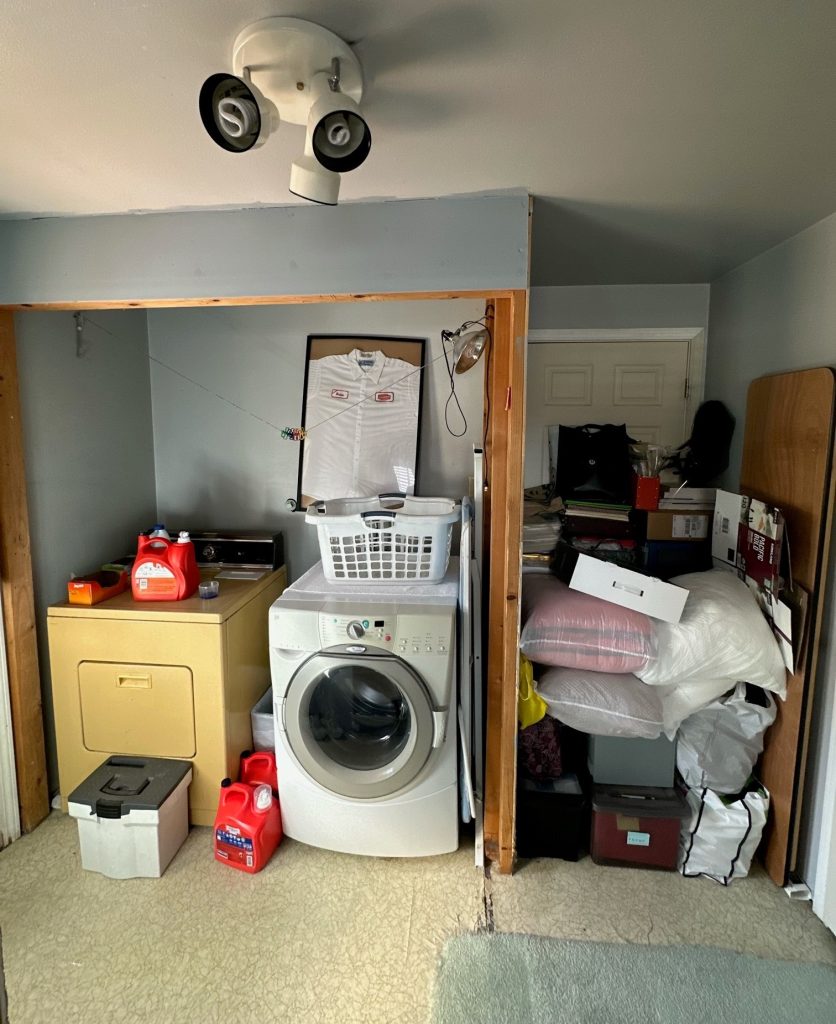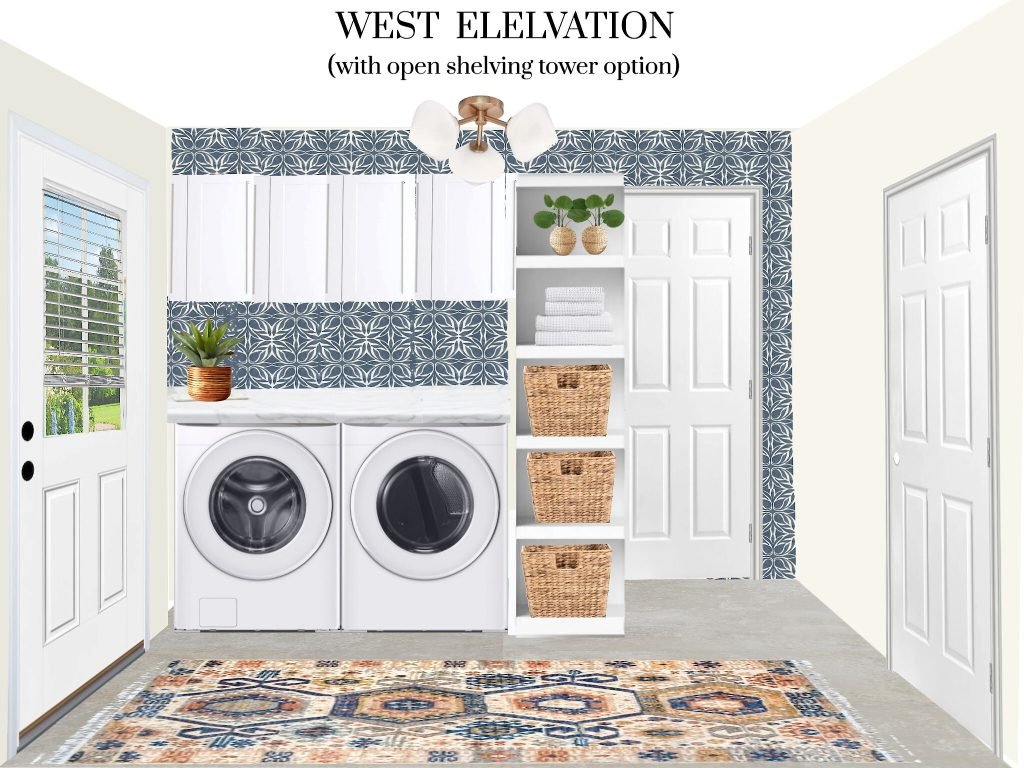 Have a room you long to love?
Let's do a quick discovery call 
to talk possibilities

You can reach me at
Helping You Love Your Home With 
QUICK DESIGN ADVICE
30 or 60 Minute Video Call
(Answers to your most pressing questions,
feedback, ideas & design direction)

DESIGNER BY YOUR SIDE
Design Assistance "As Needed"
(Answers, solutions, & shopping 
on a project you're managing)
FULL ROOM DESIGN  
Everything Done For You
(From concept to reveal!)
COLOR CONSULTATION
Choose Color With Confidence! 
(In-home/Seattle, interior & exterior color palettes)
QUESTIONS OR READY TO BOOK?
You can reach me at:
Call 425-977-5599 /office
or