NEW
"The Styled Room"
Already have your furnishings
& still don't love your room?

Finish it off with styling
for that designer look
Elevate your space in just hours with Styling
Now you can have styling done "à la carte" (and not just with my Full Room Design and Designer By Your Side services.
So even if you already have your furnishings and decor, you can still have them styled into an intentionally designed look.  
And once done if you need a few more finishing touches to fill in some gaps or update some details, I'll always have some ideas for you. And if you need any items or a paint color selected, I can help with those as well.
These are now all à la carte services (styling, shopping, and paint color) so you can choose only what you need. And they can be done over time. which means having a room you're excited about can now be within reach.
So styling is the perfect solution between living with a room you don't love and buying all new.
(At the end I'll be sharing my "5 Fav's for Styling a Room", so watch for five ideas that have worked for me 100's of times!)
What I've  learned as an interior stylist where I've seen all kinds of unloved rooms fixed with styling, (some while on HGTV).
Before I was a designer, I was a stylist (still am because of what it does for a space), and I noticed most people feel the problem with their room is their home and furnishings aren't nice enough. Rather than that the room needs styling to bring out its best look.
I remember being asked to style a living room with all brand new custom pieces in a very nice home. Because even she felt the furniture (which she now seriously disliked) was the reason she had a room she didn't even want to walk into.
When I first saw it, everything was covered up with sheets as the cat was the only one willing to venture in there. But as soon as the furniture was unveiled, I could see it was actually fine. Coordinated, the right size, fit her decorating style elsewhere. 
Everything just needed to be re-imagined, re-arranged, and styled in a way that would look pulled together and make sense in the space to create a well-designed room.
But it still surprised me at reveal time when she started out by saying "I actually like all these pieces now… " and I love my new room."
So, I guess the moral is even all new custom pieces won't automatically create a room you love. Styling is still the frosting on the cake that makes everything look its best.
Many rooms I've styled have few to no new pieces in them. And people are amazed that their furniture and décor could be styled to create a room they're actually excited about.
So, if you can't buy all new things don't let that hold you back from having a well-designed room. It's amazing what can happen when you add styling to the mix.
Here are some of my favorite styling tips I've seen work hundreds of times.
My 5 Fav's for Styling a Room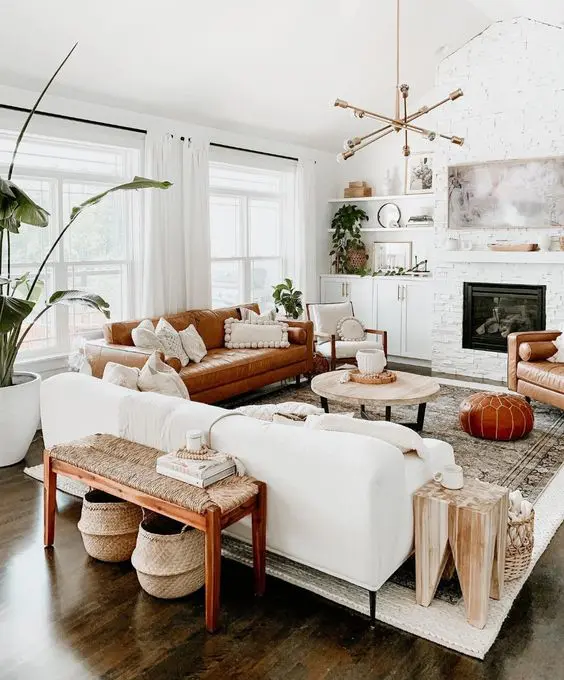 Style Tip #1:
Avoid too much "wall hugging" 
I always decorate off the "heart" or the center of a room that has seating, vs. ringing the walls with furniture.
So, I can gather the seating close enough around a focal point like a fireplace to feel cozy and connected and to make for easy conversation.
It avoids creating a large hole in the middle of the room that is too far to talk over comfortably.
For compact space, it's fine to snug furniture up to the walls

Because the seating will still feel cozy and not too spread out.
Style Tip #2:
Decorate around the seating group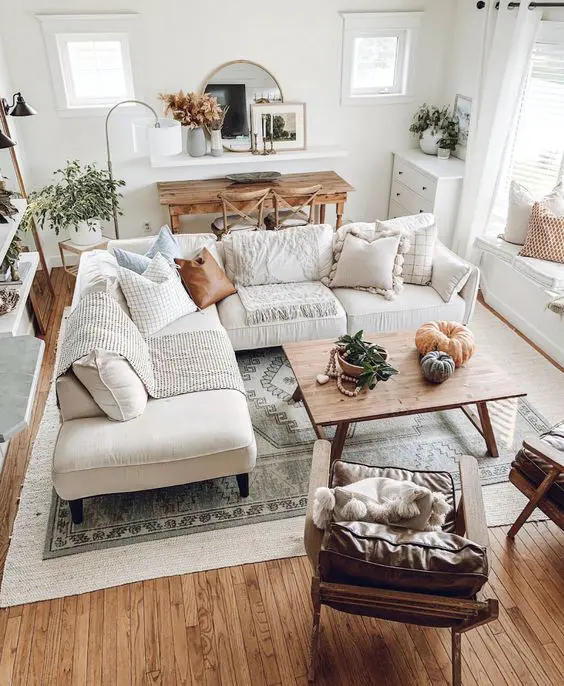 You won't have to worry about filling up bare space between the seating and the walls
Just place furniture that was meant for or will work on a wall 
Pieces like bookcases, display cases, consoles, benches, and desks.
Or low enough to back up a sofa or sectional
And set a lamp or two on the piece to help light the seating area.
Layer inwall hangings, artwork, decorative mirrors, & floating shelves
Have them complement the nearby furniture like over a desk like above or a console. 
You can center them as a backdrop on the wall between a pair of nearby chairs in the seating group.
Add tall floor plants in decorative plant pots for interest from all angles
Don't set them off by themselves though in the corners and away from the seating. Group them cozied up with it as a backdrop for a vignette feeling.
Style Tip #3:
Place mirrors to see some thing nice twice
Look for something you'd like to see twice and hang a mirror to reflect it
But avoid placing them to reflect a bare ceiling or a blank wall like above
Especially as the mirror is viewed when you're seated in the room because that's where you'll be spending some time.
These blank views happen when wall mirrors are leaned or hung high over mantles but flat to the wall. Instead of being tipped forward from the top to reflect something interesting lower in the room.
TIP: To do that, you'll need a picture wire attached to hangers on the sides of the mirror and set lower than the mid-point to tip the angle of the top forward.
Look for windows with a pleasing view, a piece of art or…
decorative furniture, a collection from across the room, or even seeing a beautiful big floor plant twice works well.
Style Tip #4:
Let Area Rugs Be Seen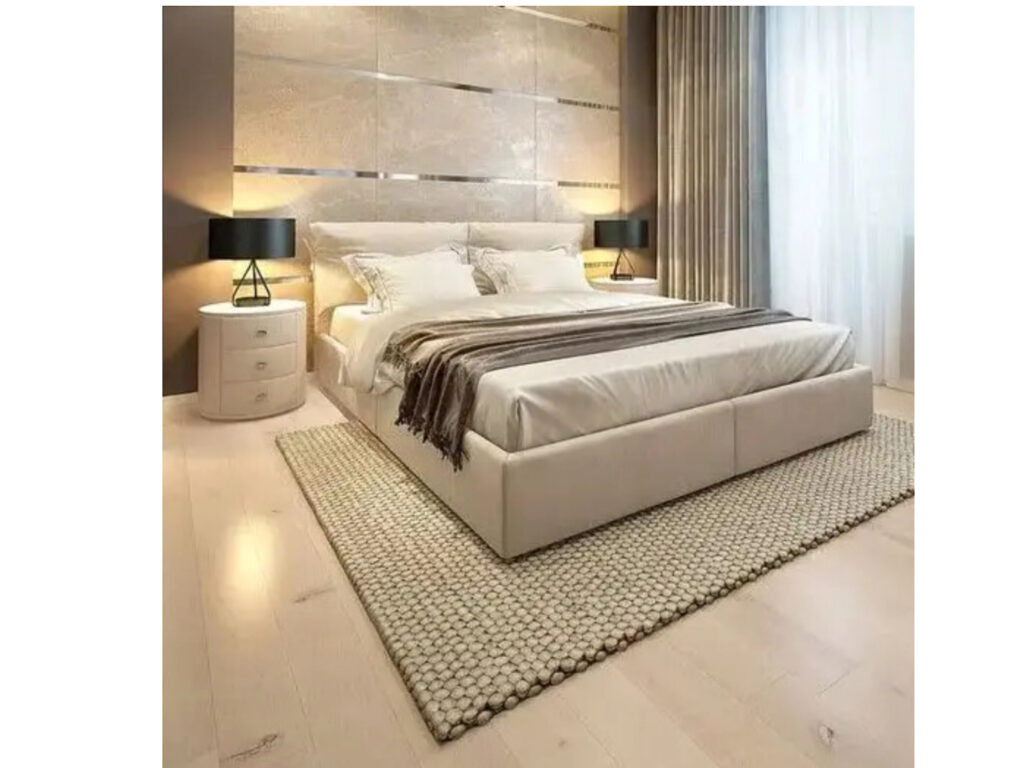 In bedrooms don't hide too much of the rug under the bed
Use a large enough rug to so lots of it shows
On the sides and especially the foot end that goes into the rest of the room.
Or if the rug is smaller place, it crossways under the bed (like above)
So, lots will show on the sides. Then extend it out by the foot end to show a good amount there. You can add smaller coordinated rugs on the sides by the headboard if you like, to step on getting in and out of bed.
In a seating area, you can get creative with your rug placement
Try setting it at an angle to the room. If you have an angled wall or corner fireplace in the space, you can play off that by paralleling it.
If you like the linear look, match it to the arrangement shape but you still have options
The rug can run up to, under, or even beyond the seating.
In a big room use rugs to break it up into cozier areas
Create these zones around different seating groups or activities like an office at one end of a room used for other activities.
Style Tip #5:
One Big Accent Will Work Wonders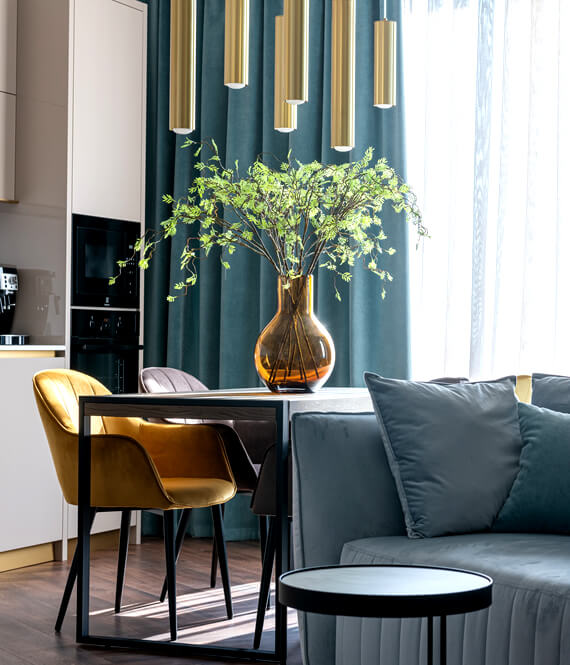 Even if you don't have a bolder style like above
If you like soft neutrals or the emerging pastel look, one big accent will keep them from feeling so blended they can feel bland. 
Just by placing even one larger accessory in the space, it'll bring your room to life making it so much more interesting and inviting. You can stick to your room's style and colors, just make the accessory big and see what happens!
Any style space from classic to modern will have a more designed look with this trick of a fabulously large accessory
Whether a low-key airy, organic arrangement like above or a big, bold piece of art.
Even a narrow, black-framed piece of art with a seriously oversized white mat surrounding a smaller art image will add an arty, gallery effect that will make an eye-catching statement. 
Styling is the perfect solution between living with a room you don't love and buying everything new 
To have your space elevated in hours, just like on HGTV you can reach me at
425-977-5599  / office
or   
I can also help you make the best decisions for your home with these 
NEW!  QUICK DESIGN ADVICE
30 or 60 Minute Video Call
Answers to your most pressing questions, + feedback, ideas & design direction

DESIGNER BY YOUR SIDE
On-going design help as needed for answers, solutions, & shopping  on a project you're managing
FULL ROOM DESIGN  
From concept to curating furnishings to styling and the reveal!
COLOR CONSULTATION
In-home/Seattle, interior & exterior color palettes
For questions or to Book
you can reach me at:
Call 425-977-5599 /office
or