Not In The Mood For Gray Rooms Anymore?
Don't We know It!
Gray just doesn't create the cheery rooms we've come to crave,
(Besides being passé when largely left to itself.)
Gray will always look its best when it's a backdrop for colors, rather than trying to make it carry the whole room (or with just the help of white). Honestly, that's too much to ask of any neutral or color.
But since I've always loved gray, I have to say I'm happy that it hasn't disappeared altogether and we do get to pair it up now with color to look (in my opinion) better than ever!
The range of colors that gray will complement is almost limitless. You just need to know your grays undertone, (99.9% of them have one) ensuring that the types of white and colors you add will complement it.
Gray rooms need color to give them life and add happiness! If you're tired of the feeling of gray this is the mood changer you've been looking for.
So here are seven of my favorite ways to add stylish color that'll make your gray room great, like never before.
#1. Add Colorful Area Rugs
This room says it all… the right rug made all the difference!
The cognac-colored area rug is a treat for the eyes and the soul, totally changing the mood of this formerly all neutral entry. 
CHOOSING AN AREA RUG
Have Dark or Medium Gray Furnishings?
A bright color like yellow, orange, turquoise, spring green will all look great. Or pale colors like pink, yellow, green, peach will be beautiful.
Have Light Gray Furnishings?
A deep, rich color like burnt orange, coppery brown, burgundy, deep rose, golden ochre and deep green will pair well.  
Been a minimalist?
A colorful area rug is a big opportunity to add color and coziness!
#2. Add Colorful Art
Art always gets attention so use it to the max!
In the recent past art had become quite minimal, neutral often, and very understated where it's hard to "read it" unless you are up close. So the decorative impact it had on a space was limited to the frame and the overall color/neutral of the image. Meaning it had a minimal decorative impact on the mood of a room.
This means swapping it out for big, colorful art will do double duty design-wise
You can add color and add it in a big way, plus have the pleasure of a decorative image you can enjoy from anywhere in the room.
Much better! 
CHOOSING AN ART STYLE
Art is an expression of your personal style more than any other element in the room.

So one more reason to make it play a key role by using it to help personalize your space
DESIGN TIP:
What's equally wonderful about art is you can add any style you want to your home!
Your room can be totally modern and you can still hang an heirloom landscape with an ornate gilded frame front and center. Amazing how it works.
But here is THE SECRET to it: 
Be sure at least one color from your decorating palette is noticeably reflected in the art.
#3. Add a Colorful Accent Piece
Have some fun and add a colorful upholstered piece into the mix!
Adding one new colorful upholstered accent piece to your room will do wonders for changing the feel of your space. 
CHOOSING ACCENT PIECES
Add something interesting or fabulous to make it even more impactful.
That is what I especially loved about the above chair. Take it out of the picture and the whole room drops down two full notches.
It's a double wow. One for color, one for style.
Home run!


Accent chairs and large ottomans are perfect furniture choices for adding color to change the feel of a room 
#4. Add Warm or Light Colored Wood 
Cognac and blond wood pieces are graphic AND gorgeous with charcoal! 
This room's color palette is stunning even though it's photographed to have a dark, moody look to it. (Turning the lights will fix that!) But the warm cognac-colored wood elements make this charcoal space come alive.
Additionally…
The White Elements 
also lighten and accent the space as well.
Light Blond Wood Elements
will look equally stunning with charcoal grays.

DESIGN TIP:
Add More Color 
Bright green plants would also do wonders to further elevate the mood of the room. Adding a natural, colorful accent to freshen and brighten it further.
Adding the warmth of wood to charcoal brings what would be a dark room to life
#5. Add House Plants
Green plants added to gray is a fresh look any day! 
There is such a calming appeal to having nature inside besides adding a green color to your decorating is a way to naturally bring a gray room to life.  
CHOOSING PLANTS:
If space allows having at least one large floor plant.
It doesn't need to be wide if space is an issue, just tall.
Vary plant sizes in the room from tall to medium to small
If you have the room you can also create groupings of these various sizes.

DESIGN TIP:
Bright greens like these are the most vibrant and work the best with grays.

Bright green plants are beautiful with all shades of gray from dove to charcoal
 #6. Add Colorful Accessories
Even the right accessories will change the mood!
Adding accessories purposefully can definitely change the look and the feel of gray rooms. 
CHOOSING ACCESSORIES:
Place them in the room so the color accents feel balanced out around the room like above.

DESIGN TIP:
Avoid the common mistake of getting too many too little things that will only add up to a cluttered look.
Brighten your gray rooms with colorful accessories in varying sizes, textures and materials
 #7. Add Fresh Paint Colors
Choose your mood with your color!  
Paint is a great way to add a mood-changing color in a major way to your too-gray room.
CHOOSING YOUR PAINT COLOR
Bold Colors
work best for an accent wall, or a major furniture piece or both like above.
Pale Colors
work best on all four walls and also on a major furniture piece. 
DESIGN TIP:
If you have a tall room pale colors can even continue on up and over the ceiling!
Gray with color never looked so good!
GRAY ROOM REFRESH
Before & After
Here's what adding color can do to change the mood of a gray room from somber to sunny!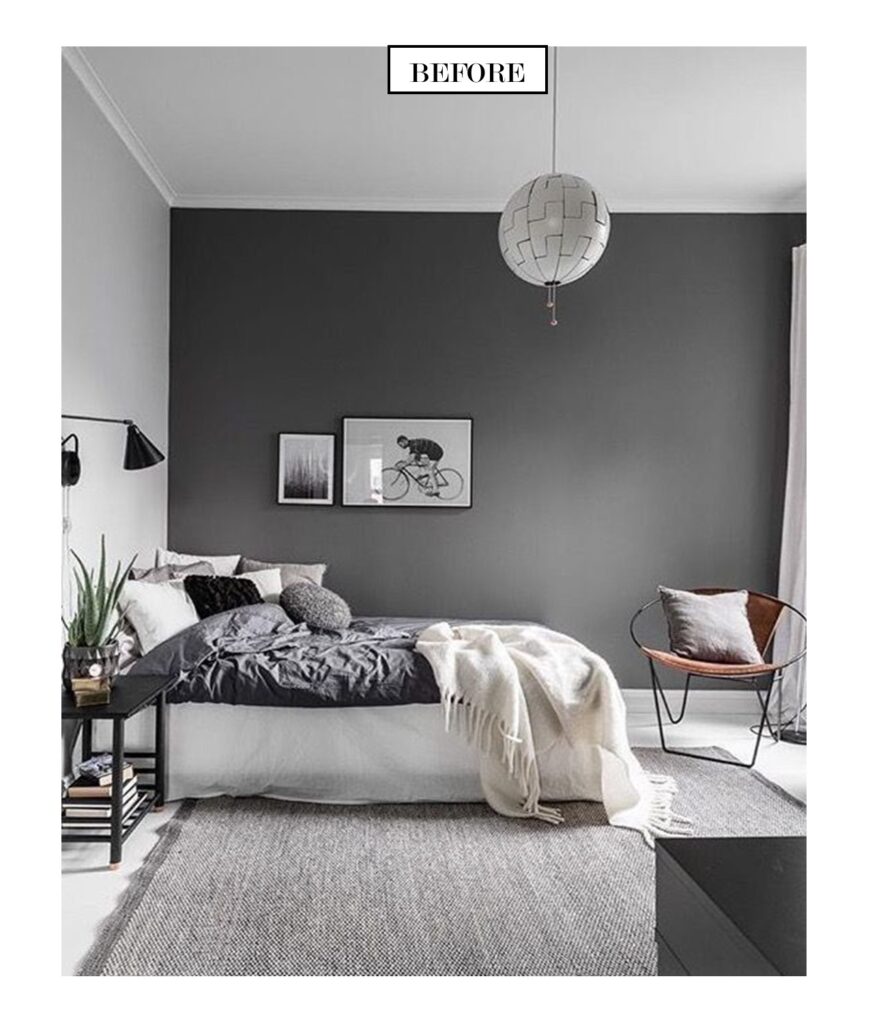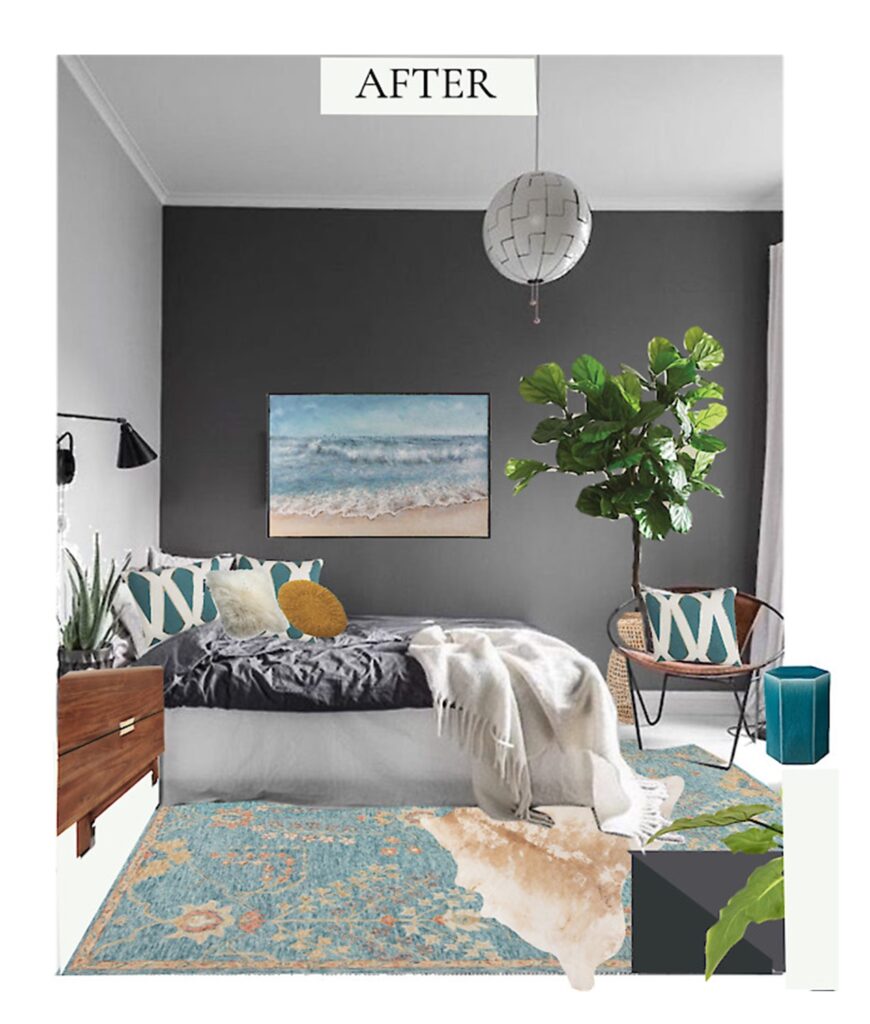 This shows you the mood-changing possibilities when these color options (less paint) are added to an existing gray room 
Gray is still a major player but this bedroom now feels fresh and inviting with the addition of these colorful updates:
Area rugs
Art
Accent furnishing
Warm wood tones
Accessories
Plants
If your style is a less layered look,
then changing the wall color to minimize the amount of gray that needs to be balanced out would be my suggestion. Although adding layers also make for cozier spaces.
The mood-changing palette I choose
added the inviting sunny warmth of cognac and the calmness of the seas' blue-greens. Everything curated to make the bedroom a beautiful haven at home.
What are the possibilities for your gray rooms?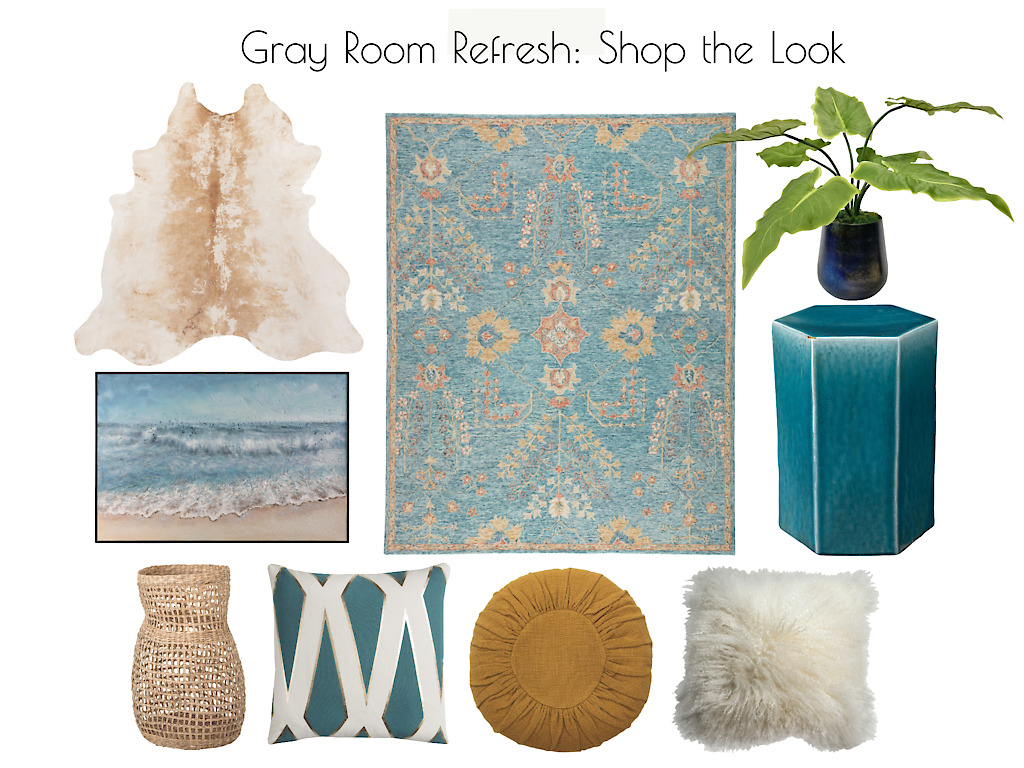 (Fiddleleaf floor plant is available here.)
Gray Room Refresh:
Change the color, change the mood

with a "DONE FOR YOU ROOM"
Simple. Easy. Done.
Just call
425-977-5599
or
Avid DIY-er?
 Need feedback, options & answers?
A  Video Call or In-Home Design Consultation
maybe all you need! 
Call us at 425-977-5599 or 
"Mary is incredibly talented… she can work with any kind of style. She is amazing and I always call her whenever I need anything to be decorated."
– E. Sorenson
Please Note
"SHOP THE LOOK"
Items are available in limited supply and sales are final.